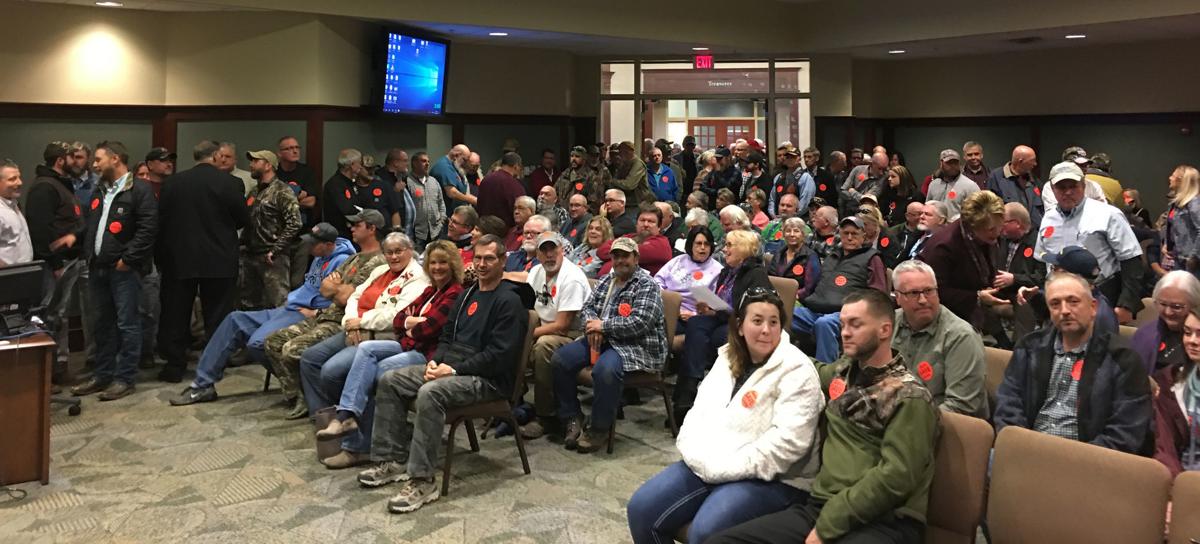 McKelvey is an attorney in Roanoke. He lives in Botetourt County.
1. Interposition — Interposition can be defined as "interference or intervention." In government, it is the theory under which the subordinate government would interpose itself between a superior government when the subordinate government determines a law to be unconstitutional or wrongful. According to "Interposition: Theory and Fact", Thomas Jefferson and James Madison both supported this notion against federal power, in addition to their original use of interposition against the English Crown via the state legislatures and Declaration of Independence convention.
2. Nullification — can be defined as "cancelling or counteracting something." In government, it is the theory that the subordinate government takes all lawful and permissive actions to obstruct and frustrate the enforcement of the law that the subordinate government has chosen to interpose itself. Regarding the federal to state relationship, in the case of New York v. United States, the U.S. Supreme Court held that the federal government could not force the state government employees to enforce its laws. It could provide monetary incentives and other benefits, but it could not compel the state and local government employees into federal service. Modern day manifestations of this are the creation of "sanctuary" cites on issues like immigration. The local resolution is simply "we forbid our local government employees from cooperating and our locally owned facilities from being used to enforce X."
3. Nullification in Virginia: A Framework for True Second Amendment Sanctuary Localities: State v. Local Governments
Virginia, since its founding, has always been skeptical of centralized power. While some states elect an attorney general, and place all prosecutors statewide under his control, we elect free standing constitutional officers, including the sheriff and commonwealth attorney (prosecutor) Article VII, who are not answerable to control from Richmond in the exercise of their discretion on enforcement of the laws in order to stay employed. The Virginia Supreme Court has said that ""[w]hile constitutional officers may perform certain functions in conjunction with" local government, they are neither agents of nor subordinate to local government. The local government has no control over their work performance. Similarly, constitutional officers are elected by the voters for prescribed terms. They are neither hired nor fired by the locality. They, therefore, are not local employees."
In Virginia "prosecuting attorneys have broad discretionary power over criminal defendants at several stages of the criminal process. See Wayte v. United States, 470 U.S. 598, 607, 105 S.Ct. 1524, 1530, 84 L.Ed.2d 547 (1985). Within limits, prosecutors decide whether to prosecute an individual, determine the exact charges for which an individual will be tried, and, if the individual is convicted, recommend the magnitude and nature of the individual's sentence."
The successful local nullification, and true creation of a Second Amendment Sanctuary is only possible by a pledge from the local constitutional officers serving as Sheriff and Commonwealth Attorney, with additional assistance from the Board of Supervisors. Each constitutional officer and board of supervisors member has taken an oath to "uphold the constitution" above all else. The General Assembly's anticipated violation of the constitution is something every public official must consider. It is a check on the violation of our rights, and why the oath doesn't say "uphold the constitution based on what the people in Richmond determine it to be".
4. Thus, a Second Amendment Sanctuary in Virginia needs the following, which are listed in order of importance:
A. The Commonwealth Attorney's pledge to decline to prosecute, and promise to dismiss, any charge arising from any gun legislation that is enacted from Jan. 1, 2020 forward.
B. The Sheriff's pledge to decline to investigate allegation of violations of any gun legislation that is enacted from Jan. 1, 2020 forward.
C. The Sheriff's pledge to decline to imprison anyone charged solely with violations of any gun legislation that is enacted from Jan. 1, 2020 forward.
4. The Board of Supervisors and Sheriff, to the extent he/she runs the E911 system's pledge to refuse to use any county resources to enforce any gun legislation that is enacted from Jan. 1, 2020 forward, including the use of county E911, vehicles, jails, or personnel, and the express defunding of the same from the next, and subsequent, county budgets.
This is how we will protect our Second Amendment rights from Richmond's overreach, and determine which government officials at the local level need to be voted out in the next cycle.
Remember, a resolution, without tangible nullification, is simply a statement of opinion with no teeth.
Catch the latest in Opinion
Get opinion pieces, letters and editorials sent directly to your inbox weekly!