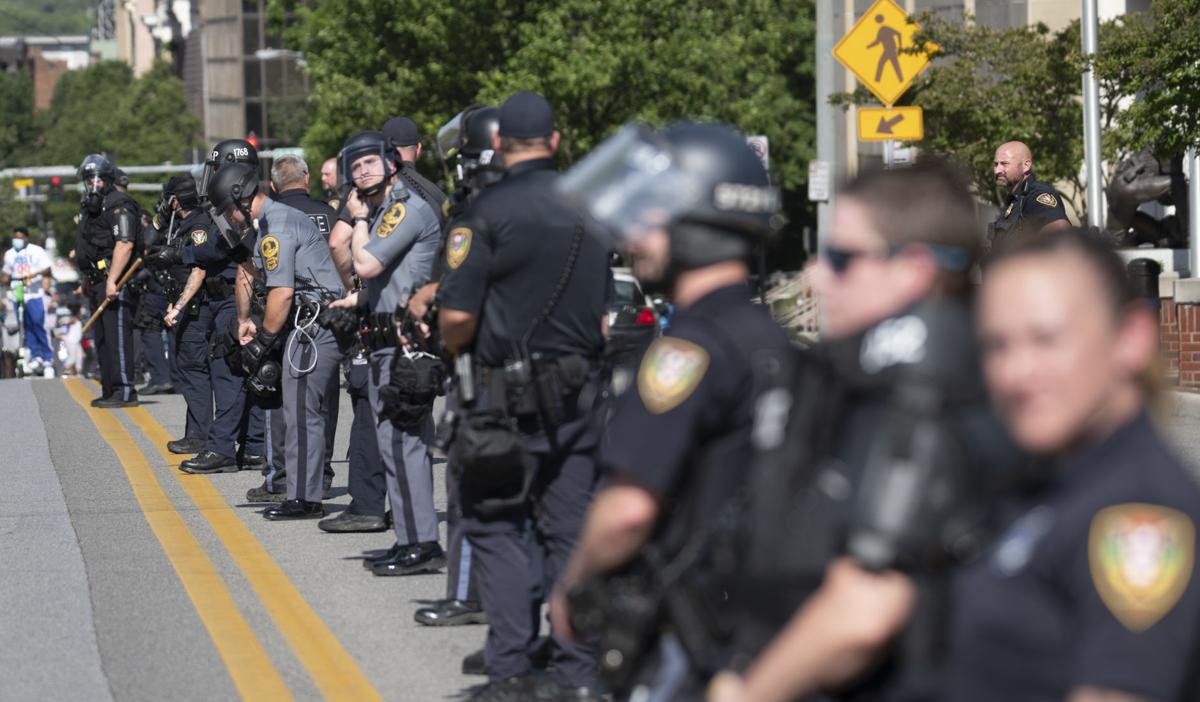 Preston is an independent candidate for Roanoke City Council
My name is Kiesha Preston, and I am a candidate for Roanoke City Council, though today I am not writing in that capacity. Today, I am writing as an activist and lifelong Roanoke citizen who has grown deeply concerned about the things that are happening in our city.
Two weeks ago, I unintentionally got caught in Downtown Roanoke during what started as a peaceful protest. I was driving when I encountered a police blockade that prevented me from getting to where I needed to go.
I saw law enforcement dressed in riot gear for what clearly was not a riot. I saw snipers on the roofs of buildings for a crowd that did not appear violent. I watched them load large guns with what I presume were rubber bullets and shake cannisters of what appeared to be pepper spray.
Later that evening I watched video footage and saw friends of mine who were not behaving violently getting hit with rubber bullets, and pepper sprayed, and I couldn't understand why they were met with such excessive force, while protesting excessive force.
I wasn't present for the entirety of the events that transpired so I don't know what happened prior to my arrival. What I do know is that while I was on the scene, I saw organizers giving clear instructions and making efforts to maintain the peace, and I saw protesters overwhelmingly complying with those requests.
Since this time, calls have been made for City Council to defund the police but to be clear, this isn't the first time that these calls have been made. Last year I watched a group of local activists present a PowerPoint presentation on what defunding could look like, and I watched as that group was essentially dismissed and none of their proposed changes were made.
On Monday, June 15, I once again sat through (and participated in) a three-and-a-half-hour city council meeting where calls for defunding were made again and, like before, the voices of the people were largely ignored.
Few people are calling to dismantle law enforcement entirely but instead, to reallocate police funds to where they would do more good. An example of one such area would be tackling the opioid crisis. People in Roanoke are struggling and dying from addiction, and there is nothing that police can do to help. Police can arrest once drug-related crimes are committed, but they do not have the power to prevent. Reallocating some of their budget to substance abuse programs, on the other hand, could stop drug-related crimes.
Another such example is domestic violence. When victims call police and report they are afraid for their lives, they are told that there is nothing that can be done until a crime is committed. In other words, they need to wait to be killed, or for someone to fail trying, before law enforcement can step in. Police can't prevent victims from being harmed. Domestic violence services can. Slashing a portion of the police budget to further invest in domestic violence services could prevent domestic violence related crime and save lives.
Law enforcement in schools can not stop children from misbehaving. They can only criminalize them once they misbehave. Investing in behavior analysts and other mental and behavioral health professionals instead could prevent many of these challenges and in turn prevent the criminalization of kids. There are a multitude of community services that can do what law enforcement cannot and when we limit the need to call police, we decrease the likelihood of someone being harmed by the police; an issue that is plaguing our nation.
The goal of this city should be to prevent crime from happening and not just to put criminals behind bars.
The excuse given to activists, for preserving police funds was that Chief Roman is new and deserves a fair chance before funding for police is cut; but Roanoke City also has a new superintendent this year in an already struggling school district. Half a million dollars were cut from education and she wasn't given that same fair chance.
What I learned from this is that no amount of chanting, marching, phone calling, or email writing, does an ounce of good when the people in leadership aren't inclined to hear what you have to say.
My call to everyone, regardless of party or political belief, is to hold on to how they feel right now, remember it in November, and choose wisely when they cast their vote.
Catch the latest in Opinion
Get opinion pieces, letters and editorials sent directly to your inbox weekly!