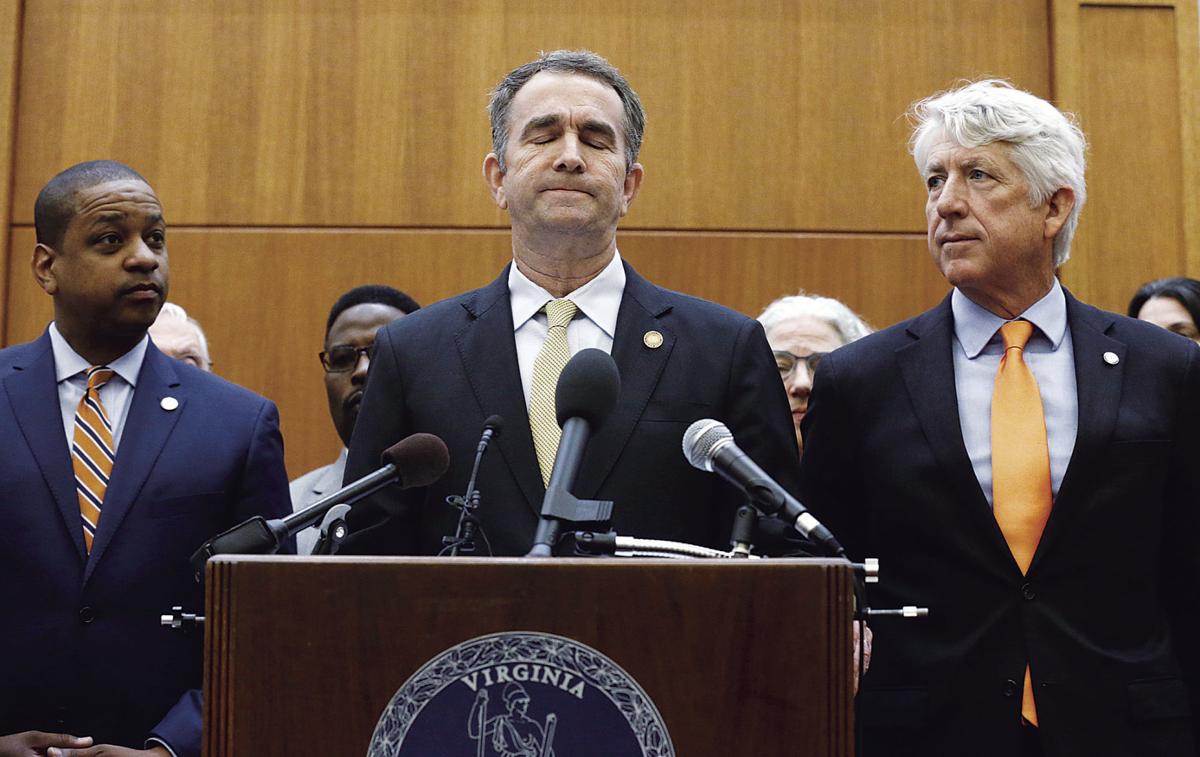 Suetterlein represents a state Senate district that runs from Bedford County to Wythe County. He is a Republican.
On April 17, 2007, then-Governor Tim Kaine emphatically expressed his disdain for those who would attempt to use the horrific murders at Virginia Tech for political advantage.
"I think for people who want to take this after just twenty-four hours and make it into their political hobby horse to ride, I've got nothing but loathing for them," Governor Kaine declared. "They can take that elsewhere."
Just four days after the horrific murders at the Virginia Beach Government Center on May 31, Governor Ralph Northam mounted his own political hobby horse.
Flanked by Lt. Governor Justin Fairfax and Attorney General Mark Herring, the Governor of Virginia called for a special session of the General Assembly to consider gun control legislation that had been rejected just three months earlier during the regular session.
That news conference qualifies among the most brazenly cynical uses of a tragedy by an elected executive to advance a political agenda or, more precisely, an attempted political redemption.
The evidence that Governor Northam has been working deliberately to emerge from the revelations that plagued him in February have become more visible with each successive month. Democratic legislators and candidates who were calling for his resignation in February were accepting large campaign contributions from his political action committee by March.
Having the Lt. Governor and Attorney General, beleaguered by serious accusations and disturbing revelations, respectively, flank the Governor at the news conference was remarkable only by how little media attention it received. It was newsworthy that these three statewide elected officials and ticket-mates would appear together at a news conference for the first time since Virginians learned a lot more about them than they knew in November 2017. However, it largely went largely unnoticed, meriting only a sentence or two in print reports on the press conference.
When then-Governor Kaine dealt with the enormity of the Virginia Tech murders, he established a blue ribbon, bipartisan panel to consider and review every aspect of the crimes. The result was multiple positive changes to Virginia's system of background checks, mental health care, and campus security.
Contrast that collaborative, deliberate approach with the one embraced by Governor Northam. Instead of naming a distinguished bipartisan panel to thoroughly consider what occurred at the Virginia Beach Government Center and what actions local and state governments might take to reduce the likelihood of such crimes in the future, he called a news conference to highlight himself and his fellow Democratic partisans bemoaning the failure of legislation they supported. He did this while the investigation into the murders had only just begun and the funerals and memorial services for victims were still underway.
The Governor has subsequently held regional "round tables" to build support for an aggressive gun control agenda. But as The Roanoke Times reported about his appearance at Virginia Boys State, "Northam conceded that his proposals wouldn't have necessarily prevented the Virginia Beach shooting."
The clear motivation for the special session is not a search for solutions, but the pursuit of political rehabilitation for Virginia's executive branch – and for the party that elected them.
Within two hours of Governor Northam's news conference, House and Senate Democratic Leaders were releasing lists of bills rejected by their respective chambers during this year's regular session.
They called for a ban on guns in government buildings, but the murders were committed in a gun-free zone and municipal employees in Virginia Beach are already prohibited from carrying firearms.
The guns used in Virginia Beach were purchased two years apart, but they are again calling to restore the failed policy of prohibiting law-abiding citizens from purchasing two firearms in the same month.
They are calling for the banning of bump stocks which were not used in these murders and have already been prohibited at the federal level.
Never did they mention that none of these bills would have done anything to prevent the murders in Virginia Beach. Never did they mention the several existing state laws and local ordinances the murderer violated.
None of this bodes well for a productive result to the special session that begins on July 9. But since a legislatively productive result was not the Governor's purpose in calling the session, the prospects for consensus were already remote.
The Commonwealth's executive branch has not distinguished itself this year. By prioritizing a perceived political benefit over a genuine and thoughtful examination of solutions, they have further diminished themselves and Virginia. The people of Virginia – and, at this time, especially Virginia Beach – are entitled to expect more from their leaders.