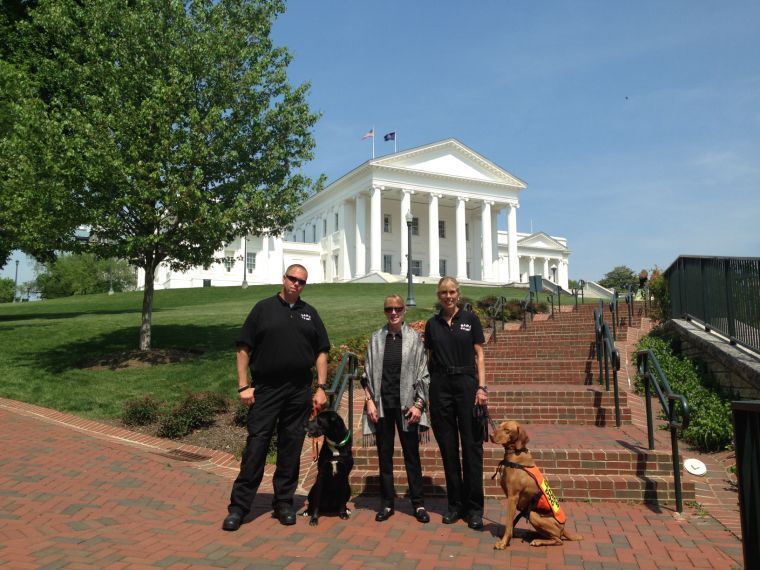 Artist and educator, Vance serves as vice president of the board of directors for Help Save the Next Girl.
Imagine what a public service: You drive several hours to Richmond to meet (not for the first time) the committee tasked with standardizing Virginia's response to a missing person.
"What was helpful? What could have been better? When your daughter, Morgan Harrington, never came home from the concert, what procedures were not already in place that you wish had been available to you and your family?
What made those 100 days of Morgan being missing frustrating? Tell the committee."
As grueling as these questions are, they are also a relief to the family who has changed so much about the way crimes are perceived and handled.
Being consulted by the very committee that is about to make recommendations to the state legislature means that Gil Harrington has earned great respect in Richmond.
From the beginning, like no one before them, Dan and Gil Harrington refused to be excluded from what they considered their case.
Their persistence in collaborating rather than in quiescently waiting has resulted famously in the state of Virginia's more enlightened relationship among law enforcement, media and victims' families.
Further, Dan and Gil have modeled advocacy by helping other families. Dozens of other families. And educated young girls about predators and safety. Thousands of girls.
Soon, the Virginia Missing Persons Resource Command Center will have a Harrington-inspired template by which to proceed.
Gil praises this work, noting that the Virginia Crime Committee has been comprehensive and expansive in its study. For example, apart from the usual comparative research — analyzing how other states carry out missing persons cases — the Richmond committee members themselves underwent search and rescue training.
Here is Gil at the State Capitol on May 6 (photo), with a trainer/handler whose dog, Jack, is air-scent specific. Karen Remine's dog Haley is a cadaver dog. Their excellent group is SARA, Search And Rescue Associates.
Isn't it amazing to know that we the people are making a difference?
This is how Help Save the Next Girl works legislatively, by showing up, standing up, refusing bad habits, and insisting on better collaborative practices and standards.
What a remarkable public service.
And great job, Jack and Haley.
All dogs do go to Heaven.
Catch the latest in Opinion
Get opinion pieces, letters and editorials sent directly to your inbox weekly!