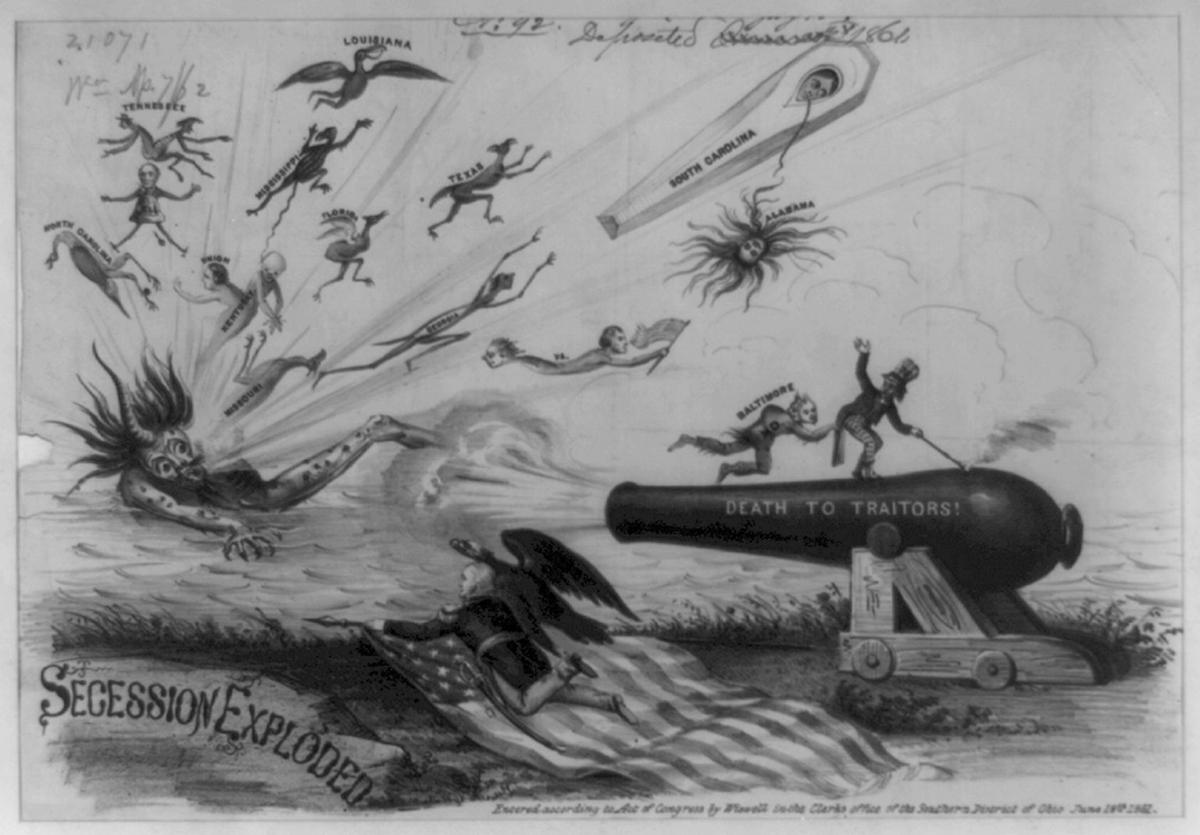 On April 17, 1861 — 160 years ago today — Virginia made a momentous decision, one that it's still paying the price for.
On this date, Virginia decided to secede from the Union.
Technically, a specially elected assembly called the Virginia Convention voted in favor of a sending a secession referendum to voters, but that plebiscite a month later was a mere formality. Two days after the convention voted for secession, the Confederate flag was flying over the Virginia Capitol and a Confederate army was invited to take up residence in Richmond. It would have taken a brave man — and only men were voting in those days — to stand up to the public fervor for secession. And yet some did stand up in that convention and vote against secession. Contrary to popular imagination, not all were from the western counties of the future West Virginia, either.
It's remarkable — a mild word, mind-boggling might be another — that all these years later people are still arguing over the causes of the Civil War. It was about slavery, some say. No, it was about state's rights, others say — as if that's a binary, and exclusionary, choice. It was about both, although the main right that Southern states wanted to protect was the right to enslave fellow humans.
We want our history like we want our politics today — boiled down into something the size of a 30-second spot or, perhaps, a tweet. History's not like that. The convention's presiding officer helps illustrate just how our complicated and messy history can be. He was John Janney, a lawyer from Loudoun County. In 1831, he had drafted a bill to abolish slavery in Virginia, which obviously failed. Three years later he bought his first slave.
The convention was gavelled to order on Feb. 3, 1861, by which point seven states had already seceded. Originally, the delegates were inclined against secession. Encyclopedia Virginia tells us: Constitutional theory became personal and ugly as delegates denounced one another in heated terms. Jubal Early, a future Confederate general who was then a staunch Unionist from Franklin County, ridiculed the radical minority for wanting to subvert the national government. He almost came to blows with John Goode, a hot-blooded secessionist delegate, for presuming to know the minds of Early's constituents back home.
On April 4, the convention voted down secession by 88-45. The vote was largely sectional but not as sectional as we might think. Most of the delegates from the future West Virginia voted against secession. But so did most of the delegates from the Shenandoah Valley, Southwest Virginia and even plantation-heavy Southside and the Northern Neck. On the other hand, some delegates from the future West Virginia did vote for secession. Again, complicated.
Slavery was concentrated in the eastern part of the state but even some of the Unionists from the western part were decidedly pro-slavery. They just didn't see the election of an abolitionist government in Washington as sufficient enough emergency to break apart the country. They assumed state's rights would protect their "peculiar institution." John Carlisle, a Unionist delegate from Harrison County in the future West Virginia, declared that "African slavery, as it exists in the Southern States, is essential to American liberty." That view of "American liberty" as exclusively the province of white Americans would exist for quite awhile; some might even say it still exists today. John Baldwin, a Unionist delegate from Augusta County, likewise declared that slavery "is a right and a good thing — on every ground, moral, social, religious, political and economical — a blessing alike to the master and the slave — a blessing to the non-slaveholder and the slaveholder." And these were the pro-Unionists.
The opening shots at Fort Sumter on April 12, and President Lincoln's decision to call up an army to confront secession, changed the mood in Richmond. Virginia would not make war upon its fellow Southern states, although it would make war against the Northern ones, if necessary. On April 17, the vote for secession was 85-55. The measure was sponsored by William Preston of Montgomery County, who had previously been a Unionist. And yet that vote was still not cleanly sectional. Delegates from Franklin and Henry counties voted against it — yes, even Jubal Early. So did most of the delegates from Alleghany County to Rockingham County. So did the delegates from Henrico County, Norfolk County (today's Chesapeake), Accomac County on the Eastern Shore and what today we call Northern Virginia. The delegations from Lee and Scott counties split. If today you see Confederate battle flags flying in some of those counties — and you will — you should understand the real heritage there wasn't so clear-cut.
On the morning of the vote, George Hull of Highland County declared that "I was elected to my seat here by a constituency whose devotion to the Union was a unit." He went on to say: "They elected me … because I was a Union loving man, in whose integrity they thought they could trust, and who they felt assured would stand firm to the last. I have not heard of any change in their opinion, and even this morning heard they were as I left them." He voted against secession "because if I did I feel sure I would thereby misrepresent a majority of those who sent me." And yet Hull, after the vote, joined a Confederate militia because loyalty to the state outweighed his conviction that the state was wrong. Highland County itself did not resolve to join the Confederacy until after Thomas "Stonewall" Jackson brought an army into the county and defeated the Federals at McDowell. Did we mention this was complicated?
The University of Richmond maintains an excellent website at https://secession.richmond.edu that contains the minutes of the convention. You can read them for yourself to see how prevalent the defense of slavery was. But for the most powerful presentation, click on the map. County by county it will show you what percentage of the population were slaveholders and what percentage were enslaved. In Montgomery County, for instance, just 3% owned slaves while nearly 21% were slaves. Somehow that 3% persuaded the rest of the free population to fight a war that, had it succeeded, would have allowed that 3% to continue their practice of human bondage. The Civil War was about many things but, in the end, it came down to what's been said of many conflicts — a rich man's war but a poor man's fight. All those rebel flag-wavers today are still getting tricked.