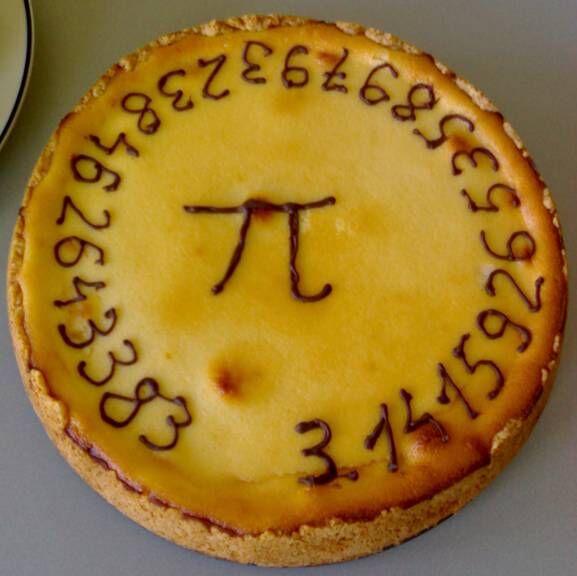 Today is March 14 — or as some prefer to call it, Pi Day — in honor of that strange little mathematical constant known as "pi." You know, 3.14 and so forth and so on. Or perhaps more like on and on and on and on …
The beauty of pi is how it solves so many math problems. The mystery of pi is that it never ends.
If pi were a country song, it would be "The Road Goes On Forever" by Robert Earl Keen.
If pi were a baseball game, it would be an extra innings game that neither team managed to put away — even with Major League Baseball's ridiculous new rule about putting a free runner on second base.
If pi were a newspaper editorial — well, have no fear, it won't go on forever, but it will go on like this in honor of our most useful little irrational number (not to be confused, of course, with irrational fear):
3. That's how many constitutional amendments we're apparently not allowed to have on a Virginia ballot at any one time. In this year's General Assembly, the state Senate passed — by a wide and bipartisan margin of 34-1 — a proposed constitutional amendment that would have closed the loophole that allows for the vast disparities between schools in the state's most affluent communities and the ones in its poorest communities. When that amendment — sponsored by state Sen. Bill Stanley, R-Franklin County — made to the House, Democratic leaders there said "whoa, not so fast." A House committee promptly killed the measure on a nearly party-line vote. The ostensible reason for opposing the amendment is that we're already likely to have two constitutional amendments on the 2022 ballot and we shouldn't have three because that's somehow too much for voters to comprehend. Never mind that those same legislators were also busy passing a bill to legalize marijuana — which contains a provision for localities to hold referenda in 2022 to ban pot stores. So many places will have three referenda — a constitutional amendment to end school disparity just won't be among them. By contrast, California voters had 12 propositions on their 2020 ballot.
Decimal point. This matters a lot when you're writing a check, which some of us might have to do next month when taxes are due.
1. That's how many Democrats broke with their party in that House committee to vote in favor of the aforementioned constitutional amendment in favor of ending school disparities. That one Democrat? Sam Rasoul of Roanoke. While it looks like the vote was a party line vote, this might be a more instructive way to look at the vote: All the legislators on the committee from the urban crescent voted against the amendment, all the legislators from rural or western Virginia voted in favor it. Or, put another way, the "haves" outvoted the "have-nots."
4. That's how many Virginia localities approved casinos in referenda last November: Bristol, Danville, Norfolk and Portsmouth. It might be late 2022 or 2023 before they start to open, though. That means in a few years we'll have both legal gambling and legal marijuana. Speaking of which …
1. That's how many opportunities Virginia localities have to ban marijuana retailers before pot becomes legal in 2024. The newly passed Virginia law allows localities to hold referenda in 2022 — but only 2022 — on whether to prohibit pot stores. If voters don't decide to prohibit marijuana retailers that year, then that locality is eligible for a licensed marijuana retailer once the state starts issuing licenses. That's a very different provision than what other states have done. Colorado is perhaps the most famous legal weed state but that state's laws allows local governing boards to ban marijuana operations. Virginia's new law, though, requires a voter referendum to pass a local prohibition — and voters might have very different ideas than county supervisors or city council members. You can look at this provision of Virginia's law several ways. It's either very pro-weed (because voters might be more open-minded than politicians) or it's very pro-business (if you look at this through the lens of a potential retailer looking to set up shop). In any case, come November 2022 we'll likely see a lot of prohibition referenda on local ballots. Wonder how many will actually pass?
5. That's how many localities in Southwest Virginia have joined together to set what will be the state's lowest tax rate on data centers. Those localities are Dickenson County, Lee County, Scott County, Wise County and the city of Norton. They've agreed on a tax rate of 24 cents per $100 of assessed value. It's all part of Southwest Virginia's pitch to become a technology hub. There already are three data centers in the region (more than in the Roanoke Valley, if you're counting). The goal here is to send a message to the technology computer that the region wants to build a new economy to replace coal. Will this work? Don't know, but it's one of the most fascinating economic development initiatives unfolding in rural Virginia, so stay tuned.
9. That's how many innings there are in a baseball game (at least Major League Baseball hasn't tinkered with that.) The good news is there will be local baseball this year. Last year, stadiums were silent as minor leagues were shut down by the pandemic, and even MLB played a shortened season. This year, those leagues are back. There have been some changes driven by the bean-counters with MLB. The Appalachian League — which has Virginia teams in Bristol, Danville and Pulaski — has been converted from a professional rookie league into a collegiate league, but that's a better option than having no teams at all, which some places no longer have. Meanwhile, the Carolina League is no more; it's been turned into something with the bland corporate name of Low-A East. But at least the Salem Red Sox and the Lynchburg Hillcats will be playing and they'll have a lot of new opponents. That reconfigured league now runs from the Delmarva Shorebirds on the Eastern Shore to the Augusta GreenJackets. We're counting down the days until we hear our favorite words: "Play ball!"
2. That's how many shots you need if you get either the Pfizer or Moderna vaccine; the Johnson & Johnson vaccine, of course, requires only one. If you want this pandemic to end, you'll need one of those. Sign up at vaccinate.virginia.gov or call 1-8770VAX-INVA and then patiently wait your turn.
Pi goes on and on but we won't.