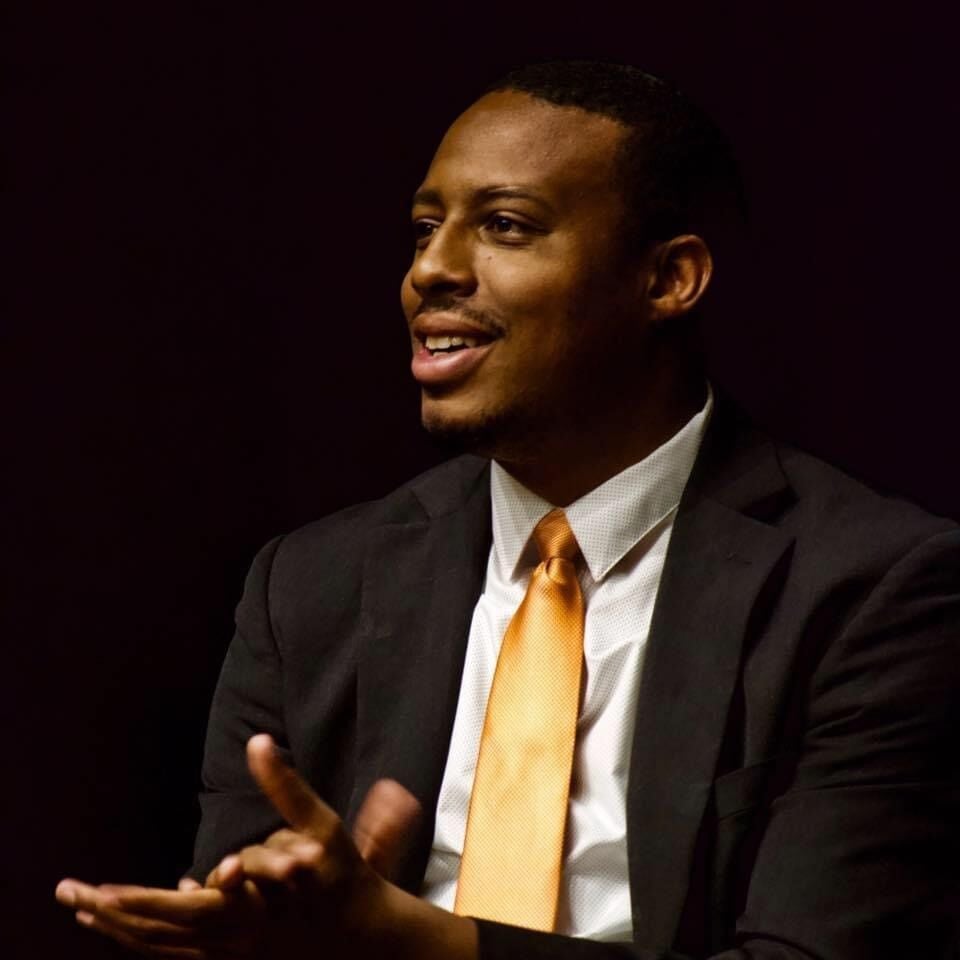 You don't have to found a multimillion dollar company to be an entrepreneur.
You could launch a small business, organize a music venue, found a nonprofit, or launch a new social program.
That's what Ryan Bell, a 33-year-old Roanoke entrepreneur, has set out to do. He doesn't call himself an entrepreneur, but the shoe fits.
Bell founded the Black Father Family Initiative, meant to help young parents of color, especially but not exclusively fathers, develop the self-knowledge and skills to best navigate the awesome responsibility of raising a child.
What began as a festival empowering Black fathers and defying negative stereotypes will move forward under the umbrella of the United Way of Roanoke Valley.
With the United Way behind him, Bell isn't thinking small.
"I tell people all the time, jokingly, I really envision Black Father Family being the Big Brothers Big Sisters of fatherhood," he said during our interview.
He hopes that his efforts to empower fathers earn that level of recognition, though he's quick to clarify that his project is meant to benefit mothers, too. "It can't be done successfully without the mothers coming along on this journey with us," he said.
The story of Black Father Family is inextricably wound into Bell's own story. He is, after all, a recently married father of four.
He's also an experienced special education teacher, though the way he came by that trade is a little off the beaten path.
Bell is a Roanoke native. His younger brother, Jordan Bell, a community activist and historian, has also been in the news, leading walking tours of the historic Gainsboro neighborhood, co-organizing the Juneteenth celebration in Eureka Park and speaking at rallies protesting police brutality.
Ryan attended Virginia Union University, a historically Black institution in Richmond, and moved to the Hampton Roads region afterward to be near his newly born first daughter. Yet he had trouble finding a job that suited. His father, Carlton Bell, the former principal of Hurt Park Elementary School, suggested he try something in education, so he followed that suggestion, landing a job as a special education teacher's assistant in York County near Williamsburg.
He fell in love with the job, but couldn't get hired on as a full-fledged teacher without proper credentials. Friends teaching in Richmond invited him to bring his passion for special education there, and he took them up on it.
Bell returned to Roanoke in 2017 to help take care of his grandfather. However, when Anthony Mingo, program coordinator of Richmond City Health District's Family and Fatherhood Initiative, went looking for someone to found a Roanoke hub as part of an expansion funded by a federal grant, Bell's name came up.
"I was like, yeah, man, sign me up!" Bell said.
He went to work for the Virginia Family and Fatherhood Initiative, with an office based in the Roanoke City Health Department. The program's offerings included classes on trauma resiliency and life skills and family case service specialists that could assist with issues like housing, food and transportation.
Because of the high level of participation and graduation from the program, Bell received invitations to speak at health and human services conferences. While there, he frequently heard discussions of data that painted fathers, and Black fathers in particular, in a bad light, reinforcing stereotypes that, in Bell's personal experience, did not fit the fathers he knew.
Listening to those presentations, he thought, "That can't be true," he said. "At least in my small world and my sample size, that's not the case. I know black men, multiple black men, many black men, who are great daddies. At the very least they're decent daddies."
That's when Black Father Family was born. Bell wanted to change that negative narrative.
As Bell took a new job as Roanoke City Public Schools' first family and community engagement coordinator, he ran social media campaigns meant to highlight good father figures and worked to get men in the community involved with school mentorship programs.
The "1 Day, 100 Men Challenge" brought volunteers to schools to hand out books and cheer students on. In July 2020, Bell co-organized the first Black Father's Festival at William Fleming High School. In November of that same year the Harrison Museum of African American Culture hosted an art exhibition curated by Bell, "Through Our Eyes: An Art Showcase Depicting Positive Images of Black Fatherhood."
Bell emphasized that all of his ideas were tried first elsewhere; he was just the one who brought them to Roanoke, as he put it.
Events put him back in touch with Mingo, his old boss, and the two began talking about potentially launching Black Father Family as a nonprofit organization.
Yet one of Bell's board members, Dr. Lee Learman, dean of the Virginia Tech Carilion School of Medicine, brought up an alternative to the laborious process of applying of 501(c)(3) status. To get on firmer footing, why not approach other organizations about a fiscal sponsorship.
The United Way of Roanoke Valley gladly took them on. "Black Father Family will be under our wing," said United Way President and CEO Abby Hamilton.
Black Father Family is setting up the structure for conducting meetings with focus groups. "We want to be able to hear from the potential participants," Bell said.
He'll be co-leader of the focus groups with Jennifer Turner, an assistant professor of sociology at Hollins University whose research has focused on families.
In the program's new home, Black Father Family aims to start by providing help and resources to participants aged 16 to 24. "At that age, at that point in their lives," Bell said, "they really need some additional love and some additional arms wrapped around them."
Bell inspires by example.