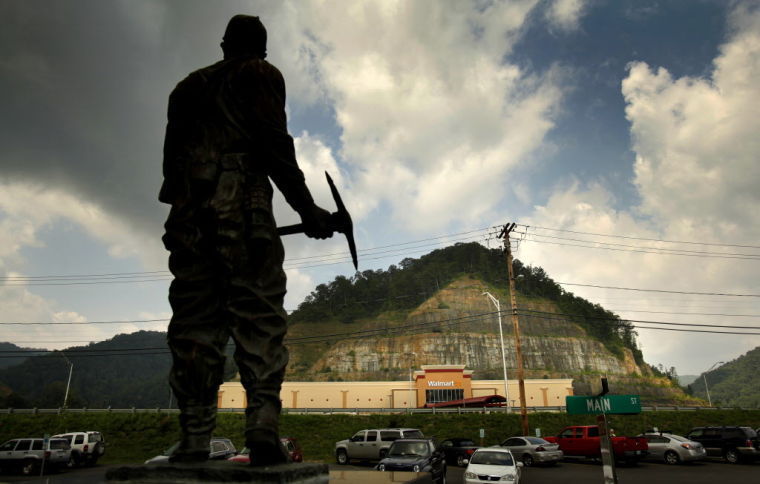 Coal country, have we got a deal for you.
If Appalachian counties grappling with the demise of their signature industry are serious about building a new economy, they have an unexpected opportunity.
To explain that opportunity, we must first rewind 12 long years to 2009 when Congress was passing the $831 billion stimulus program known as the American Recovery and Reinvention Act that was intended to pull the country out of the recession caused by the 2008 financial collapse. We know this will shock you but Congress included a lot more in that act than what were advertised at the time as "shovel-ready" projects that would put people to work right away. More specifically, the Obama administration pushed hard on the "reinvention" part of the act, wanting to make sure there were a lot of renewable energy programs included. One of the key drivers behind the renewable energy component was Barack Obama's vice president, a fellow named Joe Biden. Perhaps you've heard of him?
During Obama's first term, his administration used the act to spend $90 billion on clean energy projects, which it claimed at the time leveraged $150 billion in private investment. The news website Politico reports that spending "helped drive down the cost of solar and wind farms" and led to the flower of renewable energy projects that we're seeing now. Lest you think the Obama administration was all tax-and-spend, consider this remarkable statistic: For all that spending, when Obama left office, the Department of Energy still had $40 billion in loan authority for renewable energy projects that it hadn't yet tapped.
Now for the kicker: The Trump administration didn't spend any of that money. Maybe that shouldn't be surprising, given how Trump always took a dim view of renewable energy, even as the marketplace came to embrace it.
That means Biden now takes office with $40 billion to spend on renewable energy without having to ask Congress for a single cent. (We're indebted to Politico for unearthing this particular factoid). This is the equivalent of finding money in the sofa cushions. Hey, it's the federal government — it's a big cushion.
More seriously, this is being heralded in energy circles as a windfall. Politico says renewable energy advocates see that $40 billion program as "the backbone of a government-wide clean lending bank that enables the rapid deployment of new innovations, like the installation of batteries and other energy storage technology to support the growth of renewable power."
Here's why coal country should celebrate this — and act fast. We'd hope this explanation would be obvious. Somebody's going to get that money. We've long argued that there's a moral rationale why the federal government should make a point of trying to direct renewable energy projects to former coal country to replace that jobs that have been lost there. On that score, Appalachia has been abandoned by both parties. The Trump administration has no interest in renewable energy, period. And the Green New Dealers have shown only scant interest in that kind of economic justice. (Case in point: Virginia's Clean Economy Act, which will eventually shut down the remaining coal-fired energy plants in Virginia, contains only weak language about encouraging utilities to put renewable energy projects in coal country — certainly no mandates.) Fortunately, though, Appalachian communities don't need to wait like beggars for either party in Washington to throw them some scraps. They have sufficient agency to act on their own if they so choose.
We're not experts enough to say what projects they should be endorsing. Ultimately, there need to be private investors willing to put their money in Appalachia. There certainly seems a gold-rush quality right now to investors seeking out renewable energy projects in general; the trick is making sure some of that comes to (former) coal country. That will require some conservative politicians in Appalachia to make a very un-conservative argument — that the region deserves the equivalent of geographic affirmative action with a certain amount of that $40 billion to be set aside for projects in coal counties. Can they do that? Could, for instance, Rep. Morgan Griffith, R-Salem, (who lately voted to overturn Biden's election), make common cause with Virginia's two Democratic U.S. senators to demand that the Biden administration devote a certain share of that $40 billion to Southwest Virginia? More broadly, what if members of Congress representing coal counties banded together to make a more regional case?
There are plenty of opportunities here for others to show leadership, if they're inclined. In November, the mayors of seven cities in the Ohio Valley — from Pittsburgh to Louisville — joined together to propose a modern-day "Marshall Plan" to convert their region into the Silicon Valley of renewable energy. Mayors, mind you. Not governors, not members of Congress, not state legislators, but mayors. Granted, the mayor of Pittsburgh has a bigger bullhorn than, say, the chairman of the board of supervisors in Dickenson County, but there's nothing stopping our local governments from doing the same thing. So why aren't they?
This will require some shift in thinking. We're already seeing at least one, maybe more, of the candidates for the seat left vacant by the death of the state Sen. Ben Chafin, R-Russell, declaring himself "pro-coal." We understand the power of nostalgia, but true leadership isn't trying to conjure up warm memories of a past that will never return, it's telling people the truth — coal isn't coming back — and then doing something about it. Here's a chance — and an idea.
Five years ago, Hillary Clinton proposed a $30 billion plan to build a new economy in Appalachia. She never followed up; never campaigned on the idea beyond its initial release. But the proposal was made. At the time, Griffith told The Roanoke Times that the figure sounded realistic, although he questioned whether some of the details — or lack thereof — were well thought-out. "If they haven't figured out how to get big manufacturing in there … it's not a plan," he said. Well, here's your chance. Steal that idea from 2016, rebrand it for 2021 and demand that $30 billion of that $40 billion go to supporting renewable energy companies to locate in Appalachia. Who's willing to take the lead?