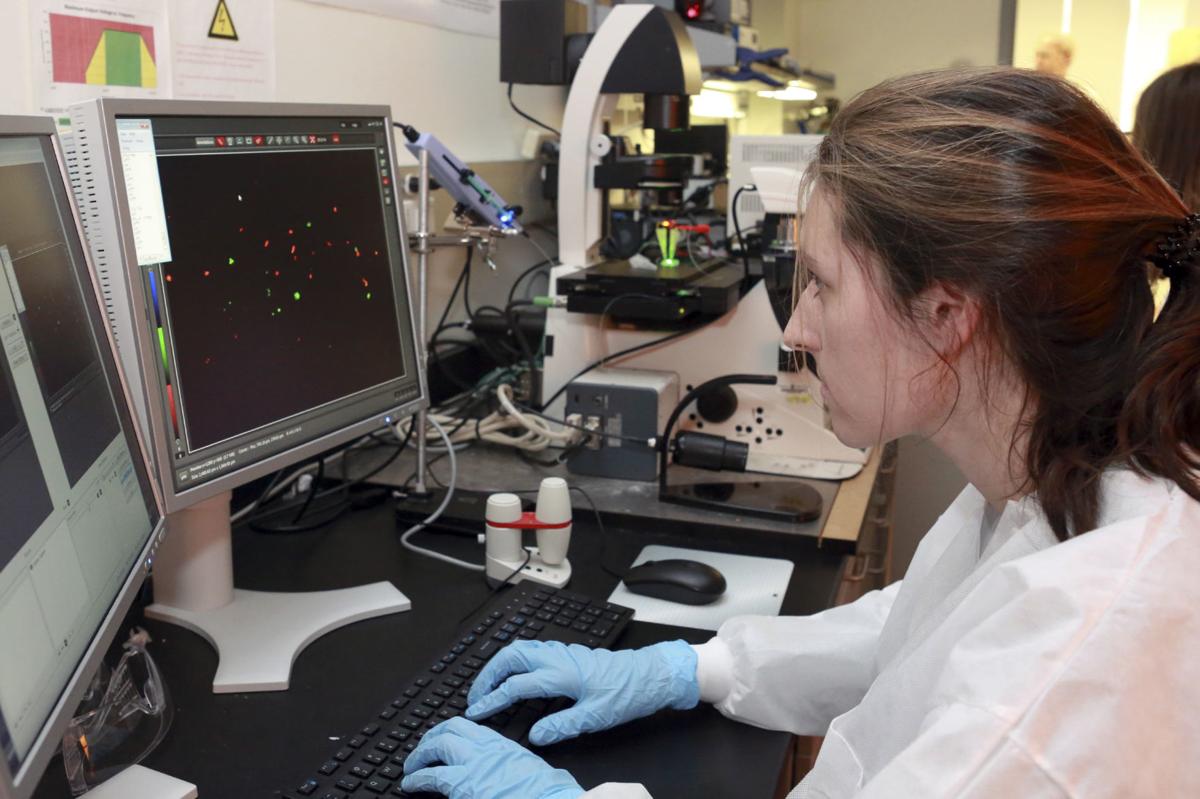 Why is the price of cars going up so much?
Why are so many tech jobs going to so few metro areas?
Why can't Congress get anything done on a bipartisan basis?
All good questions and they all overlap — with Sen. Mark Warner, D-Virginia, standing in the center of trying to fix all three.
There's sometimes a difference between big news and important news. The big news out of Washington last week had to do with whatever Democrats and Republicans were arguing about on any given day.
The important news was that the U.S. Senate passed — and sent to the House — something called the Innovation and Competition Act. The bill didn't get much attention because there weren't many people arguing about it; the measure passed by a wide and bipartisan margin.
A decade or more from now, this bill might turn out to be more important than anything else Congress did last week, or maybe lots of weeks.
The answer to the first question we posed deals with computer chips. They are the brains that make computers run — and cars these days are essentially computers on wheels.
When the pandemic hit, and consumer demands for cars plunged and consumer demand for household electronics soared, chip manufacturers quite naturally shifted their manufacturing from the former to the latter. Now that the demand for autos has returned, carmakers are finding it hard to acquire enough chips — so some auto plants still sit idle.
Those snarled supply chains have called attention to a bigger and more long-term issue: The United States is dangerously dependent on other countries for computer chips, no matter what they're going into.
In 1990, 37% of the world's computer chips were made in the United States. Now only 12% are.
Three-fourths of the world's chips are now made in Asia for the usual reasons — labor is cheaper there. The biggest makers are, in order, South Korea, Taiwan and Japan. But China is coming up fast.
Between 2015 and 2019, China pulled ahead of the U.S. as a chip-maker and appears on a rocket-ride to the top. By some estimates, it aims to control 70% of the market by 2030 — even more if China someday invades Taiwan (which it might well do).
There's a national security term for this: Not good.
This has led to a bipartisan push to develop a bigger semiconductor industry in the United States.
Just a few weeks ago, we wrote about how two former congressmen with a long interest in technology issues — Bob Goodlatte, a Republican from Roanoke County, and Rick Boucher, a Democrat from Abingdon — had authored a commentary in USA Today making the case for Congress to fund more semiconductor research.
Guess what? That's now happened — or, more accurately, it's happened in the Senate. The House still needs to follow suit.
The Innovation and Competition Act has been described as "a broad legislative package aimed at advancing the nation's R&D competitiveness with China" — part of that deals with semiconductor research.
The two lead sponsors on that part in the Senate were Warner — and John Cornyn, a Republican from Texas. They came together because both sit on the Senate Intelligence Committee (Warner does more than sit on it; he's currently the chair) and both see the national security implications.
"The wake-up call for a lot of members was seeing the supply chain vulnerabilities that we saw during COVID," Warner said. "For John and I, [it was] hearing the Chinese Communist Party's plan for dominance in a whole series of technology — semiconductors, 5G, artificial intelligence, quantum computing. The Chinese [are] executing on a plan at a level we've never had this kind of competition."
The Soviet Union was a military threat, Warner says, "but it was never an economic threat." China is.
This bill, if passed by the House and signed by the president, would dedicate $52 billion to domestic semiconductor manufacturing.
Some might consider that "corporate welfare." Warner's response is these semiconductor plants are going to get built anyway, it's just a matter of where. Would we prefer them in the United States or in China? If the former, this is what's required. (Cornyn said much the same). One potential local implication: Research dollars that might flow to Virginia Tech.
As for the rest of the bill, perhaps the most interesting part is the provision that directs the secretary of commerce to designate 18 "regional technology hubs" — with $10 billion going to promote research and development there.
This is an idea that's been bubbling around in policy circles (mostly on the left) for several years now — even though the ultimate beneficiaries might be some states that vote solidly red.
The problem is what economists call "the great divergence," as technology jobs cluster in a relative handful of go-go metro areas.
A 2019 report by the Brooking Institute showed that 90% of the nation's innovation sector growth between 2005 and 2019 was concentrated in just five metro areas in three states — Boston, San Francisco, Seattle, San Diego, and San Jose, California. "Now," Brookings writes, "now, senators from both sides of the aisle have come together to recognize the economic, social, and political crisis of interregional inequality — and endorse the use of place-based government action to counter it."
During last year's Democratic presidential primary, multiple candidates — although notably not Joe Biden — proposed investing federal R&D dollars in regional "growth centers" as a way to jump-start tech hubs that aren't on the two coasts. This is basically that.
To ensure geographic diversity, the bill requires three in each of the six regions covered by the U.S. Economic Development Administration (which puts Virginia in a region that runs all the way up to Maine).
It further says at least six of the 18 hubs must "benefit a small and rural community," which it defines as any metro area with a population of 200,000 or less as reported in the 2010 (note the date) census.
In Virginia, that would apply to the New River Valley and Danville, but not Roanoke, Lynchburg or Bristol, all of whom are part of metro areas with bigger populations than that. And, of course, any place that's not an official metropolitan or "micropolitan" area.
That means Virginia's coal counties could band together to put in a bid, particularly if they can enlist the University of Virginia's College at Wise as a partner (the act likes having universities involved). Government leaders in all those places should be studying the fine print on this bill and figuring out how their communities might qualify.