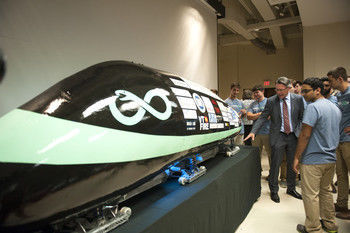 We use so much ink (or digital electrons) flogging politicians for not thinking beyond the next election that we're a bit flummoxed when one actually does.
So what should we do with a long-shot candidate who proposes an idea so futuristic that the first two temptations are to either laugh or ignore it? We'll go with a third option and actually take a look at what Peter Doran is proposing.
Editorial writers should reward out-of-the-box thinking even if voters don't.
Doran is one of seven candidates seeking the Republican nomination for governor in next months' convention. He's not one of the top-tier candidates — that would be, in alphabetical order, Amanda Chase, Kirk Cox, Pete Snyder and Glenn Youngkin. But they're not the ones proposing a hyperloop in Southwest Virginia, and Doran is, so there.
Doran used to run a Washington think tank focused on European policy. Whether that qualifies him to be governor of Virginia — well, that's up to Republican convention voters.
What got our attention was the news release that Doran sent out recently in which he outlined his thoughts on transportation.
It arrived the same day that Gov. Ralph Northam appeared with U.S. Secretary of Transportation Pete Buttigieg to finalize the deal that will expand passenger rail between Washington, D.C. and Richmond and have the state acquire little-used rail lines from CSX that someday might lead to east-west passenger rail between Doswell and Clifton Forge as well as lay the groundwork for a future high-speed rail network from Petersburg to North Carolina.
All that sounds pretty futuristic. After all, we're still getting used to having passenger rail extend from Lynchburg to Roanoke, not to mention future expansion to Christiansburg and, maybe someday, Bristol.
Doran says that's not futuristic enough. "Virginia will never be able to compete, and will never be the best, by dumping billions into last-gen transportation systems as Democrats are proposing," Doran said in his statement.
He went on to say: "The lack of vision we see in our current leaders amazes me. They are filtering all of their solutions around one data point: Does this decrease carbon emissions? That binary thinking acts as a constraint on solutions and does not bring us anywhere close to solving the very real and debilitating transportation problems we have in Virginia.
"The cost of living is skyrocketing in Northern Virginia. Traffic is out of control. Jobs, and more accurately job seekers, are increasingly being segregated into regions of Virginia for lack of ease in commuting and efficient transportation options.
"We are locking high-paying jobs into Northern Virginia, and leaving other parts of our Commonwealth behind. What's worse, there are no real solutions, from either Richmond or Washington, on the horizon."
On that score, Doran isn't wrong. In fact, he's right. Now for his proposed solution: "I am proposing that we construct a HyperLoop hub in Southwest Virginia. Similar in effect to Wytheville being the current road and Interstate hub of Southwest Virginia, this new installation will be the Hyperloop hub of the Southeast United States."
OK, so what the heck is a hyperloop? Imagine a system of tubes with such low air pressure that a train-like vehicle could shoot through it at airline speeds — or even hypersonic speeds. Now that's futuristic, although it's not really. Rocket pioneer Robert Goddard first proposed such a "vacuum train" back in 1904. More recently, Elon Musk has become the main champion of hyperloop technology. Musk, rarely at a loss for words, has called it "a cross between a Concorde and a railgun and an air hockey table."
Laugh if you want, but there are serious people doing serious research into hyperloop technology. The Massachusetts Institute of Technology has conducted research into electrodynamic suspension — one of the technologies that would make a hyperloop train "go." So have other universities, including Virginia Tech, where several dozen students are now engaged in hyperloop research.
There are now so many hyperloop proposals around it's hard to keep up. Since 2016, Virgin Hyperloop, an offshoot of Richard Branson's Virgin companies, has had a test site near Las Vegas and last year announced it would invest $500 million in another test site in — get ready for this — West Virginia. Another company has a test site in France.
India, Saudi Arabia and the Netherlands have also studied hyperloop routes. So have Ohio and Texas. Missouri has studied a hyperloop route between Kansas City and St. Louis and last year released a report that, according to the Kansas Business Journal, set out a goal for "how to establish Missouri as a global epicenter for research and development of the tubed transport technology." There's a prototype under construction in Abu Dhabi; Virgin says it hopes to launch a commercial pilot demonstration in Saudi Arabia by 2024.
Is any of this, well, real? Are we really going to be travelling in vacuum tubes? Guess we'll know in a few years. It all sounds kind of ridiculous but so did air travel up until 1903.
Doran says Virginia needs to prepare for it now. One big question, of course, is who's going to pay for all this? We can barely pay for the roads we have now.
The Concorde proved that supersonic air travel was possible. It also proved that supersonic air travel was too expensive to be commercially viable.
Doran doesn't really have an answer for that, other than to turn to the federal government. "It is the job of a governor to try and capture as many federal dollars as possible if they have been allocated by Congress," he tells us via email. "To do otherwise would be malpractice. I do not like a big-spending Congress, but if the money is available, it would be my job to have a plan to get those dollars."
Let's just skip over those pesky details and focus on the big-picture. Doran looks at Wytheville and see it as a crossroads for two interstates. He wonders why Southwest Virginia couldn't someday be a hyperloop hub, as well, with routes north to Arlington, south to Charlotte and Atlanta, west to Nashville and elsewhere. "A commute from Roanoke to Washington, D.C. would take 30 minutes," he says.
All that's pretty far-off — and far-out — but here's a more modest proposal: Remember the idea for a "smart road" short-cut between Roanoke and Blacksburg? That ended with a giant bridge to nowhere in Ellett Valley. Or could that be the forerunner to a hyperloop test site? If not, why not?