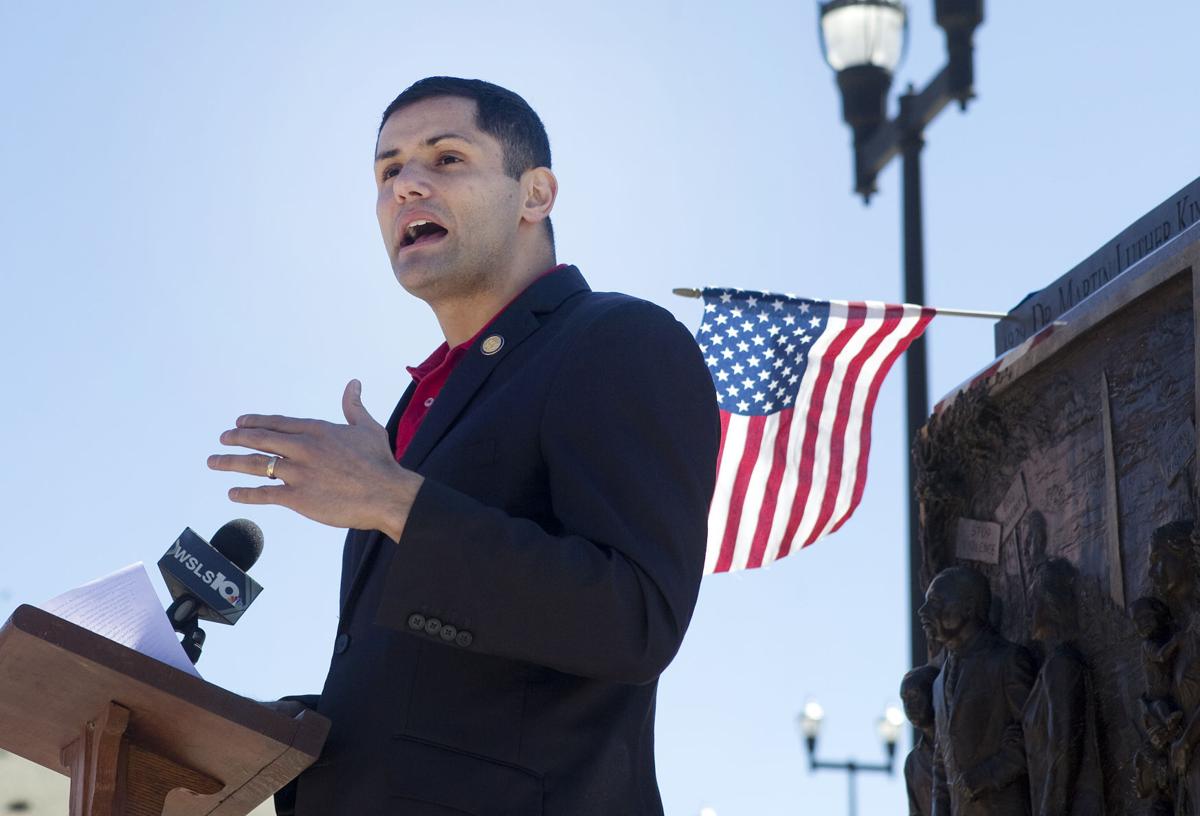 Sam Rasoul is the luckiest politician in the land right now.
We don't know if the Roanoke state legislator will win next Tuesday's Democratic primary for lieutenant governor, but in the closing days of the campaign he's had a run of unexpected good fortune.
In real estate, they say the key thing is "location, location, location." In politics, it's "timing, timing, timing" and Rasoul's timing – or rather the timing of fortuitous events that Rasoul had nothing to do with – couldn't have been better.
Right when voter attention is at its peak, three things have happened that he didn't plan on.
First, he won the endorsement of The Washington Post, a paper that carries outsized weight in Virginia because of its readership in populous Northern Virginia – even more so in a Democratic primary, because Democratic strength is now so concentrated there.
(For those curious, we don't make endorsements).
Any Democrat would love to have the Post endorsement – former Gov. Terry McAuliffe and Attorney General Mark Herring sure do in their respective races.
The Post's endorsement of Rasoul seems a special surprise because the Post passed over four candidates from Northern Virginia (and one from Norfolk) to endorse the only statewide candidate this year from west of the Blue Ridge.
If Rasoul needed any validation with Democratic voters that he should be taken seriously, the Post more than took care of that. The Post's endorsement seemed exceptionally warm, too.
The paper's editorial board praised his "command of complex issues," declared he has "guts," and went on to say that "with a little more pragmatism he could become a force in Virginia politics."
Politicians spend lots of money saying good things about themselves but nothing – nothing – beats having somebody else say those good things when they don't have to.
Next, a debate moderator – from a Washington television station, no less – singled out Rasoul for a poorly-framed (some have said bigoted) question about his faith, which backfired badly in the court of public opinion. That had the effect of generating sympathetic coverage for Rasoul – and drowning out whatever the other candidates had to say in the debate.
The "Muslim question" became the story and generated several days worth of headlines – first from the question itself, then the television station's apology, all of those playing out not just on a statewide stage, but a statewide stage that originated in, yes, Northern Virginia.
Imagine what might have happened in the moderator hadn't asked that question: The debate would have been a minor news item, at best, with no one candidate coming out with a clear advantage. (The rest of the debate was pretty standard Democratic fare). Instead, Rasoul got a rocket ride to multiple days worth of headlines.
Third, and most recently, Rasoul's most serious opponent committed a grievous error that boggles the mind. Del. Hala Ayala of Prince William County has emerged as an establishment favorite, endorsed by Gov. Ralph Northam. Ayala seemed to have the best of both worlds – liberal enough to not offend certain progressive factions, but establishment enough to get the governor's backing. Then she blew it, and she has only herself to blame.
Ayala – like many other Democrats of a more progressive bent – pledged not to accept contributions from state-regulated utilities, such as Dominion Energy or Appalachian Power. (This isn't simply a liberal position, by the way. There are some conservative politicians – most notably state Sen. David Suetterlein, R-Roanoke County – who have been vocal critics of Dominion Energy, as well. Contrary to what you see on cable television channels, politics doesn't always work on a neat left-to-right spectrum).
In any case, Ayala made that pledge. Then, inexplicably, she accepted $100,000 from Dominion Energy in the final days of the campaign (and after some 83,000 votes have already been cast through early voting).
We are hard-pressed to remember another flip-flop so blatant. At least when President George H.W. Bush went back on his "read my lips, no new taxes" pledge, he had a rationale for doing it – you could agree or disagree.
But Ayala didn't give much of any justification, just that her "decisions in elected office have always been based on what's best for Virginia families."
More likely, she acted in what she felt was the best interest of her campaign. She's in third place in fund-raising; Rasoul has raised nearly twice as much as she has. To put it bluntly, it looks as if she needs the money – but by accepting it, she suffered more than $100,000 worth of political damage.
She now comes across looking like a hypocritical, money-grubbing pol, and the beneficiary is – you guessed it, Rasoul, who has made a point of not accepting Dominion money.
One Democratic state legislator who had endorsed Ayala even un-endorsed her and endorsed Rasoul instead. Del. Josh Cole of Fredericksburg blasted out no fewer than seven tweets on the subject, finally declaring that Rasoul "is a model of integrity. He keeps his promises."
Having someone withdraw their endorsement, and then endorse your rival, is generally considered not a good thing. To make matters worse for Ayala, the Clean Virginia political action committee announced it would launch a $125,000 ad campaign against her. This is entirely her own doing, one that will go down in campaign lore as the classic self-inflicted wound.
Maybe Ayala will still win. Many Democrats would like to have a woman on the ticket, particularly a woman of color, which she is – especially since Republicans nominated a Black woman, Winsome Sears, on their ticket.
Maybe she's already banked enough votes from early voting. Maybe the party establishment is strong enough to carry her to victory. Or maybe some other candidate – neither Ayala nor Rasoul – will win. We'll find out Tuesday night.
For now, all we can say is that Rasoul has had a magical two weeks. Even before that, he was showing signs of breaking out. He's raised the most money. He led in the most recent public poll (although, to be fair, most voters were still undecided). He's also put together a fascinating coalition that spans the Democratic spectrum. And he's put more work into rural Virginia than we've seen from all the other Democratic candidates put together.
There may not be many Democratic votes in rural Virginia anymore, but in a close race, small margins can add up. That's how Barack Obama defeated Hillary Clinton in 2008 — and she didn't commit a mistake as bad as the one Ayala just did.