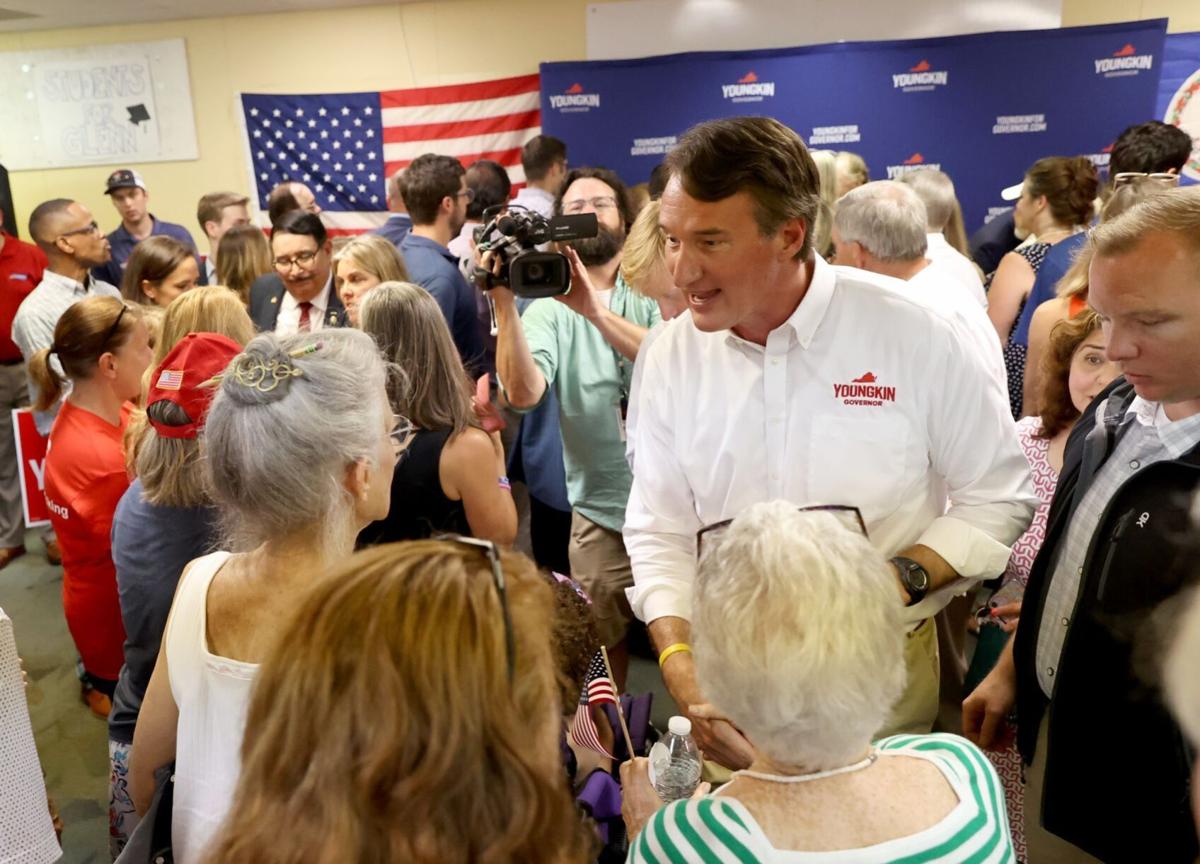 Some Virginia Democrats are mystified why the early polls show the governor's race so close — statistically a tie.
Here are four reasons why the contest between Democrat Terry McAuliffe and Republican Glenn Youngkin is so close — for now.
1. Virginia isn't as blue as recent elections suggest.
Republicans haven't won a statewide election since 2009. With that one exception with Bob McDonnell, four of the past five governor's races have been won by Democrats, dating back to Mark Warner in 2001. Two years ago Democrats won back control of the General Assembly for the first time this century — and they did that despite gerrymandered House district lines drawn by Republicans.
It's easy to understand why Democrats now think they're invincible. Here's why Democrats shouldn't give in to such hubris.
Virginia has undeniably shifted to the left — it voted Democratic in two presidential elections before Trump appeared.
However all the elections during the Donald Trump era are misleading because Trump provoked — there really seems no better verb — a backlash among many voters, especially in the suburbs.
Turnout in the 2017 governor's race was higher than any governor's race in 20 years, and it sure wasn't because Ralph Northam and Ed Gillespie were electrifying personalities.
Not only was turnout higher, we also saw a realignment during the Trump years. Rural areas might have become more red, but suburbs became more blue, and guess which is the bigger of the two?
Without Trump in the White House, will turnout return to normal or even below-normal levels? And if it falls, who is hurt most by that decline?
Democrats were certainly the beneficiaries in 2017 when turnout hit 47.6% of registered voters. Republicans were the beneficiaries in 2009 when turnout was barely 40.4%.
This underscores why Democrats are generally more enthusiastic about laws that make it easier to vote while Republicans sometimes seem keen to make it harder to participate.
Republicans forget that in 1997 turnout was 49.5% (the state record in the Motor Voter era) and that certainly helped Republicans (and Jim Gilmore) that year.
The point for now: If Democratic dominance in Virginia depends on Trump-era turnout, then Virginia's not really as Democratic as we think because that turnout likely won't be happening. What we don't know is whether, even with a lower turnout, there's been enough realignment in the suburbs that Republicans still have no chance to win.
There's a strategic reason why Loudoun County has become ground zero for the twin flaps over critical race theory and transgender policies.
2. Even deep blue states sometimes elect Republican governors.
Exhibit A: Larry Hogan in Maryland.
Exhibit B: Charlie Baker in Massachusetts.
Exhibit C: Phil Scott in Vermont.
If you look across the country, you'll find that Democratic states are more likely to elect Republican governors than Republican states are to elect Democratic governors.
Sometimes local issues outweigh whatever partisan considerations voters might have in mind — and often gubernatorial elections are less ideological than congressional or presidential elections.
3. McAuliffe isn't as popular as Democrat leaders think he is.
Let's remember that McAuliffe didn't win a majority the first time around — he won with 47.7% of the vote in a three-way race in 2013.
McAuliffe's administration was not universally admired, either. In November 2017, by which time voters had seen nearly four years of McAuliffe, the Roanoke College Poll found just 43% approved of his handling of the governorship. That was certainly better than the 36% who disapproved, but the key number is that it wasn't 50% or more.
Furthermore, McAuliffe barely won against a polarizing Republican candidate in the form of Ken Cuccinelli. This year he's up against a far less controversial opponent — Youngkin is really a cipher.
We have a fascinating contrast here, one we've never had before. We know less about Youngkin than we do about any other major party candidate for governor in the modern era.
Meanwhile, we know more about McAuliffe than we have any candidate since Mills Godwin sought a second, non-consecutive term in 1973. We know exactly what to expect from McAuliffe, and it's clear that voters weren't all that excited by him the first go-round.
Meanwhile, Youngkin is a fresh face in a society that prizes such things — and as a blank slate he is someone on which people can project whatever they want to project. That's why Youngkin is doing his best to say as little as possible about what he'd actually do as governor, and Democrats are doing their best to make him sound like a scary extremist.
The reality is we simply don't know, but being new and unknown, Youngkin has a higher ceiling than McAuliffe does. (He might also have a lower floor, if things really go south). Simply based on atmospherics, Youngkin is no Trump; he seems a normal pre-Trump Republican.
4. Voters might simply be tired.
During the presidential election, Trump tried to depict Biden as "Sleepy Joe." This was a mistake. Many voters liked the idea of a somnolent president.
After Trump, they were simply exhausted and wanted a rest. They wanted a president they wouldn't hear from or about on a constant basis.
Are Virginia voters in the same mood about their next governor? The Northam administration has been far more exciting than anyone ever expected.
There was the blackface scandal and all that flowed from that. And then there's been the torrent of legislation passed by the new Democratic legislature — marijuana legalized, the death penalty abolished, Confederate statues taken down, you name it.
Democrats may think these are long overdue, but some voters may be in a mood to hit "pause." That's why the state's insistence that each school system adopt a transgender student policy is such a political mistake: Do we need policies? Sure. But the political debate is not exactly helpful to Democrats in an election year. Ditto the silly flap over critical race theory.
Youngkin recently criticized the legalization of pot but then allowed that he wouldn't try to change it. This may be hypocritical but is politically brilliant — his criticism assuages those who opposed legal weed but his refusal to undo it suggests he not trying to roll back recent innovations.
He's trying to have it both ways, but that might perfectly capture the mood of some voters. That's one of at least four reasons why the race is so close.