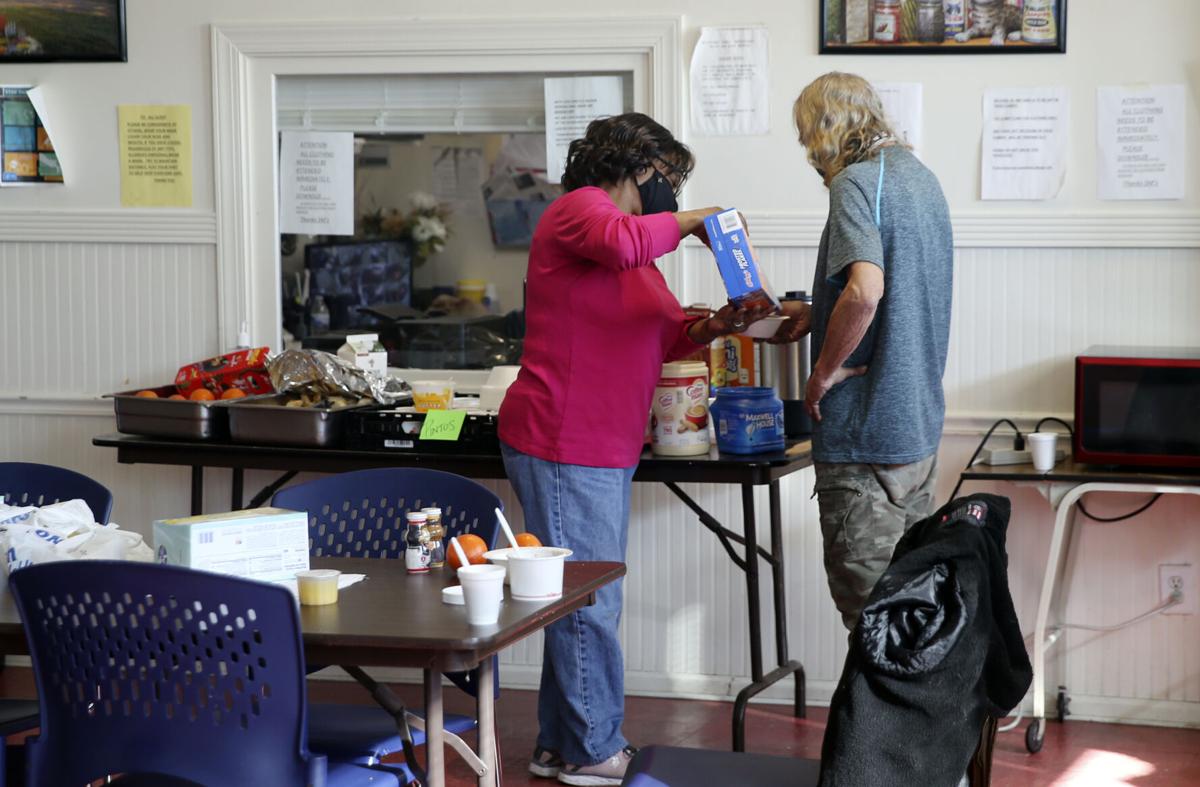 Homelessness preoccupies the minds of many in this day and age.
For some, the issue is more abstract, as they read in the news about the U.S. Supreme Court's invalidation of the Centers for Disease Control and Prevention's nationwide moratorium on evictions and the ongoing consequences of that ruling; or as they read about Roanoke's proposal to start levying a $250 fine on homeless people found camping on downtown sidewalks, a plan that's reportedly the first of its kind in Virginia.
For others, homelessness is a frightening reality, as unemployment, unpaid bills and insurmountable debt push them past the edge of losing their homes to foreclosure and eviction, or as health problems rob them of the ability to keep a roof overhead, leaving them at risk of getting fined and arrested for trying to sleep on a sheltered sidewalk.
Roanoke Area Ministries stands at the forefront of the fight against homelessness. The day shelter that the nonprofit runs, RAM House, provides food, clothing and even work for hundreds who need it.
To counter problems exacerbated by the COVID-19 pandemic, the organization is striving to expand onsite mental health and recovery services for people whose struggles with mental health conditions or addiction or both make staying in shelters impossible.
A separate service from Roanoke Area Ministries, the Emergency Financial Assistance Program, offers emergency financial assistance to families who need help with utility bills, medicine, rent or transportation. It's this program, meant to stop homelessness before it starts, that the Good Neighbors Fund supports.
Sponsored by The Roanoke Times, the Good Neighbors Fund has been an essential lifeline for those at risk of homelessness since the campaign began in 1985.
Last year, because of this community's generosity, the Good Neighbors Fund received an all-time record high of $276,374 in donations, nearly double the amount raised in 2019, and about $85,000 more than the previous high mark, which was set all the way back in 2008.
Melissa Woodson, executive director of Roanoke Area Ministries, calls the 2020 results a miracle.
Not enough people know about the huge difference those contributions made as the COVID-19 pandemic shook the economy's foundations.
"As COVID escalated, and the moratoriums were extended, people were coming in here with huge bills," Woodson said. "The case managers that work in our program were able to give out more money than they had traditionally given, and work with outside agencies that were getting government funding or outside agencies that get private funding," This provided case managers with extra resources, when a client came in, "to wrap around this person's bill to get them back on track."
During these months of pandemic-aggravated hardships, many people who have never before faced homelessness, including experienced business owners, have been turning to Roanoke Area Ministries for aid.
Clients who have approached the organization last year and this year "have been people affected in some way by the virus that led to them being first-time people in need," Woodson said.
However, in the years before the pandemic, "before the government started getting involved in helping with rents and this and that, RAM House, through the Good Neighbors Fund," and through money given by churches and through individual donations, tackled all these same problems. "Our vision statement is to prevent and alleviate homelessness," Woodson said.
It's important not to buy into negative stereotypes about who homeless people are and how their difficulties came about.
"Homelessness can happen to any of us any time," said RAM House Marketing Director Tony Clark. "The good thing with RAM House is, across the board, across demographics, we're there to help everyone who needs that assistance, regardless of your culture, your race, your financial ability. We want to bring people together instead of instead of dividing people."
You'll still find the traditional forms printed in our pages that you can clip out and use to mail in along with your donation and dedication. But Roanoke Area Ministries is looking to reach everyone they can possibly reach, so the Good Neighbors Fund campaign is also going digital.
One sign of that progress is that the Good Neighbors ads in the Roanoke Times will feature QR codes that you scan with your smartphone that will take you straight to the Roanoke Area Ministries homepage (raminc.org) where you can click on a big green donation button.
On social media, watch for the hashtag #IamRamFam — internet-speak for "I am Roanoke Area Ministries family." And watch for a video narrated by Senior Shelter Program Manager Linda Canon, who has worked for RAM House for two decades. The script emphasizes that sometimes all it takes for someone to lose their home and possessions is one bad day.
They all deserve help and they all deserve family.
We'll also be sharing more moving stories written by longtime Roanoke Times contributor Betsy Beisenbach, detailing how people find themselves in these distressing circumstances and how Roanoke Area Ministries and the Good Neighbors Fund can help them out.
Would it be wonderful to set a new record for donations again this year? We'd love to see another miracle. The people who turn to RAM House for assistance, who want to stay off the streets or escape them — they need miracles. Here's a chance to deliver them.
To donate online to the Good Neighbors Fund, visit raminc.org and click on the Good Neighbors Fund Button.