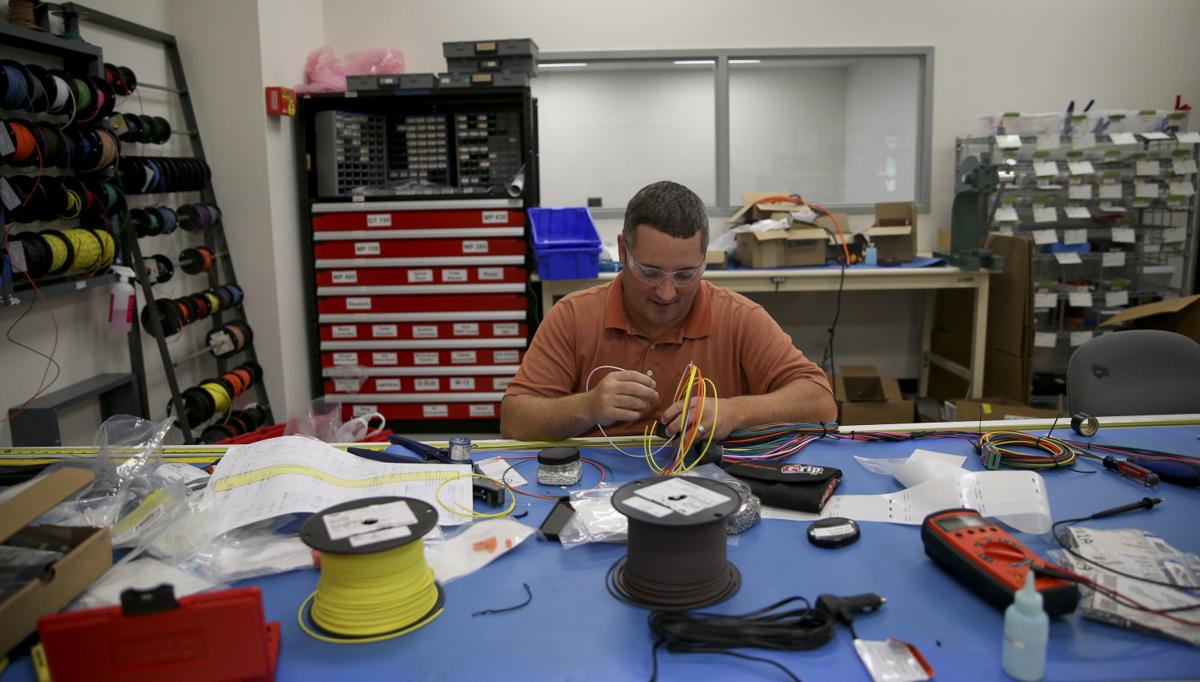 We're at the point of summer where sports fans like to speculate about the football season to come: How will Braxton Burmeister do at quarterback for Virginia Tech? How will Virginia fill some key holes on defense? What magic will Nick Saban work at Alabama?
Now let's do some speculating about something that — sorry, sports fans — is potentially much more important.
We wrote recently about the Innovation and Competition Act, recently passed by the U.S. Senate and now pending the House of Representatives.
It's been billed (correctly) as a major ($250 billion) investment in research and development as way to challenge China's growing dominance in technology sectors.
There's one particular section that catches our eye — the part that directors the Secretary of Commerce to designate 18 "regional technology hubs" for $10 billion in federal funding over four years.
The goal is to jump-start the growth of tech capitals across the country — a response to how tech-related growth is currently clustering in just a handful of metro areas.
A 2019 report by the Brooking Institute showed that 90% of the nation's innovation sector growth between 2005 and 2019 was concentrated in just five places in three states — Boston, San Francisco, Seattle, San Diego, and San Jose, California (And San Francisco and San Jose are so close it's really more like four places).
The bill specifies that there be three such hubs in each of the Economic Development Administration's six zones, which means Virginia is competing against every state north to Maine.
That sounds like a lot, but consider how many places probably won't qualify because they're already the tech "haves" — Boston, New York, Northern Virginia, maybe even Pittsburgh.
Let's cut to the obvious question: What's in it for us? Or, more gracefully, what chance does any place in this part of Virginia have? Let the speculating commence!
You've got to figure that politics will play a part in this — and by that we mean that not all three hubs in that EDA region are going to be in the same part of the country. They'll probably get spread out. That region naturally breaks into three parts — New England, the Mid-Atlantic, and a southern zone south of the Mason-Dixon Line.
That makes the competition a little more manageable — it's probably not half the East Coast, it's West Virginia, Maryland, Delaware and the rest of Virginia.
Northern Virginia's probably out; while it's not in the top five listed above it's still one of those tech capitals that the regional technology hubs are being set up to counter.
The largest metros in that region after the Washington area are Baltimore, Hampton Roads and Richmond.
By sheer heft, they're certainly strong contenders. If you're Roanoke or Lynchburg or Bristol and you want your community to make a bid for one of these hubs (assuming the bill passes the House, let's not forget that part), they're your competition.
That might still feel like a long shot but there's another way to look at this. The bill, as currently written, requires that six of these 18 hubs "benefit a small and rural community," which it defines as any metro area with a population of 200,000 or less as reported in the 2010 (note the date) census.
That was put in to attract the votes of small-state senators and is much more favorable toward small and rural areas than we could ever have envisioned.
So who has a metro area under 200,000? Here's where things get interesting. Not Roanoke, not Lynchburg, not Bristol. All those are part of metropolitan statistical areas that are bigger than that.
Here's where all those efforts to assemble the most populous MSA possible backfire because none of them would qualify for the small community set-aside. That's why we say that they're competing against the Baltimores and the Richmond.
But the New River Valley, Danville, Staunton-Waynesboro and Harrisonburg, Martinsville and anyplace else would qualify.
If you're a community leader in one of those places, you a) ought to be calling up your representative to urge him to vote for that provision and b) figure out what your community's bid would look like.
This is, in effect, a mini-Amazon HQ2 competition, except that Amazon was never going to wind up in small community that size and here six of these 18 hubs will.
Even if a community didn't win one a hub designation, the mere act of competing could help raise its profile in the tech world, which might bring other benefits.
After Amazon picked its HQ2 winners (originally plural, later singular), The Atlantic magazine wrote about how runners-up might still come out winners. It quoted the CEO of the Indianapolis Chamber of Commerce: "Amazon's process forced us to throw out the traditional rule book for attracting business investment and talent—traditionally a cost- and incentive-focused process. Their process forced us to think more creatively about human capital and the workforce of the future. We used the Amazon process to add a sense of urgency to the new tools and partnerships (workforce/talent, land use, transit) we are developing as a region." Same here.
Maybe all those under-200,000 hubs will wind up elsewhere — out in the Midwest or the Rockies. But if at least one region 200,000 or less between here and Maine wins, who might it be?
Of all the Virginia locations we mentioned, the New River Valley would seem to have the best chance by far — because it's home to a major research institution in the form of Virginia Tech.
If the government's goal is to build on something that already exists, the New River Valley would be an obvious choice. If the goal is to create a tech hub almost from scratch, then Wise County should partner with the University of Virginia's College at Wise and put in a bid.
Let's look at some of the other MSAs under 200,000 in the Virginia-to-Maine region, in descending order of population: Dover, Delaware. State College, Pennsylvania (home of Penn State). Chambersburg-Waynesboro, Pennsylvania. Winchester, Virginia. Morgantown, West Virginia (home of West Virginia University). Wheeling, West Virginia. Johnstown, Pennsylvania. Altoona, Pennsylvania. Weirton, West Virginia. Beckley, West Virginia. Williamsport, Pennsylvania. Lewiston-Auburn, Maine. Ithaca, New York (home of Cornell University). Cumberland, Maryland. Ocean City, New Jersey. Parkersburg, West Virginia. Bloomsburg-Berwick, Pennsylvania. Elmira, New York.
New River, Danville, Staunton, Waynesboro, Harrisonburg, Martinsville, Wise — that's your competition in this region. What do you say?