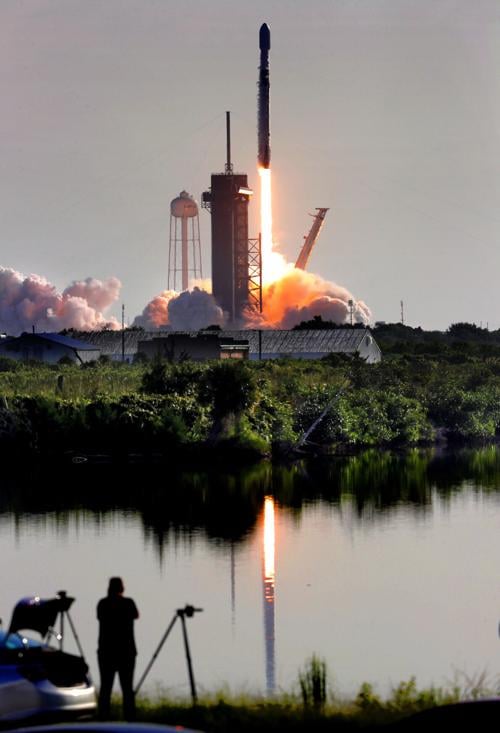 Elon Musk is a celebrity billionaire who stays busy making high-priced electric cars, dating a pop star and figuring out ways to send humans to Mars.
Sometime next month, he'll also be responsible for at least 45 students and their families in Wise County to have something that's now beyond their reach — internet access.
That won't earn him headlines — outside Virginia, anyway — but it marks a potentially significant development in the quest to extend broadband internet to rural areas that are currently blacked out of the internet age.
We typically think of broadband — rural or otherwise — in terms of fiber optic cable that has to be laid in the ground. While telecoms have been digging and laying and haggling with government officials over who should pay for all that, some entrepreneurs have had a very different idea of how to deliver internet: via satellite.
Satellite internet isn't new. What's new here is the scale at which Musk — and various rivals — are planning to deploy it. In May 2019, Musk's SpaceX launched the first 60 satellites of its Starlink system. Today, there are more than 900 in orbit. The goal is to have anywhere from 1,200 to 1,400. PC Magazine says that the satellites for HughesNet and other satellite internet providers are in stationary orbits 22,000 miles out. The Starlink satellites are only about 340 miles up. Because they're not stationary, there have to be more of them to provide continuous coverage. However, the first tests show they're much, much faster than the further-out satellites, PC Magazine reports, with download speeds of 79.5 megabits per second versus 20 or 25 for the others. The magazine went on to give this favorable review: "Participating in Zoom calls requires both a clear uplink and relatively low latency [lag time], which means it's been very difficult for people using existing satellite connections. Starlink could bring rural users much better remote learning capabilities."
And one of the first will be in Wise County.
In December, Wise County announced it had signed on with Starlink to be a beta-tester — the first school system in Virginia and only the second in the country to do so. (The first is in Ector County in west Texas).
How did Elon Musk get connected with Wise County? The answer begins with Jack Kennedy, Wise County's clerk of circuit court and a longtime advocate for new technology. He was the first court clerk in Virginia to put court records online and has gone on to become an advocate for the coalfield county to attract tech-related industries — such as data centers and drone research. He's been a space buff since childhood, so Musk's Starlink project was a natural interest. When SpaceX announced last year was looking for beta testers, Kennedy persuaded Wise County schools to look into the possibilities and U.S. Sen. Mark Warner, D-Virginia, to help make the necessary connections. From there, things moved at, well, broadband speed. Within four weeks, Wise County and SpaceX had signed a contract.
Lack of broadband has always been a problem in Wise County, as it is in many rural counties. The pandemic has only accentuated that with the shift to virtual education. At times, Wise's instruction has been all-virtual. However, Scott Kiser, the county's director of technology, says that 30% of the county's students don't have any internet access — and many of those have no realistic process of ever getting any. The cost of extending broadband to rural areas is high. He describes some situations where the cable is within sight of a house — but the cost of laying that last 500-yard extension is $3,500. Other places are so remote there basically will never be fiber laid there. That's where SpaceX is convinced its constellation of low-earth satellites will make geography irrelevant.
SpaceX told Wise officials to pick a single small area where it could beam down internet service to 45 receivers. The company preferred a mix of homes and businesses, but Warner's office helped persuade SpaceX to accept only homes for this test. Wise County used $24,000 in funding from the CARES Act — the virus relief package Congress passed last year — to pay for 45 satellite receivers to distribute to students; the county tapped a state grant to pay the $50,000 cost of one year's service. The school system is in the process of identifying 45 eligible families in the Coeburn area and distributing the hardware. Come Feb. 1, Wise hopes to have the Starlink system running. It's already working in the Pacific Northwest. The Hoh tribe on Washington's Olympic Peninsula signed on with Starlink last fall. The tribe's vice chairman promptly declared "it seemed like out of nowhere, SpaceX came up and just catapulted us into the 21st century."
Others aren't so happy. For existing telecoms, SpaceX represents competition. However, SpaceX got a big endorsement in December when the Federal Communications Commission awarded the company $856 million to provide internet service to rural areas. That was considered a big deal for two reasons — SpaceX was competing against traditional fiber-based telecoms, and the SpaceX service isn't even fully operational yet. Most of the FCC's $9 million went to traditional providers, but the fact that it carved off such a big chunk for SpaceX (or any chunk at all) represents a major bet that SpaceX is onto something. FCC commissioner Mike O'Reilly told CNN: "The dirty little secret is — after we finish [laying fiber] — we're probably looking at a pool of locations that are really expensive and really hard to serve, and nobody" wants to pay to bring in internet service there. "How do you get service to those areas that are hardest to serve and get them as quick as possible? Satellite is one of those options."
Other companies are betting on that, too. The British-based OneWeb has already launched 110 satellites to create its own system and the ubiquitous Amazon, which seems to be into everything, has gotten FCC approval for its own satellite internet service. Warner says we ought to be agnostic about what works — be it fiber, wireless or satellites. "Let's see which ones work," he says. "Let's have some competition."
There are plenty of questions going forward. Will the service work as advertised (the Hoh tribe sure thinks so)? Who will pay for the service once the grant money runs out? But here's the big picture: The fix for rural broadband might not mean laying fiber in the ground; it might just be out of this world.