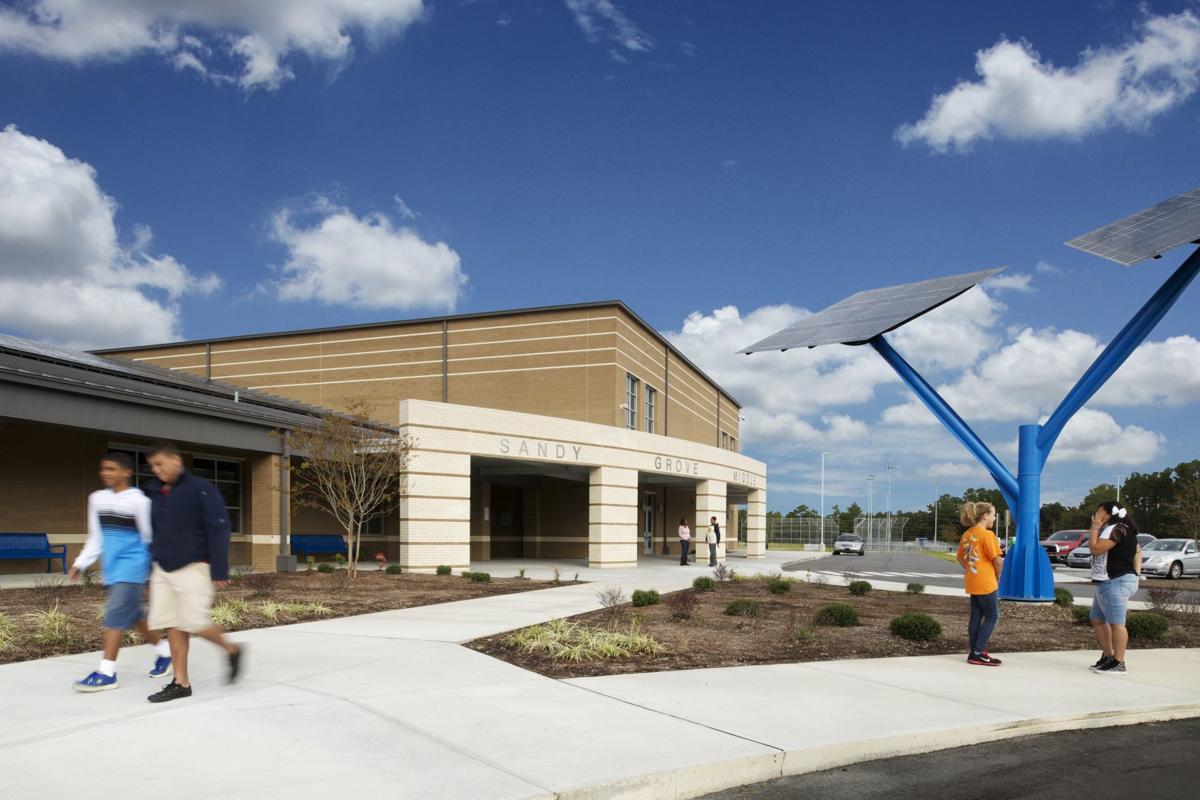 The Roanoke County School Board wants to build three new schools but doesn't know how to pay for them.
Here's a suggestion: Have somebody else build them.
More to the point, Roanoke County should look into a state law passed in 2019 that allows localities to contract with solar energy companies to build a solar-power school. The solar company makes money by selling the excess power — and there will be excess power — into the local power grid. The locality saves construction costs and, at some future date, has the option to buy the building outright.
What liberal tree-hugging climate alarmist came up with this scheme to turn schools into solar power stations? Actually, that measure was sponsored by two stalwart conservatives — state Sen. Bill Stanley, R-Franklin County, and Del. Nick Rush, R-Montgomery — because the idea of saving taxpayers money is a pretty universal conservative principle. That ought to appeal to the conservative sensibilities of the all-Republican Roanoke County Board of Supervisors — and other rural localities that might find themselves facing the prospect of hefty school construction bills.
The poster child for such lease-purchase solar schools is Hoke County, North Carolina, a rural county near Fayetteville. When the county looked to build a new middle school about a decade ago, it figured it could afford $450,000 a year in payments. Unfortunately, the last time it had built a new school, the payments added up to $1.5 million a year. In other words, Hoke County couldn't afford a new school. Enter the Raleigh-based architectural firm SfL+a Architects/Firstfloor, which proposed an unconventional solution: It would build a school with so much solar technology that the school would generate more energy than it consumes — "energy positive" is the industry lingo. Firstfloor would then lease that school to the school system for $450,000 a year and after seven years the school district would have the option to buy it outright. The advantage for Firstfloor: It could use those years of ownership to qualify for solar energy and other tax credits. The advantage for Hoke County: It could get a new school much cheaper than it would otherwise.
Now, for the fiscally amazing part: All that turned out to be true. Hoke County wound up with a $21 million middle school for which it paid $16 million — so the county shaved off about a quarter of the cost. When we talked to the county's building supervisor two years ago, he told us via email: "We love our building. We would not have been able to afford this school without the creativity of the developer, Firstfloor, and its architect SfL+a Architects." Even better, the ongoing utility bills are a lot lower, too, so Sandy Grove Middle School wound up not only being cheaper to build but cheaper to operate. This is a fiscal conservative's dream.
If you're reading closely, you might wonder why an "energy positive" building would have any utility bills at all. You get an A-plus for detail. Just because the school generates more power than it uses doesn't mean it generates that power consistently — or uses it consistently. On a cloudy day in winter, the school still has to buy power from the electric grid. On a bright day, especially in summer when school's not in session, it's generating lot of excess power — so the school is buying power on some days even while it's selling power on other days, and that revenue doesn't always cover all the expense. But it sure covers a big part of it, which is the ultimate point.
Since we've waded into some of the details, we may as well wade into the rest. Energy regulation is, umm, complicated. We'll do our best to simplify. Electric utilities are monopolies. Regulated monopolies, but still monopolies. So you can't just go out and start your own electric company. And while you're free to generate your own power through rooftop solar, once you start trying to sell the excess into the power grid, that's where the lawyers and lobbyists get involved.
There are limits to how much power utilities will buy through what are known as "power purchase agreements." Those limits are higher in Dominion Energy territory than in Appalachian Power Co. territory — which is why we see a lot more solar power on the eastern side of the state even though we're pretty sure the sun shines all over Virginia. Further, Appalachian Power's contract with local governments set a cap of 3 megawatts for what the utility would buy in solar power from schools and other public facilities. That's not much — enough to power about 1,200 to 2,700 homes for a year. In any case, Appalachian Power maxed out those 3 megawatts a long time ago. Localities in Appalachian territory could have built a solar-powered school anytime they wanted — they just wouldn't get the benefit of being able to sell the excess power, which removes the financial incentive.
Now two things have happened to change that. First, the Clean Economy Act, passed by the General Assembly last year, raises the overall limits for what utilities have to buy through power purchase agreements. Another new law, sponsored by state Sen. John Edwards, D-Roanoke, makes it clear that schools are eligible for such power purchase agreements through Appalachian Power, something that wasn't clear before. And now the utility company is finalizing a new contract with municipalities. We don't know yet what the new cap will be; we're just told it will be higher. That means the door is about to open for localities in the western part of the state to go solar — and Roanoke County could be among the first to take advantage of a higher cap before it gets maxed out again.
There's likely to be a lot of demand, some of it from some unexpected places. Last year four school boards in the heart of the coalfields — Dickenson, Scott, Tazewell and Wise — passed resolutions calling for more access to solar energy. So did officials in Carroll and Pulaski counties, among others. It's no coincidence that these are among some of the most economically distressed counties in the state — and all in Appalachian Power territory. Schools in Middlesex County, in Dominion territory, now get 100% of their energy from solar panels — a savings of $4 million over 20 years. Green energy might excite some for being good for the environment, but here's an instance where it's also good for the taxpayers. If any locality is going to pay for a new school — or, in Roanoke County's case, three of them — it could save those taxpayers a lot of money by going the solar route.