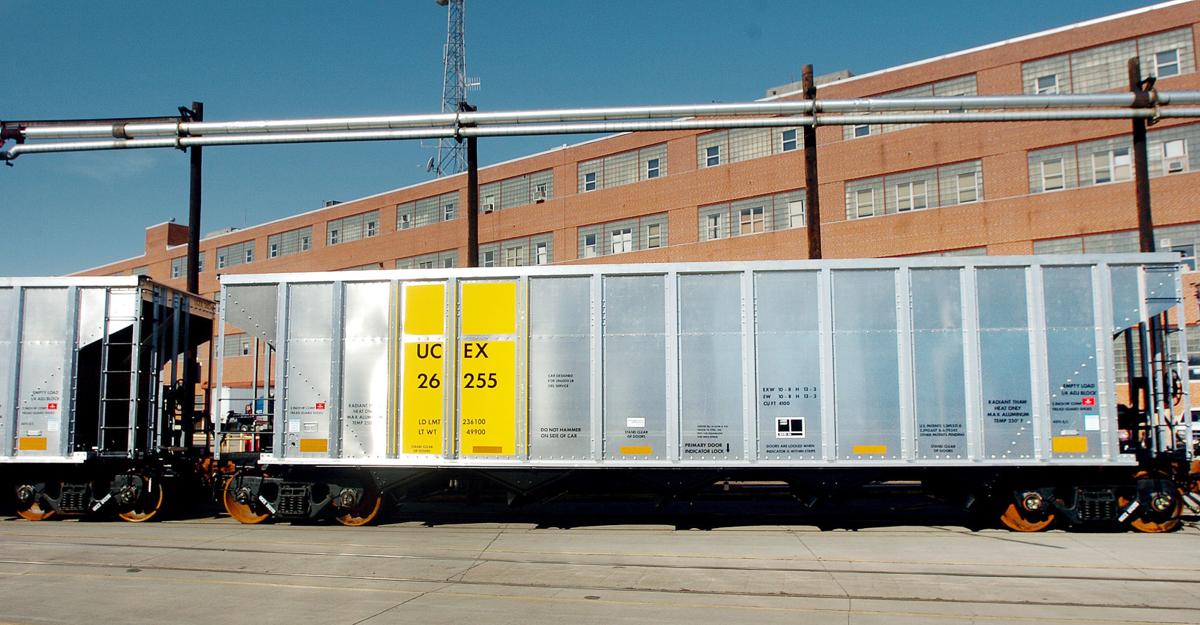 In 2019, FreightCar America announced that it was shutting down its Roanoke operation, eliminating 200 jobs that paid an average of $20 to $21 an hour.
Some union members said then the jobs were really going to Mexico. Our research at the time showed otherwise. The Chicago-based company said it was moving the Roanoke jobs to what it called a "state-of-the-art" plant in Muscle Shoals, Alabama, although it sure looked as if the company was moving other jobs in its system to Mexico.
Just two months after FreightCar America announced it was closing the Roanoke operation, it announced it would start building some rail cars in Mexico — and would operate just two plants, the one in Alabama and the one in Castanos, Mexico.
Now, guess what? FreightCar America has shut down that "state-of-the-art" plant in Alabama and moved all those jobs to Mexico.
So one way or another, those Roanoke jobs really did wind up south of the border.
The company may still be called FreightCar America at its Chicago offices, but it really should be called FreightCar Mexico, because that's where all its manufacturing jobs are.
The news site Pro Publica recently reported another curious detail: Two weeks before FreightCar announced it would close the Alabama plant and move everything to Mexico, it cashed a $10 million check from the federal government as part of the Paycheck Protection Program created as part of the nation's pandemic relief.
The company told Pro Publica that it hadn't intended to shutter operations when it received the money. Some workers at the Alabama plant dispute that. "When the Mexican plant opened, we were told at the beginning they would just be helping Shoals and making parts for the trains," one worker said. "But the whole time, it was a setup, we were gone."
Pro Publica pointed out that FreightCar America isn't the only company that took taxpayer dollars and then shut down. Maybe this isn't a scandal — maybe the PPP money kept the companies going longer than they ordinarily would have but, ultimately, sometimes companies fail. That's just a natural state of events.
On the other hand, the timing of it all sure looks bad — a company pocketed taxpayer dollars and then eliminated American jobs.
Either way, the PPP money is a passing issue. The bigger issue is the transfer of American manufacturing jobs to Mexico. This is hardly unique to FreightCar America.
Manufacturing jobs have been moving out of the U.S. to other countries for a long time now for a very simple reason: Workers in those other countries are a whole lot cheaper.
The website Statista says that the average wage for a manufacturing job in the U.S. is about $20 per hour. Offshore International says the hourly rate for unskilled workers in Mexico is about $2.40 per hour; for skilled workers, $6.02 per hour. Even that higher rate is less than half the cost of an American worker. Based on that, why wouldn't FreightCar America move its manufacturing there?
It's easy to depict FreightCar America as the villain here — greedy corporate executives throwing hard-working people in Roanoke and later Alabama out of work and shipping those jobs south of the border.
But let's remember how the economy really works: Those executives aren't beholden to the workers. They are beholden to the company shareholders, who expect bigger dividends for their investment. We don't see any shareholders protesting outside FreightCar America's offices demanding those jobs come back to the United States.
Nor can we blame the North American Free Trade Act or its successor, the United-States-Mexico-Canada Agreement.
If you do want to blame those trade agreements, then you need to blame Donald Trump, whose administration negotiated the revised agreement. But that would be unfair.
Manufacturing jobs have been leaving the United States to lots of countries that aren't part of NAFTA.
By the end of this month, a 56-year-old pharmaceutical plant in Morgantown, West Virginia, will close, eliminating nearly 1,500 jobs in a state that sorely needs them. That work is going to India and Australia instead.
Nor is there an easy fix, no matter what politicians of either party say. Tariffs, you say? You want import tariffs to make the price of those Mexican-built rail cars (or those Indian and Australian-made pharmaceuticals) so high that American-built ones are a cheaper option.
Sure — and here are the trade-offs: Tariffs are basically taxes by a different name and, like other taxes, those will get passed on down the line to consumers.
The price of goods shipped on those higher-priced rail cars will rise but American workers won't necessarily get a pay raise to afford them.
Or we could simply pass a law that forbids companies from exporting jobs to other countries. Good luck with that.
The uncomfortable reality is that the economy is changing — it's always been changing — and that means there are winners and losers.
The winners are the new FreightCar America workers in Mexico — and the FreightCar America shareholders.
The losers are the former FreightCar America workers in Alabama (and before that, Roanoke).
More broadly, the losers are American blue-collar workers because this new economy we're in isn't generating nearly as many jobs for them as it is for white-collar workers.
Tech companies can't find enough workers, which is why they're keen on getting visas for foreign tech workers to move to the U.S. — but restricting the number of visas for software coders won't help laid-off manufacturing workers.
Even more broadly, the losers are communities that have staked their fortunes on those types of jobs and now find they must reinvent themselves.
Roanoke started discovering that in the '50s when steam locomotives went away; Danville and Martinsville discovered it in the '90s when textiles and furniture jobs collapsed; the coal counties have been discovering that for decades now.
Here's the most uncomfortable reality of all: A lot of current blue-collar workers (and maybe some white-collar ones, as well) will never find jobs that paid as well as their old ones did.
And a lot of students who in the past might have gone into blue-collar trades will find there's not as much opportunity there as in the past.
We haven't heard any party or any ideology that will change any of those things. That's why we should be wary of any candidate who talks about bringing back the glories of the past.
They are gone. Instead, we should reward the ones who have the best understanding of the future.