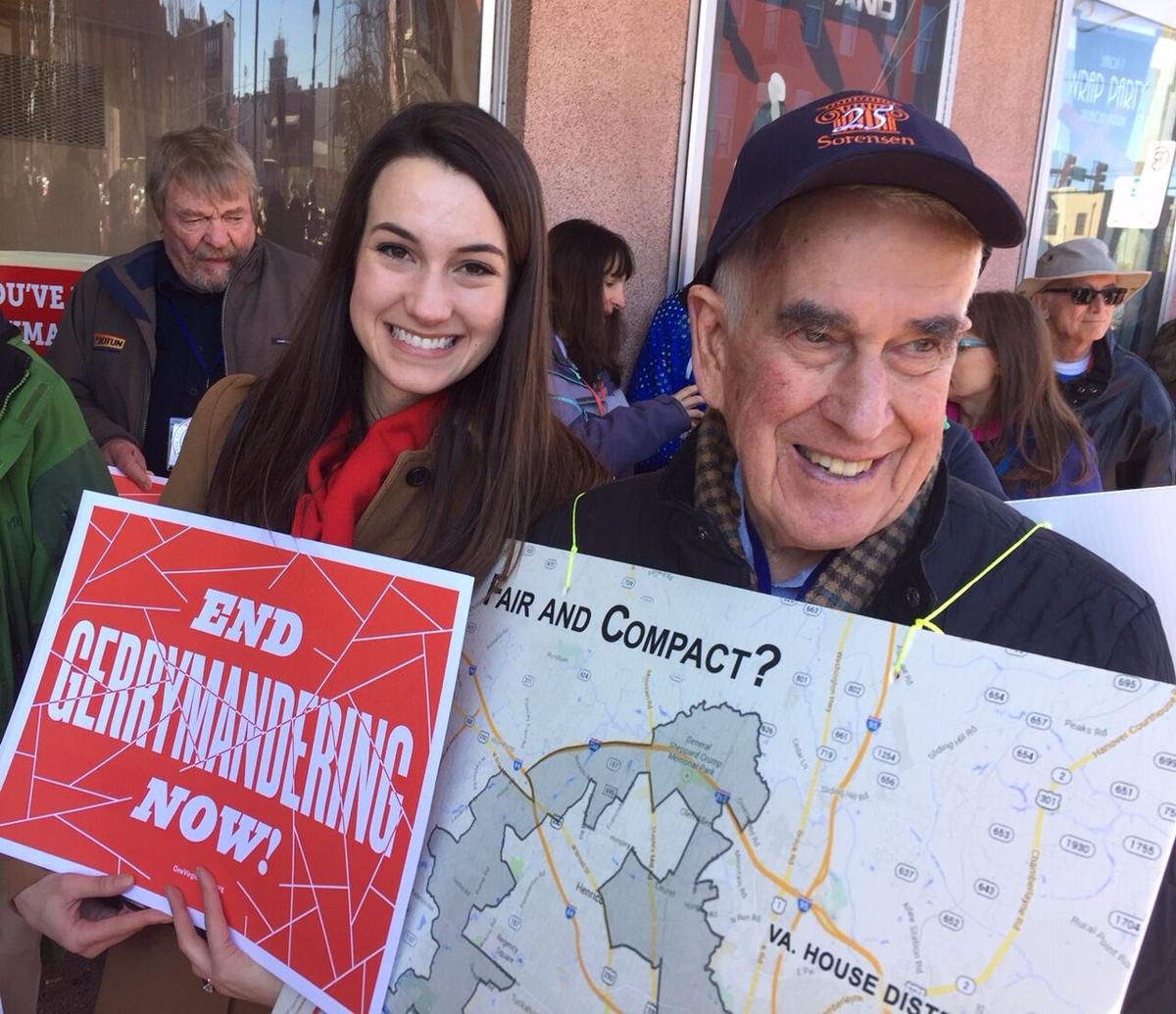 In a world full of egocentric activists and would-be change-makers, Leigh Middleditch proved that power didn't have to be blatant to be effective.
Middleditch, who died last week at age 92, was effective by sharing power, building coalitions and hewing to a centrist philosophy that encouraged people to find common ground.
Such an example is all the more striking today because it is so rare.
Middleditch helped found institutions that will continue to benefit Virginians for decades to come.
They include what is now the Sorenson Institute for Political Leadership at the University of Virginia, first established in 1993 with the partnership of local businessman Michael Bills.
The institute's very purpose exemplifies the cooperation and centrism for which Middleditch was known:
"Our non-partisan mission is to strengthen and enhance the quality of government at all levels throughout Virginia. ... At the heart of every Sorensen program are three central themes: ethics in public service, the power of bipartisanship, and a concentrated study of public policy issues."
Alumni include 27 current members of the General Assembly, plus the state's governor, Sorenson's website says.
Before that, the Charlottesvlle-area resident was part of the creation of the Citizens Committee for City-County Cooperation to tackle some of the issues that were dividing city and county residents. Those included, first, the city annexation of county land and, later, involved an effort to consolidate some city-county services and then a program allowing transfer of development rights in order to preserve county land.
Middleditch is most recently remembered for starting the campaign that now has led to bipartisan political redistricting in place of purely political creation of voting districts.
He, and others, noticed how manipulation of districts to serve partisan goals was increasing over time. This practice defeats a key principle of democracy — that voters choose their elected representatives. As we've said many times, under partisan redistricting — called gerrymandering — the politicians instead choose their voters.
Middleditch began to gather people together who similarly were concerned about this worsening state of affairs.
"From an initial core group of about 140 people he began recruiting in 2013," Daily Progress columnist Bob Gibson said earlier this year, quoting Middleditch, "'we kept adding people on a monthly basis, and that was very encouraging.' … That group was OneVirginia2021 — the '2021' referring to the intended time for the next redistricting, as initiated after each census count."
Momentum built until even the partisans in the General Assembly couldn't ignore citizens' demands. They allowed a state constitutional amendment to go forward, which was passed last year by voters.
A new bipartisan commission, equally divided between the two major parties, is even now working on more equitable redistricting for future elections.
Middleditch's efforts were not limited to Virginia. He also worked to help disadvantaged Black lawyers in Zimbabwe and South Africa.
Born in Detroit, he came to Virginia by way of UVa, where he earned both his undergraduate and his law degrees. He stayed in the community, becoming a partner in the McGuireWoods LLP law firm.
In the 1990s, his UVa connection came full circle when then-Gov. Douglas Wilder appointed him to the board of visitors.
"Leigh was someone who had an idea and let others run with it," said Gibson, a former executive director of the Sorensen Institute and former Daily Progress political reporter. "He was a quiet guy, a leader by consensus — but not by talking as much as starting things off and letting them take their natural direction."
That deceptively powerful approach managed to achieve some of the biggest gains in good government that Virginia has witnessed over recent decades.
Virginia will miss him and his long and successful service.