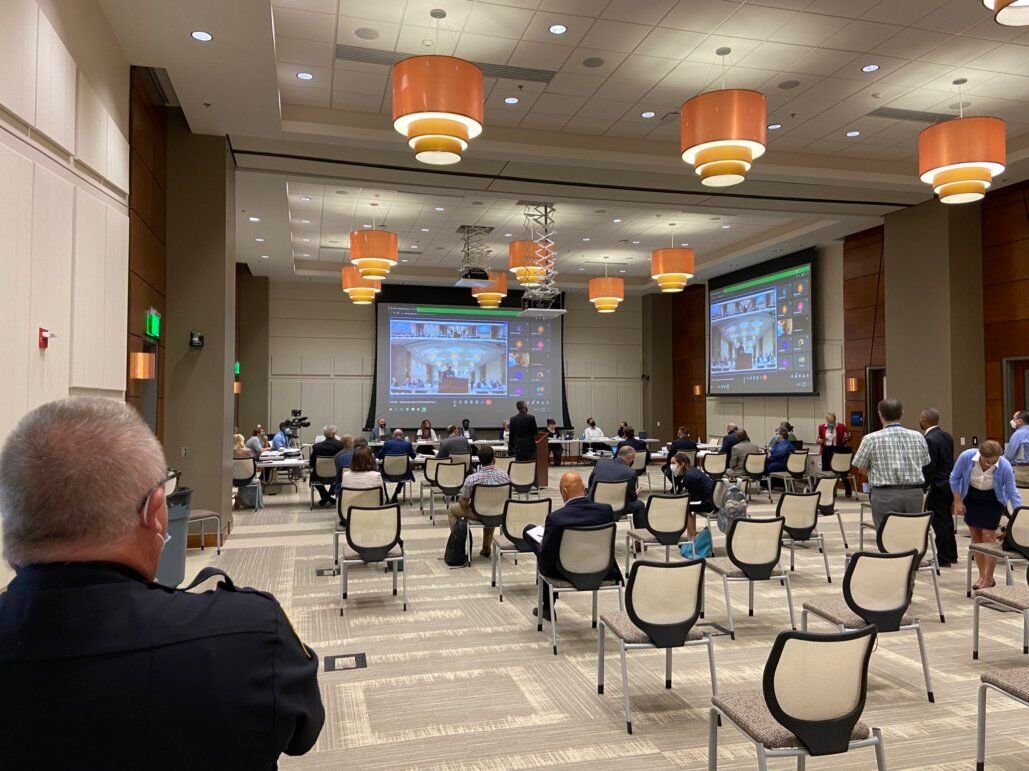 We know a bit more this week about Martinsville's plan to revert from a city to a town in Henry County. But there are some things we likely never will know.
After two days — more like three, when you consider how late into the evening Wednesday's public hearing went — of chatter, the insights were many, the questions were many and the opinions about how good an idea this is were hardly mini.
The attorneys hired by the city and county should be commended. They have done a thorough job and pieced together documents that appear to address the most tangible issues of process, facilities and structure.
What these documents surely are missing, though, is the blood, sweat and tears of the people affected by them. Not so many of those people appear as eager to get this done.
Of course, if you live and work in or manage the county, you likely feel like a cow who doesn't want to move but is being pulled from one end and kicked from the other to pass through a barrier from today to tomorrow. You probably just hope you aren't being led to slaughter.
But you are facing the concept of having to enmesh the lives and interests of another 12,000 to 13,000 people without being anywhere near fortressed or financed to do so. Many of your leaders stood up and said so at the hearings.
Yet, that isn't the whole story. First, the hard and fast:
Some city officials appear so wed to this idea that the outcome is almost inevitable, with the go-live date the only business left to be completed.
Some constitutional leaders in city government don't think this is either necessary, appropriate or, in some cases, even being legally pursued.
To hear Sheriff Lane Perry tell the story, there will be a lot of crime and criminals who may not be able to be pursued.
And then the prosecutors won't be able to develop cases because of not enough staffing. Courts won't be able to process them because of not enough courtrooms.
And then Sheriff Perry's new jail won't be big enough to hold all those criminals awaiting trial.
The Martinsville City Public Schools Board appears to be looking at any option it can find to avoid merging with HCPS, and doing so with the backing of some community leaders.
And, citizens who spoke at the public hearing decried a process that left out their voices until the very last and probably fruitless minutes.
Whether any of this matters a whit to the Commission on Local Governments we won't know for a while. The commission will have a follow-up meeting soon and then likely toss the concept to the required three-judge panel for its review and processing, which could include more pitches and questions and answers.
And, frankly, we don't expect the protests from city and county officials or the obfuscations and hindrances posed by city schools or even the fear of a backlog of crime to make any difference.
This appears to be a freight train fueled by mediated and approved (although not unanimously) agreements that has way too much momentum to slow.
But the last stop for that train ultimately returns to where it began, with the five people on the Martinsville City Council, who will have to vote one more time to approve any nod given by the three-judge panel.
In December 2019, those five people unanimously OK'd reversion, and in 2020 they voted again to support the process (and start paying outside counsel to make it happen).
Through votes on the settlements and documents, at least two members of the board of supervisors have opposed this concept steadfastly.
At the public hearings, both Tammy Pearson, new to city council since the original votes, and Vice Mayor Jennifer Bowles expressed some concern reversion, although for quite different reasons.
Said Pearson: "I was not on council when they voted for reversion, and I voted 'no' because our city has not been transparent. Council didn't meet with the city schools and did not get enough citizen input."
Said Bowles: "So much misinformation is being shared by the speakers tonight. Personally, I'm opposed to reversion, but personal feelings aside, you have to do what's best for everyone."
We wonder what the "misinformation" might be, because most of what was said was by people who were paid to gather information and share it. Whether this is "what's best" remains to be seen.
The at least some of the city's constitutional officers certainly don't think it is.
County leaders certainly don't think so.
And some of the public — perhaps a majority, although sadly we never will know — don't think so.
What would motivate an elected official to sell off the soul of a city, by its very definition, and surrender independence?
Like most things with this, we don't have that answer either. But look out for the train.