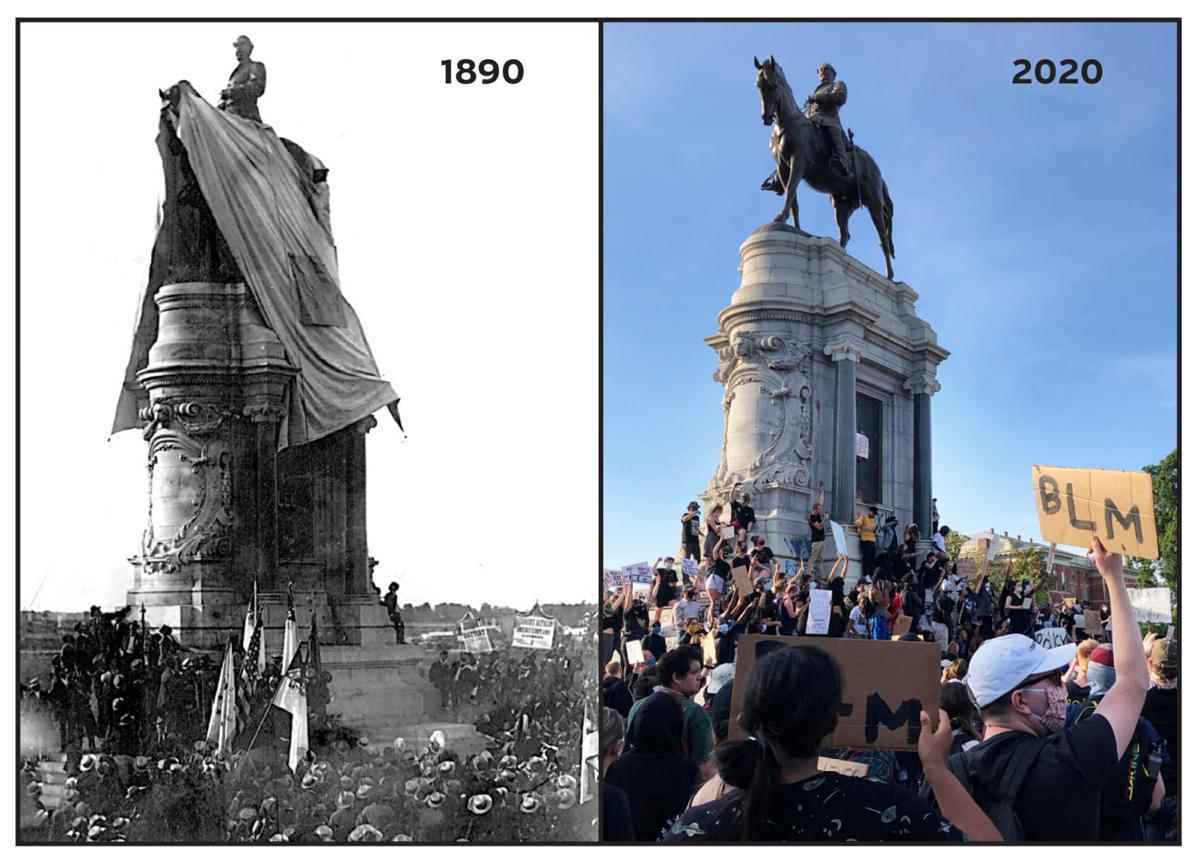 Originally from June 2020
If you're looking for a notable day in Virginia's history, consider May 29.
First, go back 130 years — to May 29, 1890, and the unveiling of the Robert E. Lee monument in Richmond.
"When the veil was drawn," the Richmond Dispatch reported of the day's event, "Lee was revealed in the centre of a world of Confederates, whose cheers well nigh silenced the rounds of musketry and the cannon's roar: whose jubilations were almost as wildly enthusiastic as if the object of their admiration had reappeared in flesh and blood."
Indeed, Lee was taking on a new life — one that has towered over Richmond, literally and figuratively, for generations.
May 29, 2020, had no such grandeur here.
It was a Friday — the day a white Minneapolis police officer was charged with murder in the death earlier that week of a black man, George Floyd. In the evening, protesters took to the streets of Richmond, chanting "no justice, no peace, no racist police."
The march began around 8:30 p.m. at Monroe Park, adjacent to the Virginia Commonwealth University campus. It went north to Broad Street and circled several blocks around VCU and Richmond police buildings. It traveled through downtown.
Marchers chanted and held signs saying "Am I next?" and "Two deadly viruses are killing Americans: COVID-19 and racism."
That evening's march appeared to attract a couple hundred people — far fewer than the 75,000 to 100,000 who, 130 years to the day earlier, had gathered near the same spaces to celebrate Lee's supposed immortality.
But voices can move monuments.
That Friday's march sparked several days of intense protests over racism in America, and they soon made their way to the Lee monument. The ensuing crowds and graffiti cast the statue in a very different light: Lee still stood tall for the Confederacy — but the Lost Cause narrative he long represented was losing a decisive battle.
Within a week, Gov. Ralph Northam ordered the removal of the Confederate general from his granite perch, which sits on state land. After years — decades — of controversy over one of Richmond's defining features, the days were numbered for this, the most imposing monument on what became Monument Avenue.
And with the Richmond City Council — soon to be empowered with the option — then on the cusp of ordering the removal of Lee's statuary compatriots, Monument Avenue faced an uncertain future. And perhaps a new cause.
On May 29, 1890, the cause was clear as the veil fell from the new statue.
"Veterans shouted and cried and hugged each other. The young men roared out with their applause," the Dispatch wrote. "It was an extraordinary exhibition of joy; a tidal wave of ecstasy. ... Lee was the beautiful personation of a people and their cause. ...
"Oh! who among the elderly people that saw them yesterday but was carried back to 1861, when the Southern troops came to Richmond; when the war spirit was glowing in every breast; when patriotic fires burned in all hearts; when every note, every syllable of the popular air spoke to our honest purpose — 'to live or die for Dixie.' "
That image of Richmond has persisted for more than a century, even as the city and region have increasingly reckoned with their history of slavery and racism.
But the voices that rose anew on May 29, 2020, had roots from many generations before. Consider the Richmond Planet, the African American newspaper in Richmond that was founded in the 1880s by former enslaved people and was long led with fervor by editor John Mitchell Jr.
The Planet also reported on the unveiling — in a decidedly different way. It noted, for example, that Secretary of the Navy Benjamin F. Tracy refused to allow the United States Marine Band to participate in the ceremonies.
It also remarked on how Richmond's unfinished City Hall was covered with a giant Confederate flag — one that extended the full length of the building.
A Planet editorial that week posed questions that, like Monument Avenue, came to define Richmond and, in many ways, America.
"But what does this display of Confederate emblems mean?" the editorial asked. "What does it serve to teach the rising generations of the South? Why this placing of Lee on equality with Washington. ...
"This glorification of States Rights Doctrine — the right of secession, and the honoring of men who represented that cause — fosters in this Republic the spirit of Rebellion and will ultimately result in handing down to generations unborn a legacy of treason and blood.
"There is lacking in all this display the proper appreciation of the Union. ... It serves to reopen the wound of war and cause to drift further apart the two sections. It furnishes an opportunity for designing politicians in both parties to take advantage of the situation, and the country suffers."
Shortly before 4 p.m. on May 29, 1890, Virginia Gov. Philip Watkins McKinney called to order the gathering on the Lee monument grounds.
"With no disloyalty in our hearts to the government under which we live and with no desire to awaken or perpetuate old animosities," McKinney said, "we come with sacred memory for our cause which is lost, with a love and admiration for our dear ones who have fallen which is unconquerable and eternal. This is the feeling of the Southern people."
Former Confederate Gen. Joseph E. Johnston then took the rope and looked up to the veil covering Lee.
And there was Lee, atop more than 40 feet of granite — "a calm, majestic figure, gracefully outlined against the bluest of Virginian skies," the report said. "It was like a dream. Here Lee was once more among his faithful people."
Tens of thousands of yells greeted him. "Hats and handkerchiefs were thrown into the air as such was never seen before."
On May 29, 2020, the only handkerchiefs were covering the faces of some marchers — a reflection of activism amid the coronavirus pandemic. They were faithful to a cause far different than Lee's.
Their message was clear: change.
"You will tell your children about how you paved the way for a better future," a young marcher said several days later as protests grew. "This is history."
Indeed, it is. Within days, Northam picked up the thread from his successor more than a century earlier.
"It was wrong then," the governor said of the Lee monument, "and it is wrong now. So we're taking it down."
And on Wednesday, Sept. 8, 2021, down it came.