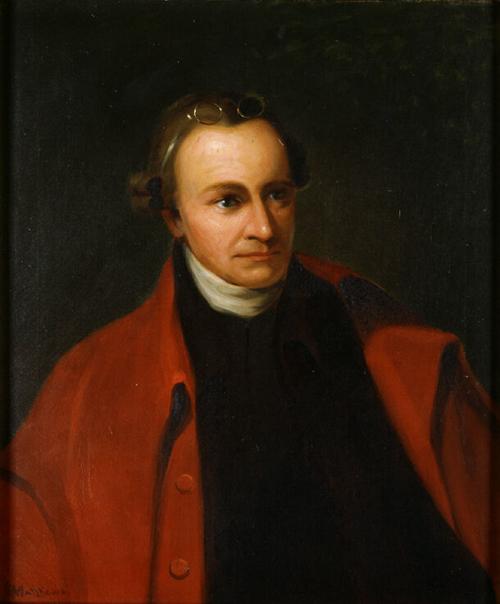 Patrick Henry Community College is channeling Star Trek's Captain Jean-Luc Picard. Facing a threat by the cyborg species known as The Borg, Picard declared: "This far and no farther!"
Facing an order from the Virginia State Board of Community College to change its name, the board of the community college in Martinsville has fought back.
It has proposed one concession: To hyphenate its name to Patrick-Henry Community College to make the case that it's named after the two counties, not necessarily the outspoken advocate for American independence who is now considered inappropriate because when he declared "give me liberty or give me death," that notion of liberty didn't include the fellow humans he enslaved.
Board member Gary Collins said last week that the state board shouldn't tell a college it can't be named after the counties it serves. This dispute probably won't end well for the school, be it hyphenated or otherwise (which is why on Monday the board met to consider other names, just in case).
Is the board being clever, or too clever by half? After all, Patrick County and Henry County take their names from the now-controversial founder in question, so even if a future Patrick-Henry Community College were named after the counties, it's still indirectly named after the man himself.
This dispute raises many questions. Henry did, indeed, own slaves. He also opposed slavery, calling it a "lamentable evil."
He fought against importing more enslaved Africans. But neither did he free his own enslaved laborers. "I am drawn along by the general inconvenience of living without them," he once wrote. "I will not — I cannot justify it, however culpable my conduct."
That kind of confliction seems worthy of study — how many lesser evils today do we tolerate because we, too, are "drawn along by the general inconvenience of living without them"? Perhaps a topic for another day.
Here's a more pressing question: If Patrick Henry's sin as a slaveholder now outweighs his historical significance as a revolutionary leader, where does that leave two other state schools?
James Madison was likewise conflicted about the whole vile practice. He called the slave trade "incompatible with the national character," yet still enslaved more than 100 people, brought some to the White House with him and later sold them for profit.
If Patrick Henry Community College must change its name, must James Madison University do the same? Or does JMU get a pass because Madison became a president and, as a four-year school, it fits into a different place on the state org chart?
Ditto George Mason University and the University of Mary Washington. Both namesakes owned slaves. We ask these as serious questions. Where is the line? It's hard to discern what makes Patrick Henry's name unacceptable and the names of the others still appropriate. Please don't tell us that it's easier to tell a community college to change its name than to tell a four-year school to do the same.
Here's another question: The school's argument is that it should be allowed to be named after two counties. But if Patrick Henry's name is no longer appropriate for a school, why is it appropriate for not one but two counties? Why should the standard for place names be different? The state board has already directed that Lord Fairfax Community College change its name. Very well then. But why then do we have a county (the most populous in the state) and a city named after someone whose name isn't fit for a school? We can't say that the school is more prominent while the place names are just part of the background noise because, nationally, Fairfax County has a far higher profile than the school.
If we take the standard being applied to community colleges and apply it to localities, how many counties, cities and towns in Virginia would have to be renamed?
We haven't tried to determine how many are named after slaveowners — certainly some are. Madison County, for instance, is named after James Madison. Perhaps the county name that's most suspect by what we'll call the Patrick Henry standard is Wise County.
It was named in 1856 after the governor at the time — Henry Wise of Accomack County. Wise was, in some ways, a progressive for his day. He pushed for state funding for infrastructure improvements in Western Virginia, which was then, as now, often ignored by state government.
He pushed for state funding for education. And in 1855, he waged a high-profile (and ultimately successful) campaign for governor that turned back the rising tide of the anti-immigrant Know-Nothing Party.
But Wise was also, in the words of Encyclopedia Virginia, a "stout defender" of slavery and eventually an "ardent secessionist" who led a Confederate army that made war on the Union.
As governor, he oversaw the confiscation of the property of John Underwood, the state's most vocal abolitionist.
After he left the governorship, he recruited militia units loyal to him personally — not the state, not the Union — and marched them to Harpers Ferry to seize the federal armory there without any legal sanction whatsoever. Encyclopedia Virginia tells us: "Brandishing a revolver, Wise declared that "blood will be flowing at Harpers Ferry before night."
Wise was essentially a vigilante who would be right at home with the Jan. 6 insurrectionists today. He didn't just own slaves — 21 in the 1860s — he was active in perpetuating enslavement as a cornerstone of the Southern economy, something that Henry never did.
If we're ranking historical figures based on their sins, Wise would seem to come before Henry.
Some Virginia counties are named after politicians who opposed slavery, which only makes the pols who advocated slavery stand out even more.
Floyd County is named after John Floyd, a governor in the 1830s who actually advocated for the abolition of slavery — which certainly wasn't a popular position in the South at the time. (Some eastern Virginia counties proposed to secede in response to Floyd's suggestion.)
Grayson County is named after William Grayson, one of Virginia's first U.S. senators. In that role, he is credited with helping pass the Northwest Ordinance, which, among other things, banned slavery in the Northwest Territory. Historical irony: Grayson got elected thanks to Virginia's governor at the time — Patrick Henry. So does that mean that Henry indirectly should get some credit for helping ban slavery in the future Midwest?
The past is complicated. So, too, is the present.