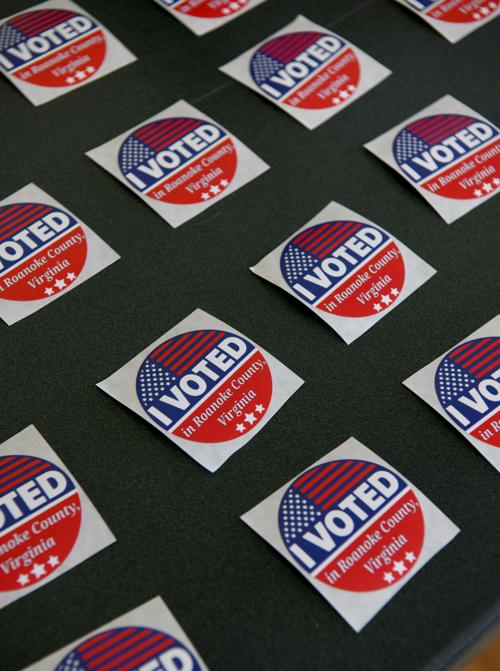 By the time you read this, Democrats should have a candidate for governor.
For our purposes today, we don't need to know who it is, just that there is one, which means that the 2021 governor's race is now officially underway. Every election is an answer — the question is, what is the question? Here are a few we already know about:
1. How are voters feeling about Joe Biden?
Virginia is unusual in that it has gubernatorial elections in what for the rest of the country is the biggest off-year of all, the year following a presidential election. This is an election calendar we share only with New Jersey.
In nine straight gubernatorial elections — 1977 through 2009 — Virginia voted the opposite of however the previous presidential vote had gone nationally. If a Republican won the presidency, we elected a Democrat, and vice versa. Was that a case of a consistently negative reaction to whoever was in the White House? Or weird random luck, like rolling nine straight snake eyes?
In 2013, Democrats broke that string, when Barack Obama's reelection was followed by Terry McAuliffe winning the governorship. Was that a sign that Virginia had moved inexorably to the left and was no longer a state "in play"? Was that because Republicans had nominated the polarizing Ken Cuccinelli? Or was that just a fluke.
We may find out this year. Four years ago, in the wake of Donald Trump's election, Democratic outrage was high — which resulted in the highest voter turnout in 20 years, turnout that specifically benefited Democrats. Biden doesn't elicit nearly the same emotional response as Trump did (and still does). Will that dampen turnout? And if so, who will be hurt the most? The danger for Democrats is that their enthusiasm wanes but Republican enthusiasm does not.
2. How are voters feeling about Trump?
Other ex-presidents fade away. Not this one. Trump's grip on the Republican Party seems stronger than ever — except that Virginia Republicans notably did not nominate either of the candidates most aligned with Trump and instead nominated an unknown in the person of Glenn Youngkin.
Democrats will try to tie Youngkin to Trump (that's already begun). Will that work? In 2017 and in other state elections cycles since, Virginians have seemed in a mood to punish every Republican in sight as a way to express their feelings about Trump. With Trump gone, will those feelings now abate — and abate enough that Youngkin can be evaluated as a candidate in his own right? Or are all Republicans now tainted with their party's affiliation with Trump?
3. How are voters feeling about the past eight years of Democratic governance in Virginia?
If they approve of what Terry McAuliffe and Ralph Northam have done, then they are not likely to be very interested in trying something new — especially a Republican coming along soon after Trump. If they're not so keen on the past eight years, though, then Youngkin has an excellent opportunity to make one of the most appealing pitches through the history of politics — "it's time for a change."
Since Virginia became a two-party state in 1969, only once has a party won the governorship three times in a row — Democrats Charles Robb in 1981, Gerald Baliles in 1985 and Douglas Wilder in 1989 (and that last one was close enough for a recount). That's what Democrats are asking Virginians now — for a third term in row.
Certainly Virginia's politics have shifted left, so maybe Virginians will be more inclined to consider three Democratic governors in a row. So which do Virginians believe — "keep a good thing going" or "it's time for a change"?
4. How frustrated are Virginians about the pandemic?
Democrats benefited nationally last year from Trump's lackadaisical approach to the coronavirus. Given how close some states were, it's easy to imagine Trump getting reelected without COVID-19 as a factor. But how do Virginians feel about all the restrictions that Northam has imposed over the past year?
We can't imagine anyone was happy about those, although some might be more understanding than others. In any case, is there some well of frustration out there that Republicans can tap? Democrats might want to be very wary of that — because those could be some non-ideological votes that could be shifted the Republican way with the right kind of campaign.
5. Have Democrats in the General Assembly gone too far too fast?
Democrats hadn't controlled both chambers of the General Assembly since 1998, so when they won them back in 2019 it was understandable that there were a lot of pent-up demands. And today's Democrats are a lot further left and a lot more suburban than those Democrats in the '90s, who still had a lot of centrist rural representation.
The result has been a dizzying amount of legislation: Virginia has abolished the death penalty and legalized marijuana. It's expanded voter access and required a carbon-free electric grid. It's tightened gun laws and reformed criminal justice laws. It's taken down Confederate statues and legalized collective bargaining for public employees. And there are those who want to do more — such as repeal the state's anti-union "right-to-work" law.
Are voters OK with all this? Or are there some who are simply worn out by all the changes and want to hit the "pause" button for awhile? Republicans have it easy — they can campaign against all those things without having to actually say they'd undo them. Indeed, Youngkin has already said some things, such as Medicaid expansion, won't be undone.
This becomes a good checklist, though, to ask both the Republican statewide ticket and their candidates for the House of Delegates? If elected, would you try to repeal any of these things? Even if they hem and haw, or even come right out and say "no," there may be a certain advantage tipping the Republican way: All they need to do is to tap into any weariness that voters are feeling.
6. Have Republicans gone too far to the right?
This is the flip side of the question above. A survey earlier this year by the Wason Center for Civic Leadership at Christopher Newport University showed that Virginia voters view Republicans as being uncomfortably too far to the right. Those voters didn't see themselves as liberal, either. They pegged themselves as slightly right-of-center, but still found themselves ideologically closer to Biden than to Trump.
Virginia Republicans didn't nominate the most conservative ticket possible, but will voters notice the difference? For the answers to these questions and others, check back in November.