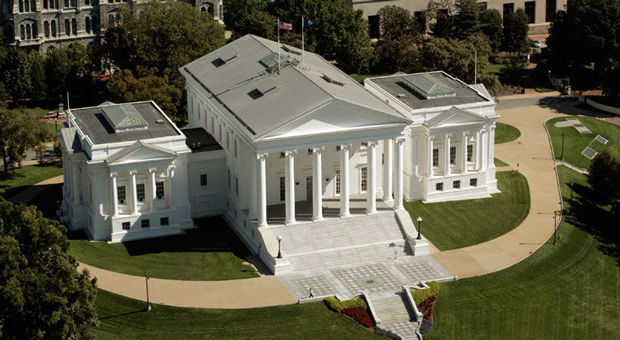 We've known this for a long time, but the politics of the moment have made this even clearer: The process of getting elected — especially getting nominated — has very little to do with the process of governance.
A few weeks ago, eight candidates for the Democratic nomination for lieutenant governor met — virtually — in a debate. They spent most of the evening trying to out-do the others on who is the most liberal candidate in the field, something that might bestir the hearts of Democratic activists who will vote in the June 8 primary but not necessarily something that will prove persuasive to general election voters in November. Our ears were tuned not to what the candidates had to say but all the things they didn't say — because those issues never even came up.
At least the Democrats dealt with some actual issues that come before Virginia state government.
On the Republican side, behold the sight of Pete Snyder, a marketing entrepreneur seeking his party's nomination for governor, who has appeared on video waving around copies of books by Dr. Seuss — riffing off the Seuss estate's decision to no longer publish six of his 45-plus books because they contain racist images.
Of course, those weren't the books Snyder was showing off, so what's the point? Unless Snyder plans as governor to go on eBay and order copies of those discontinued books to ship to every Virginia library, what does Dr. Seuss have to do with being governor?
A few days later, he was complaining about President Joe Biden's immigration policies. Those are certainly debatable, of course, but a governor doesn't have anything to do with immigration policy, either.
Being a good culture warrior for the right is good politics in a Republican nomination fight, just as trying to outbid everyone to get as far to the left as possible may be good politics in a Democratic nomination fight.
Our patience with both sides is pretty thin, and that brings us to tonight's debate between the five candidates for the Democratic nomination for governor. Del. Lee Carter, Lt. Gov. Justin Fairfax, former Del. Jennifer Carroll Foy, former Gov. Terry McAuliffe, and state Sen. Jennifer McClellan will take the part in a debate hosted by WTVR in Richmond.
On May 6, they'll debate on WCYB in Bristol, followed by debates hosted by other TV stations in Washington, D.C., and Norfolk.
Here are some questions we'd like to see the candidates asked.
1. What will you do about the parole board?
This isn't a question Democrats want to deal with which is precisely why they should be asked about it.
A report by Gov. Ralph Northam's own inspector general last year found the parole board violated state law and its own regulations when it released one particular prisoner last year — Vincent Martin, who had been sentenced to life for killing a Richmond police officer in 1979.
Now the main investigator behind that report has filed a whistleblower lawsuit, claiming that Northam's staff intimidated her after the report came out and that the staff of Attorney General Mark Herring "redacted and reduced" certain findings. Herring's office says that's not so, and Northam's chief-of-staff says the investigator was biased.
What are the true facts of the matter? Here's an undeniable one: This looks bad for Democrats.
Politically, they are always vulnerable to the charge that they are soft on crime. Whether they are or not is a different matter, but in politics, perceptions often win the day.
Republicans are eager to make that case — Kirk Cox has already said if elected he'll fire the parole board. (Perhaps he should have put that in a Dr. Seuss rhyming scheme to be more engaging for Republican voters.)
Democrats ignore this issue at their peril. There may be lots of suburban voters who are quite fine with all the social justice reforms Democrats have enacted but who still don't think the parole board should be releasing cop killers — or ignoring state law.
So what do the Democratic candidates have to say about this? An answer that pleases Democratic primary voters may not please general election voters.
2. Will you support a constitutional amendment to end disparity in Virginia schools?
The Virginia Supreme Court ruled in 1994 that our constitution quite openly allows for vast differences between the state's most affluent schools and its poorest ones.
A Democratic legislator — Bud Phillips of Wise County — tried to fix that in 1995 and saw his measure killed by Democratic leaders.
Republicans did nothing during all the time they controlled the legislature.
Now that Democrats are back in charge, a Republican legislator — state Sen. Bill Stanley of Franklin County — has repeatedly introduced a constitutional amendment calling for equal educational opportunities.
The state Senate this year changed that to "equitable" — whatever that means — but at least passed it. A committee controlled by House Democrats killed it, just as their predecessors did 26 years ago.
McClellan gets credit for voting for the amendment (so, too, does Amanda Chase on the Republican side). What about the other candidates for governor? If not, we'd love to hear their explanation.
We'd also love to know if they actually intend to expend any political capital to push such an amendment?
McAuliffe is fond of saying his education plan is "big and bold" but so far it's not so big and bold as to include a constitutional end to school disparity.
3. Will you support a bond issue for school construction?
Same question, just different details. One of the state's first great Democratic liberals — Francis Pickens Miller — ran for governor on a platform of state support for local school construction and he came close to defeating the Byrd Machine in 1949.
Today's Democrats mostly have lost interest. Once again, it's been a Republican — Stanley — who has pushed this.
Again, McClellan gets credit for voting for it, and for her bill to create a statewide commission to study school modernization.
Northam, though, hasn't even named his representative on the panel — more than a year after it was created. Do any of the other candidates intend to do anything about this issue?
Again, McAuliffe's "big and bold" school plan is conspicuously silent.
Those are just three questions. Depending on what the candidates say tonight, we'll have more before the Bristol debate. Or, if they don't address these, we'll have to ask these questions again and again until we get answers.