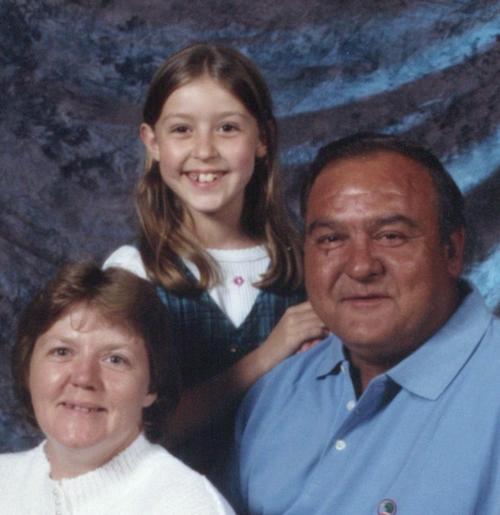 An entire Henry County family, Michael Wayne Short, his wife Mary Hall Short, and their 9-year-old daughter Jennifer, were killed in cold blood in August 2002, each slain by a gunshot to the head.
Their killings remain unsolved 19 years later, a wound in the fabric of this community that cannot heal until those who do know what happened find the courage to come forward with the information that will solve this case.
The Henry County Sheriff's Office should be commended for resuming its investigation, with fresh eyes to pore over the evidence and access to forensic techniques that weren't available in 2002.
To those holding out on the key pieces of testimony the sheriff's office needs: Please, take this opportunity to do the right thing.
The Shorts lived in a modest home alongside U.S. 220 in the tiny community of Oak Level, not far from the Franklin County line. That home no longer stands — in February 2019, the empty house burned to the ground.
On the morning of Aug. 15, 2002, an employee of Mike Short's mobile home moving business found his body on a couch under a roofed-in porch. He called police, who discovered Mary Short's body in her bedroom — both parents apparently were shot while they slept.
Jennifer was missing, the sheets on her bed thrown back, indicating an abduction. The telephone line near Jennifer's bedroom window had been cut.
The law enforcement agencies mobilized to investigate the slayings started out at a disadvantage. The home stood by a heavily traveled road, with no neighbors living close by that could describe the family's normal habits. The crime took place at night, with no witnesses other than the killer or killers.
In the days that followed the discovery of Mike and Mary Short's bodies, national media outlets broadcast repeated calls for the Figsboro Elementary School fourth grader's safe return. Tragically, horrifically, as those calls went out, Jennifer was likely already dead, her body lying under a bridge in Rockingham County, North Carolina, where a nearby homeowner would discover her skeletal remains six weeks later.
As relatives and the residents of Henry County grieved, the nation grieved with them. Even after all this time, a reward of $62,500 still stands for tips leading to a break in the case.
Please, do the right thing.
Only one person of interest was ever named in the Short investigation: Garrison S. "Gary" Bowman of Mayodan, North Carolina.
His name appears over and over in recountings of the case. Yet the only thing that ever publicly connected Bowman to the Short family was a tip given to authorities by Bowman's former landlord soon after Mike and Mary Short's bodies were discovered.
The landlord claimed that in a phone conversation, Bowman complained that he had paid a Virginia man to move his mobile home, but the man had refused to do the work. Bowman supposedly told his landlord that he would kill the man if he didn't get his money back. The landlord told police that on the day the Shorts were found dead, he went to visit Bowman, who brandished a gun and told him to leave.
In a 2004 interview with The Roanoke Times, Bowman said none of things ever happened. He said he never owned or possessed a pistol.
No one disputes that on Aug. 16, 2002, Bowman, then age 66, left North Carolina to travel to Inuvik, a minuscule town within the Arctic Circle in Canada's Northwest Territories.
A retired carpenter with an alcohol problem and a tendency to blurt unwise quotes when news cameras were rolling, Bowman was arrested by Canadian authorities for an immigration violation — he had a drunken driving charge in Canada and a drunken driving conviction in the U.S. that he had not reported. His possessions seized, never to be returned, he was deported back to North Carolina.
Media recountings of the case tend to leave out the many things that cast doubt on Bowman's involvement.
Friends who knew him came forward to defend his character, saying his trip to Canada had long been planned. They provided a timeline for his actions and whereabouts that made a nighttime detour to Oak Level seem nigh impossible.
Investigators combed through all his belongings, and a federal grand jury was convened, yet no charges were ever filed against Bowman.
By 2006, two men had been convicted in federal court of lying to investigators by making claims they had seen Bowman at the Shorts' home the night of the slayings. Prosecutors said the men were after the reward money, and that the lies they told led to "hundreds and hundreds" of hours of misguided investigation before their stories unraveled.
Still, a cloud of suspicion hung over Bowman until his death in 2014. Even today it lingers, despite the fact that in 2007, both Henry County Sheriff Lane Perry and an FBI agent publicly stated that Bowman was not a suspect in the case.
As Bowman himself lamented, "This will live with me until the day I die, or until it's solved."
The question must be raised: compounding the horrific tragedy of the Short family's deaths, was an innocent man's life destroyed?
To those who have the answer: Please, do the right thing.
Regarding the handling of the Short case, the Henry County Sheriff's Office has had a cloud of its own to contend with.
Even in the early months of the investigation, members of other law enforcement agencies and relatives of the family raised questions about whether Henry County had allowed too many people into the house in the crucial first hours, contaminating and compromising the crime scene.
The sheriff at the time, Frank Cassell, responded that the crime scene had been properly controlled and that searching for Jennifer had been his office's first priority.
In 2006, Cassell's career in law enforcement came to an ignominious end, when he and 12 deputies were indicted in a federal sting that accused some sheriff's office employees of using and selling drugs, stealing evidence, money laundering and obstruction of justice. Cassell pleaded guilty to lying to an investigator and received an eight month prison sentence.
Though none of the deputies caught up in the sting were part of the Short task force, it's difficult not to wonder whether the corruption in the sheriff's office impeded the Short investigation in some way.
Somewhere out there, there is someone who knows what matters most — who did it and how.
Please, do the right thing.