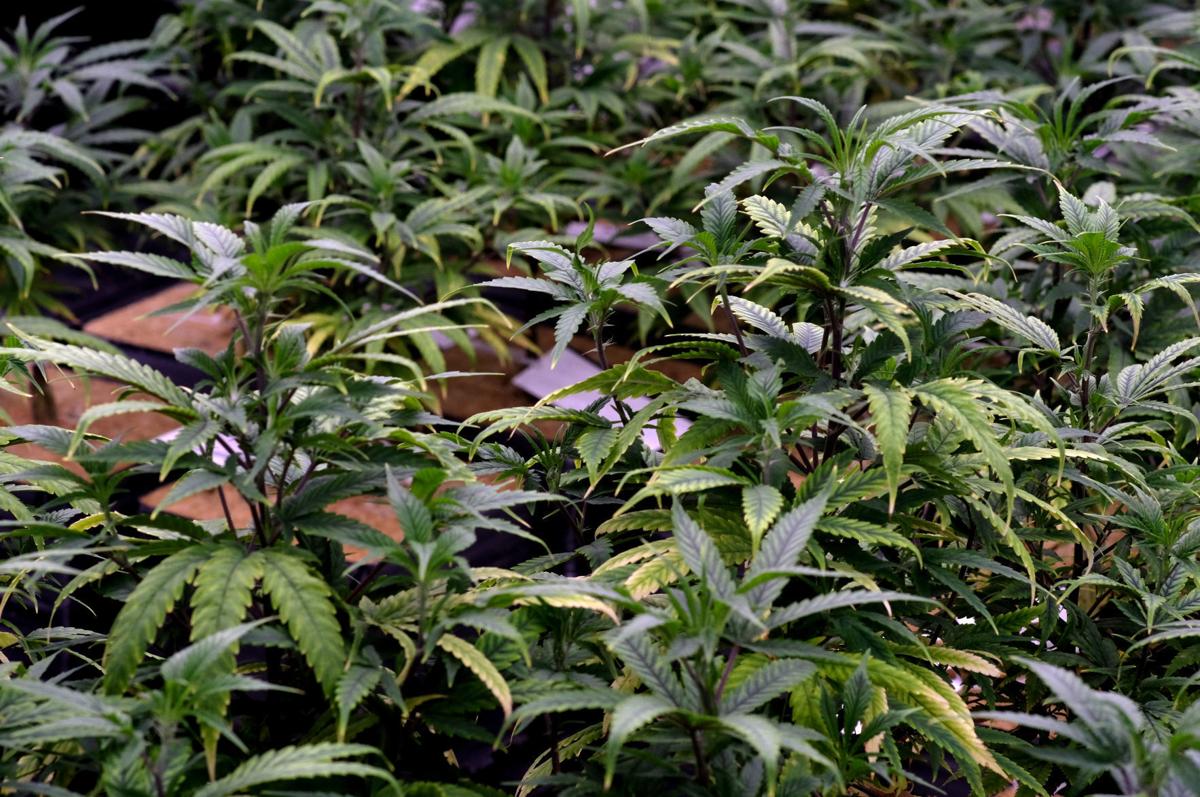 Virginia is now a gubernatorial signature away from legalizing marijuana and the mere act of legalization isn't even the most controversial or most radical part of the bill.
Instead, the part that generated the most controversy in the General Assembly was the "social equity" provision that gives some people preference over others in licensing. And the most radical part — at least in comparison to other states that have gone the legalization route — is how legislators have written the law to make it more likely that marijuana stores will be statewide and not concentrated in a handful of cities.
The "social equity" provision is intended to address the fact that historically Black Virginians have been more likely to get arrested for marijuana offenses than whites — four times more likely, according to a 2018 study by the Joint Legislative Audit and Review Commission. To make up for that, the new law gives preference in licensing to people who: a) have been convicted of misdemeanor marijuana offenses; b) are closely related to someone who has been convicted of such offenses; c) live in a locality that has been "disproportionately policed for marijuana crimes"; d) live in a community determined to be "economically distressed" or; e) are graduates of any of the state's historically Black colleges.
Those provisions are intended to offer a form of economic affirmative action to Black Virginians but they may also wind up benefiting a lot of overwhelmingly white localities in the western part of the state.
First, disproportionality: That JLARC report found the locality with the greatest racial disparities in pot arrests was Carroll County, where the arrest rate for Blacks was 40 times higher than the rate for whites. Next were Hanover (15 times), Arlington (14 times), Wythe (12 times), Rockingham (11 times), Rockbridge and Shenandoah (10 times), Botetourt and Smyth (nine times), Alexandria (7.6 times), Alleghany (7.55 times) and Washington (7.5 times). Of the 12 most disproportionately policed localities, nine are west of the Blue Ridge and overwhelmingly white. Applicants in those localities now get an advantage.
Second, there's no official state definition of "economically distressed" — it will be up to the state's new Cannabis Control Authority to write that definition, according to a spokesman for state Sen. Adam Ebbin, D-Alexandria. However, it seems difficult to come up with any definition that doesn't cover a lot of the state's rural counties.
State law already sets out two criteria for "distressed" when it comes to awarding economic development grants — either an unemployment rate greater than the statewide average or a poverty rate that's higher than the statewide average. According to the U.S. Census Bureau, the poverty criteria would bring in every locality west of the Blue Ridge from Rockbridge County south except for Botetourt, Salem and Roanoke County and every locality in Southside except for Amelia County. According to the U.S. Bureau of Labor Statistics, the unemployment figure would currently cover anyone living in (from west to east), the counties of Lee, Wise, Dickenson, Buchanan, Russell, Tazewell, Pulaski, Appomattox, Prince Edward, Henry, Halifax, Mecklenburg, Brunswick, Greensville plus the cities of Roanoke, Lynchburg, Martinsville and Danville. Those in that latter list would count as "doubly distressed."
If either or both of those definitions are used, then a provision intended to benefit Black Virginians would also cover people in what are literally the whitest counties in the state.
Seven of the 11 poorest localities in Virginia are in Southwest Virginia — Radford (where the figure is inflated by college students), followed by Buchanan County, Galax, Martinsville, Wise County, Dickenson County and Lee County. Potential marijuana entrepreneurs from those localities would all seem to qualify for preferential treatment.
The social equity provision stirred a lot of debate in Richmond; some other provisions of the marijuana bill did not. In the first — and most famous — states to legalize marijuana, there are ways for localities to opt out in some way. And most have. We think of Colorado as a hippie, trippy pothead state and that might be true as far as Denver and Boulder are concerned. Only about 40% of Colorado's counties allow cannabis sales. The Marijuana Moment website reports the figure is even lower in California — 25%.
By contrast, Virginia's marijuana bill makes it very hard for localities to ban marijuana retailers. The only way for a locality to ban a licensed marijuana dispensary is for that locality to hold a prohibition referendum in 2022. That option is only available for that one year. It's either vote to ban stores in 2022 or forever hold your peace. The rationale, says a spokesman for Ebbin, is that after that the licensing process will be underway and a prohibition wouldn't be fair to anyone drawing up business plans.
How many localities will vote to order such a prohibition referendum? That's not the most important question. It's this: How many localities would actually pass one? The politics of pot have changed dramatically in recent years. In 2020, we saw voters in one of the most conservative state in the country — South Dakota — vote to legalize marijuana. If voters there are now pro-pot, perhaps conservative voters in Virginia will be, as well?
Local boards may feel an obligation to give voters a choice but we may see voters in even conservative localities say "no, we want this." Maybe they won't want the pot, but they might want the local tax revenue that would come with it. The law gives localities the authority to level a 3% tax on local marijuana sales. It might be instructive to look at liquor-by-the-drink votes. Virtually all those in Virginia pass. Of the first 26 such votes held after 2000, all but one passed, according to the State Board of Elections (the data in recent years is incomplete). Most weren't even close. Now, a cocktail isn't a reefer, but the point is that even in conservative localities, voters have been pretty libertarian concerning such personal indulgences.
Here's another way in which Virginia's pot bill is more liberal than other states: It allows licensed growers everywhere. In Colorado, Washington and elsewhere, localities can ban pot farming and many have. Here they can't. Given the criteria above, farmers in conservative and overwhelmingly white Southwest might even get preferential treatment for licenses. How's that for social equity?
Want to keep up with editorials and commentaries from The Roanoke Times? Sign up for our weekly newsletter.