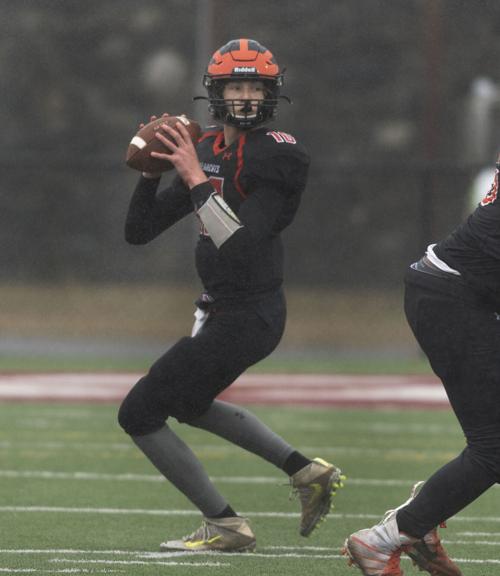 Last year, in baseball's virus-truncated season, the Toronto Blue Jays were never allowed to play at home. The Canadian government wouldn't allow it. Instead, the Blue Jays played their home games just over the border in Buffalo.
The same thing may happen this season, although the Blue Jays will play their first two home stands at their spring training site in Dunedin, Florida, before deciding what to do.
A similar situation is playing out in Bristol. The city's high school — Virginia High School — is playing its home football games this spring across the state line at Tennessee High School.
The reason: Tennessee has less restrictive rules on crowd sizes than Virginia. Moreover, Virginia's rules for high school sports classify cheerleaders and band members as spectators and not participants.
Bristol Virginia Schools Superintendent Keith Perrigan wrote an op-ed that appeared in The Roanoke Times last month that made the case they should be counted as equal participants to the players on the field.
We're inclined to agree: Cheerleading is part of the football experience. It's not some separate event. Cheerleaders don't cheer if there's no team to cheer for. Because football teams are almost exclusively male and cheer squads are almost exclusively female, to separate the two and relegate cheerleaders to the status of "spectators" carries with it a whiff of sexism.
In any case, the Virginia Bearcats are now playing out of state so that the cheer squad and band can take part and their families can be there to watch them — outdoors, in a 4,000-seat stadium where Tennessee rules allow up to 2,000 people compared to the 250 allowed on the Virginia side.
Other schools have simply given spectator tickets to cheerleaders and band members, although those count against the maximum number of people allowed, which means less room for parents to see their kids.
If this were a year ago, we might have pondered the vast difference in the rules from one side of the state line to the other, and looked at which side was doing the better job combating the virus. Right now, it's more restrictive in Virginia. The infection rate across the line in Sullivan County, Tennessee is 26% higher than in Bristol. That suggests Virginia's more stringent lockdown has been more successful.
We might even have asked whether the comparatively low rates in Bristol might not warrant allowing bigger crowds. Why, then, must they still labor under the same one-size-fits-all restrictions that places with much higher infection rates must follow? Shouldn't there be some reward for good behavior?
Instead, we'll ask a different question, one that starts in Bristol but applies more broadly. The Virginia Department of Health reports that 2,374 people in Bristol have been fully vaccinated — 13.8% of the population, slightly higher than the statewide average of 12.3%. So why can't all 2,374 of those fully vaccinated people to go to game if they want? We understood the rationale for social distancing before people started getting vaccinated — 25 people indoors, 250 outdoors. But now that people are getting vaccinated — and getting vaccinated pretty effectively in Virginia — why must those rules apply to those who have been fully vaccinated?
Why can't fully vaccinated people wave their vaccination card around and effectively get a pass to resume a normal life? Instead, President Joe Biden says if we do everything right, then by the Fourth of July we can gather in small groups for backyard barbecues with family and friends. Yet he says the goal is for every American adult to get a vaccine by May 1. So if we're all vaccinated by then, why are we still restricted to small groups come July 4? Why can't we be packing stadiums by Memorial Day? Why can't fully vaccinated people be packing stadiums now?
Sigh. Science. The debate is over how much getting vaccinated reduces the risk of transmitting the virus to people who haven't been vaccinated, something scientists haven't agreed on yet. Some conservatives, such as Sen. Rand Paul, R-Kentucky, think vaccinated people should return to normal now. Some liberal states, such as New York, are experimenting with "vaccine passports" that would allow vaccinated people to attend live events. Scientists, though, aren't so sure.
We posed the question to the Virginia Department of Health. Here's the question we got back from epidemiologist Brandy Darby: "The risks of SARS-CoV-2 infection in fully vaccinated people cannot be completely eliminated as long as there is continued community transmission of the virus. While a growing body of evidence suggests that fully vaccinated people are less likely to have asymptomatic infection and potentially less likely to transmit SARS-CoV-2 to others, further investigation is ongoing. Vaccinated people could potentially still get COVID-19 and spread it to others. However, the benefits of relaxing some measures, such as quarantine requirements, and reducing social isolation, may outweigh the residual risk of fully vaccinated people becoming ill with COVID-19 or transmitting the virus to others. When people from multiple households gather together in medium or large groups (sizes not defined by CDC), even if they are fully vaccinated, there is still a risk of transmission and then potentially infecting high risk people in other settings."
In other words, just because 2,374 people in Bristol have been fully vaccinated, or 13,937 in Roanoke or 1.07 million statewide doesn't mean those people can return to normal yet. They need others to do so as well — otherwise even fully vaccinated people might carry the virus to unvaccinated people. That's the challenge we face. We are a society divided and polarized in so many ways — politically, culturally, economically — yet here we must act together, as we did in World War II when we confronted a different type of enemy. Can we do it? Do we still have it in us?
So how many people need to be vaccinated before we can return to normal? Here's the thing: We don't know. Anthony Fauci thinks maybe 75% to 80%. However, the rate for so-called "herd immunity" varies from disease to disease. World Health Organization says the rate for polio is 80% vaccinated. For measles, 95%. We don't really know what the rate for COVID-19 is. We just know it's new and unknown — and it's shut down vast swaths of our society. If we want that society back, then there's one thing we need to do. We need to beat the virus. We need get vaccinated. Sign up at vaccinate.virginia.gov or call 1-8770VAX-INVA. That's the only way this ends.