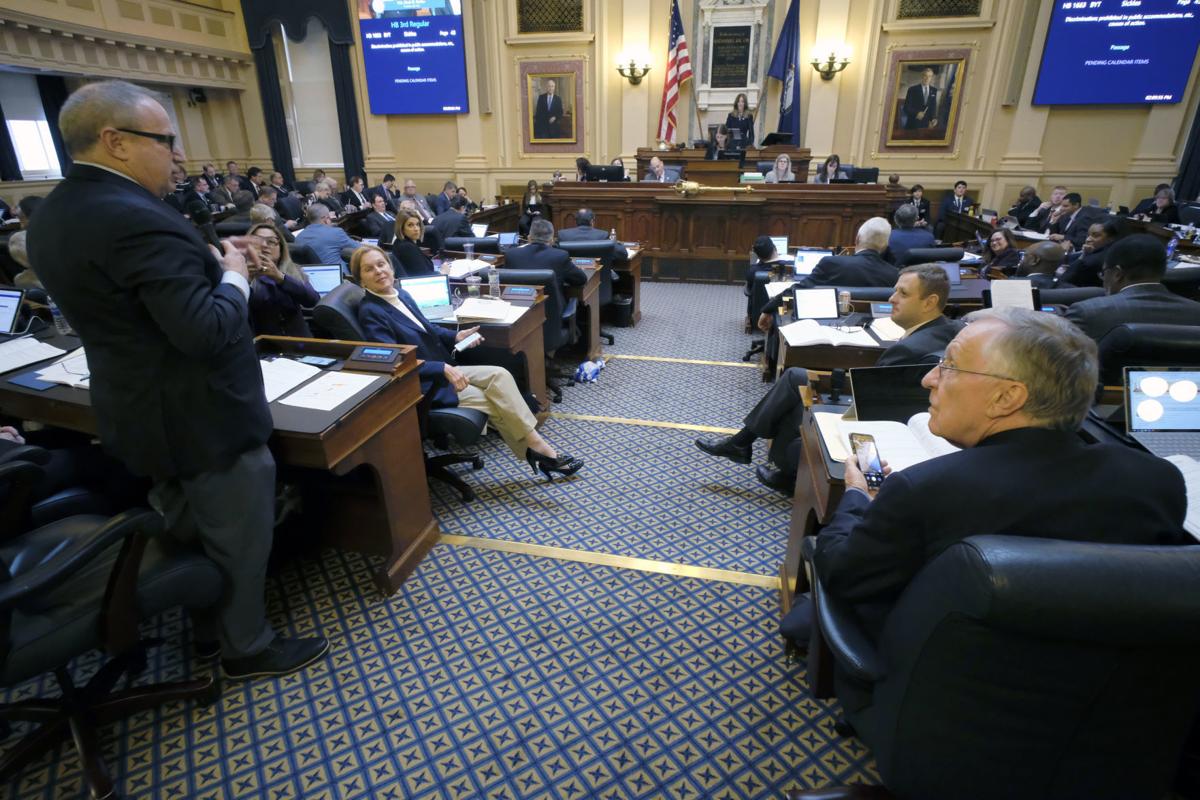 Virginia needs bigger government, and conservatives should be the ones leading the charge.
That's a sentence that requires some explanation. Conveniently, we have one to offer.
At the moment, there's a special election underway in Virginia's 38th Senate District where the seat was left vacant when Ben Chafin, R-Russell, died from complications of COVID-19. That election on Tuesday calls attention to many things but one undeniable one is this — that's a massive district, geographically speaking. It stretches all the way from a smidge of Montgomery County to the Kentucky line. That's more than 160 miles from end to end — or, according to Google Maps, a three-hour drive.
That's bigger than many congressional districts.
And — here's the thing — it's only going to get bigger. We don't know exactly how much bigger until we get the latest census numbers and see what Virginia's new redistricting commission makes of them. But we have a rough idea already of just how much that district will need to grow. Using the Census Bureau's 2019 estimates, the Virginia Public Access Project has computed how many people each legislative district in the state will need to add or shed. Because Southwest Virginia has lost so much population (and other parts of the state have grown), that 38th Senate District is now 19,049 people short of the ideal. To pick up 19,049 more people, it will have to be stretched even bigger geographically.
Conservatives, in particular, like to say that the government that is closest to the people governs best. But what happens if your state legislator is more than three hours away? That district isn't even the biggest one in the state. The 40th Senate District, held by Todd Pillion, R-Washington, is 211 miles from the Cumberland Gap to Grayson County — which plots out to a 3 hour and 46 minute drive (longer if you wind up behind a coal truck or a log truck). It's also now 22,462 people short so will have to grow even more than the 38th District will.
We can't fix the population trends. But Virginia could, if it wanted to, fix something else. It could create more legislative districts so that each one is geographically smaller. That wouldn't matter so much in Northern Virginia or elsewhere in the urban crescent, but it would in rural Virginia — which is why Republicans ought to be most in favor of this proposal. Creating more legislative districts wouldn't necessarily change the overall dynamics of the General Assembly — currently controlled by Democrats — but it would mean that voters in rural Virginia would have a closer connection to their legislators. Since virtually all those legislators are currently Republicans, they should embrace this idea — this would be good for their constituents.
To expand the size of the General Assembly would require a constitutional amendment. The state constitution currently sets the size of the House of Delegates at 90-100 members and the state Senate at 33-40 (not surprisingly, Virginia has the max of each). Those numbers seem normal to us but they're not compared to some other states. In fact, 15 states have more senators than we do; 22 have more House members than we do — and most of those are smaller states, population-wise, so their voters-to-legislator ratio is much better than ours.
The particulars: Where we have 40 senators, New Mexico has 42, South Carolina 46, Maryland and North Dakota 47, Oklahoma 48, Washington 49, Indiana, Iowa, Montana and Pennsylvania each have 50, Mississippi 52, Georgia 56; Illinois 59, New York 63 while Minnesota tops with list with a staggering 67. (We're leaving out Nebraska, which has 49 states but only one legislative chamber, so even though the state has more senators than we do it also has the smallest legislative chamber in the country.)
There's no magic ratio between the number of senators and the number of House members so we could expand the number of senators without expanding the number of delegates. Unlike the U.S. Senate, our state Senate is apportioned by population so it's really just tradition that there are more House members than Senate members.
Here are all the states that have more House members than Virginia's 100: Oklahoma has 101, Alabama and Louisiana 105, Michigan 110, Illinois 118, Florida and North Carolina 120, Mississippi 122, South Carolina 124, Kansas 125, Minnesota 134, Maryland 141, New York, Texas and Vermont each have 150, Connecticut and Maine 151, Massachusetts 160, Missouri 163, Georgia 180, Pennsylvania 203 while New Hampshire has the most with 400. No, that's not a typo. New Hampshire really does have 400 seats in its House. That means each House member represents about 3,415 voters while in Virginia each House member represents about 84,455. We're not proposing Virginia quadruple the size of the House of Delegates, just making a point — New Hampshire House members are, in theory, 25 times closer to their constituents than ours are.
We started by talking about some sprawling Senate districts so let's return there. The ideal size there is 211,362 voters per district. By contrast, in Minnesota the ratio is 84,437 voters per Senate district, about the size of one of our House districts.
We can't guarantee that a bigger state legislature would produce better results — what constitutes "better" or "worse" are, like beauty, in the eye of the beholder anyway. However, more voices would get heard and that's generally a good thing. It would mean that more minorities would get elected to the legislature, and not just racial minorities, either. If Virginia had New Hampshire's ratio for House members, then small counties such as Bland County, Craig County and Highland County might have their own delegates, something they can't realistically hope for now. If Virginia had Minnesota's ratio for Senate districts, then the 38th District would get chopped into two and a half pieces — which means voters in Radford wouldn't wonder why their senator is all the way in Tazewell County (if Republican Travis Hackworth wins) or, conversely, voters in Wise County wouldn't wonder why their senator is all the way in Radford (if Democrat Laurie Buchwald wins).
We don't expect this idea to fly — who wants to make the case for more politicians? But if we had more legislators, rural Virginia wouldn't be drawn into geographical monstrosities where their representatives are hours away.