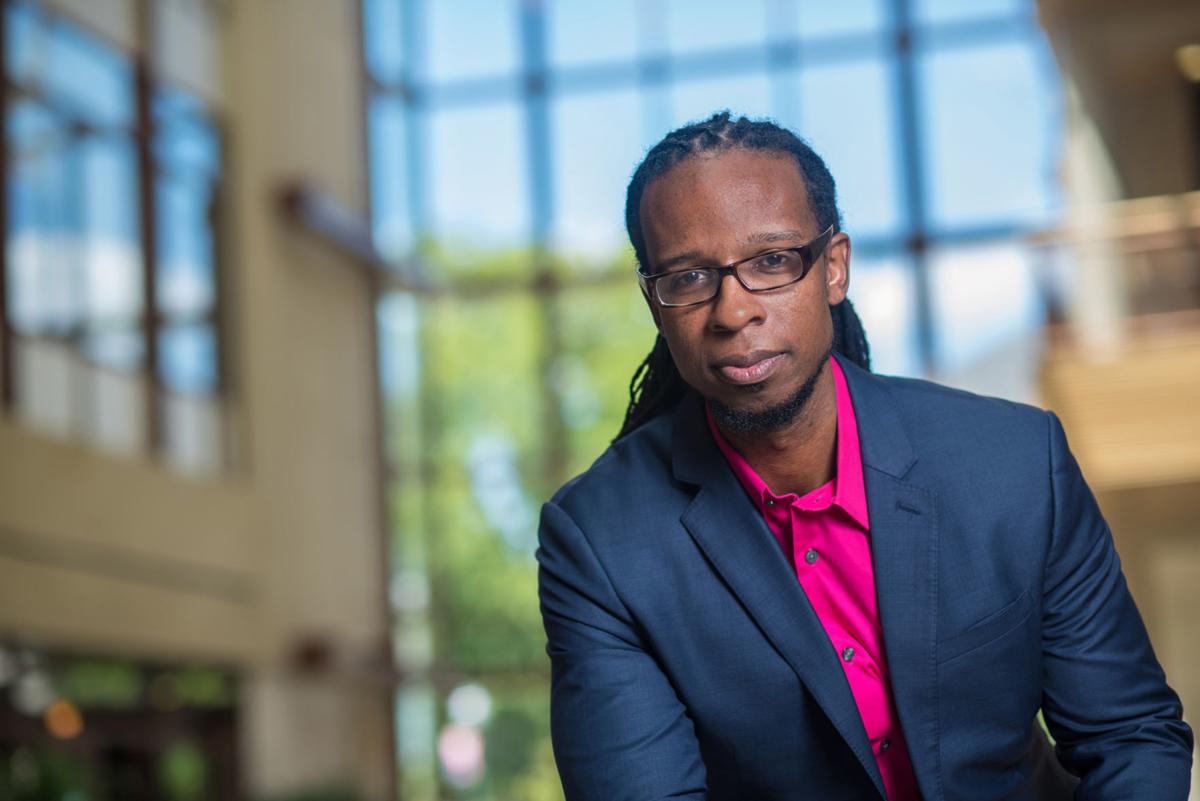 The odds seem good that most of you have never heard of Ibram X. Kendi. Today we set out to fix that.
We know that some of you have heard of him. Back in March, not long after Gov. Ralph Northam's blackface scandal broke, and not long after he pledged to read up on African American history as a form of penance, we published a reading list for the governor. Three of them, actually. Over a series of three editorials, we asked prominent African Americans in this part of Virginia what books they thought Northam should read. We got a long list that perhaps everyone should read because African American history is really just American history — and the history we've been taught in school is a very incomplete version of a much more interesting, and complex, story.
In any case, one of the books recommended — by Roanoke school board member Lutheria Smith —was "Stamped From The Beginning: The Definitive History of Racist Ideas in America" by the aforementioned Ibram X. Kendi.
Here's why this matters today (other than the fact that all these remain good books to read): Kendi will be in Roanoke on Thursday, speaking at 6:30 p.m. at the Melrose Branch Library. He'll be joined by Justin Phillip Reed, an acclaimed poet who won a National Book Award for his book of poetry titled "Indecency."
No slight to Reed, but Kendi is a National Book Award winner, too, and he's our focus for today. This appearance is — how do they say it — kind of a big deal.
You can find Kendi's book on your own. We also recommend you read some of his columns in The Atlantic — the internet is your friend here. Kendi doesn't simply have a powerful voice; it's a voice that is informed by scholarship (in his day job, he teaches at American University in Washington, D.C.) and it's a voice that expresses itself in thought-provoking ways.
Here's a sampling: One recent column reflects on the recent mass shooting in El Paso, Texas. Other writers have focused on guns and why the U.S., unique among nations, has so many mass slaughters. Others have focused on the racism expressed in the manifesto attributed to the accused shooter. Kendi begins in a completely different place: The shores of Lake Michigan a century ago this summer.
Kendi writes about how a black teenager, who accidentally drifted "past the invisible color line" into the white part of the Chicago beachfront, triggered one of the worst riots in American history. Whites rampaged through black neighborhoods in Chicago, killing 38 people and reducing 1,000 black-owned homes to ashes. It was part of an event that most Americans today don't even know about — the so-called "Red Summer" of 1919, when whites across the country went on lynching sprees against African Americans.
How does a lynch mob a century ago relate to anything today?
Kendi points out that the lynching mobs of 1919 — and a general uptick in racism in general —was in response to the migration of African- Americans from the Deep South to Chicago and other industrial cities. Just as the manifesto writer in Texas railed against an "Hispanic invasion," whites in the urban north in 1919 saw what they considered an African-American "invasion." The response in both cases was violence.
Today, we no longer have lynch mobs. The last documented lynching in Virginia was in Wytheville in 1928 — a horrible outburst of lawlessness that should be memorialized in the form of a marker. Historians debate whether a killing in Fauquier County in 1932 was a lynching or something else.
In any case, we no longer have mobs of white people who drag their victims through the street before shooting them or hanging them or sometimes both — or even worse. However, Kendi writes that the impulses that prompted these outrages haven't gone away; they've simply changed in form.
"In 1919, the white lynch mob was the deadliest domestic form of white supremacist terror," he writes. "Back then a sizable number of armed and coordinated white supremacists were needed to slaughter a sizable number of people of color. Now it takes only one. The lynch mob endures in a different form. The assault rifle is the lynch mob of one."
That's not how we typically think of what happened in the Walmart in El Paso, or the Tree of Life synagogue in Pittsburgh, or the Emanuel African Methodist Episcopal Church in Charleston, South Carolina. Yet in way it was. The dynamics have flipped, Kendi writes. Once it took a large number of people to kill one person; now it takes just one person to kill a large number of people.
"Americans should shudder at the thought of an assault rifle in the hands of a white supremacist as they shudder at the memory of the lynch mobs of white supremacists," he writes. "The carnage of yesterday is today — and it seems never ending. Lynch mobs terrorized Americans for nearly 100 years. How long will these new lynch mobs of one terrorize Americans?"
Kendi does not mince words — and not everyone will like those words. For instance: "The threadbare lie energizing the lynch mob today is that the Latinos are invading, the Muslims are terrorizing, the Jews are exploiting, and the blacks are infesting — the threadbare lie of Trumpism is that these groups 'will hasten the destruction of our country,' to use the El Paso shooter's words. Instead of viewing these threadbare lies on the big screen through The Birth of a Nation, which was shown at the White House in 1915, the potential lynch mobs of one are viewing them on the little screen, watching Fox News, which is shown at the White House today."
Now, we already know what a lot of you are thinking: I don't agree with that. Followed closely by: I'm not wasting my time to go hear that guy talk. Yet perhaps you're the ones who should go hear Kendi. There's probably no danger that he'll change your politics — people's politics seem pretty set these days. But maybe he'll give you some other things to think about.
Kendi writes about what he calls "the great truth in America's racial and economic history — that the racial polarization of the working classes has disempowered people like [the suspected El Paso shooter] and empowered the very 'elites who run corporations' he so loathes."
Come give Kendi a listen. We'll guarantee this: He'll make you think. That used to be considered a good thing.