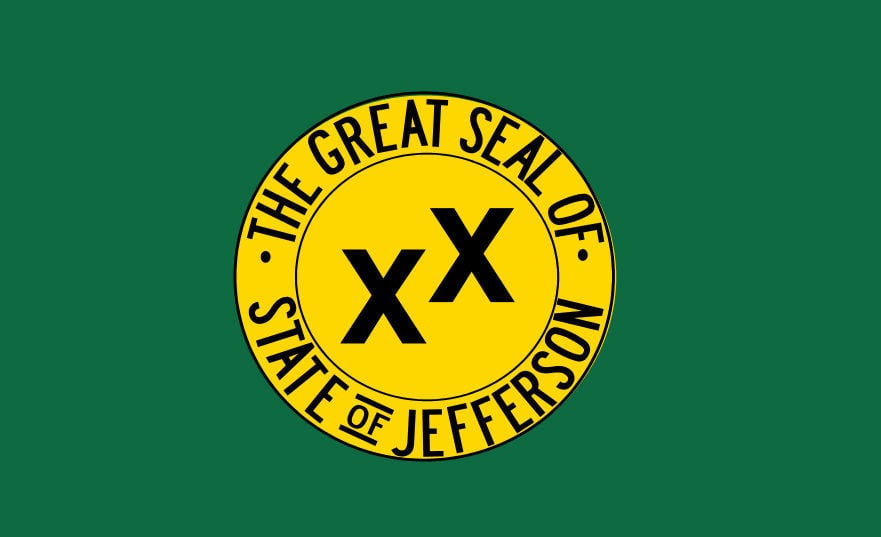 Here's an idea: Should Southwest Virginia secede and form its own state?
We don't mean that seriously, of course. However, let's explore it as a thought experiment.
The practical problem with secession – aside from the legalities and all that – is that Southwest Virginia is subsidized by the rest of the state. Yes, yes, we think we're ignored by Richmond and in a lot of ways we are. Still, the fiscal reality is that Northern Virginia really subsidizes the rest of Virginia. If there's any part of the state that should secede for bottom-line reasons, it's Northern Virginia.
Let's not encourage that.
Money does tend to talk. Otherwise, French-speaking Quebec might already have seceded from Canada.
Just because we get subsidized, though, doesn't mean we get the attention we think we deserve. When schools in the coalfields faced an unprecedented funding crisis brought on by collapse of the coal industry, Richmond didn't exactly swing into action. The governor expressed his concern but words don't pay the bills. Not a single candidate for governor – in either party – proposed a solution. Or even made a dramatic gesture in the coalfields' direction.
If you want to look at it this way – and we do – we had to take care of ourselves. It was the only legislator from Southwest Virginia who serves on the House Appropriations Committee – Del. Nick Rush, R-Christiansburg – who came up with a new funding formula.
Even then, the handful of legislators who worked out the final version of the budget changed things around so that two of the counties in far Southwest Virginia wound up with exactly zero dollars. Could that be because not a single legislator from Southwest Virginia was in the room when that happened? (Cue the "Hamilton" musical and song in which Aaron Burr longs to be in "The Room Where It Happened.")
What if we just said "sorry, we're tired of being your afterthought; we're outta here"?
We could have fun fantasizing about things that will never happen: So we're subsidized by Northern Virginia now? Maybe if we were a separate state we could wring even more money out of Northern Virginia. If we succeeded with seceding, we'd take three state colleges with us – Virginia Tech, Radford University and the University of Virginia's College at Wise. All those urban crescent students now paying in-state tuition? We look forward to cashing your out-of-state tuition checks.
More seriously, would the threat of secession – as farcical as that may be – help call more attention to our part of the state? (Short answer: Yes.) At any given time, there are multiple attempts across the country to redraw state lines. In 2008, politicians in North Lauderdale, Florida, proposed splitting that state into two. In 2012, a group around Tucson, Arizona, tried to force a state referendum to create a new state called Baja Arizona; they failed. In 2013, a secession movement to split off North Colorado actually got on the ballot, but was voted down.
California is perpetually plagued by secession attempts. Five counties in northern California have officially declared their support to form the State of Jefferson. Proponents have even designed their own flag, with two X's in the middle. That's supposed to signify how northern California has been "double-crossed" by more populous southern California.
Venture capitalist Tim Draper proposed that California be split into not two but six different states. There was even a petition drive to get the proposal on the state ballot in 2016, but not enough people signed on.
Within the past decade, there have been similar attempts to partition Illinois, Maine, Maryland, New York and Washington.
All of those movements have sprung from the same wellspring: Some rural areas feel ignored by the urban centers that now dominate their state's politics. Just this year, state legislators in Washington took up – and ignored – a bill to turn the rural, eastern part of the state into the State of Liberty.
"Since statehood, the lifestyles, culture, and economies of eastern and western Washington have been very distinct and dramatically different," the bill read, "while the urbanization and rapid growth in the western portions of the state has progressively heightened this divergence of cultural and economic values between the western and eastern portions of the state."
Just switch the geography and that sounds pretty familiar, doesn't it?
That initiative was sponsored by conservatives who wanted nothing to do with "Seattle values." We're less concerned with values and more concerned with squeezing more funding out of Richmond.
In other words, the threat of secession might be better than the real thing. We're thinking something more along "The Mouse That Roared" – the 1955 European novel that later became a movie starring Peter Sellers and a play that once was a favorite on high school stages. In that satire, the mythical Grand Duchy of Fenwick declares war on the United States, hoping to be quickly defeated and then showered with foreign aid.
Would our State of Southwest Virginia threaten to close Catawba Hospital, as the state tried to do last year? We bet not. Would our State of Southwest Virginia see suburban politicians vote for a bill that would make it harder to increase broadband speeds in rural areas, as some tried to do this year? We bet not, because there'd be a lot fewer of those suburban pols and a lot more rural politicians attentive to our unique needs. Our State of Southwest Virginia might not be able to fund the coalfield schools the way they deserve, but we suspect they'd be a much higher priority.
Of course, there's a more real-life example of a place that decided it was willing to endure some short-term economic pain in return for trying to be the master of its own destiny. That was basically the rationale behind Great Britain's vote to leave the European Union, a vote known as "Brexit."