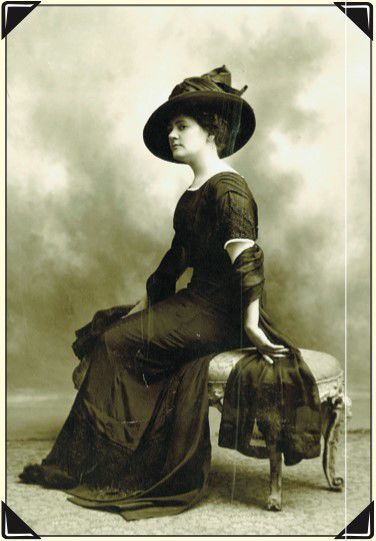 The Democratic convention of 1924 was an ugly affair from the beginning, and it would eventually get uglier. Democrats arrived in New York out of power and out of sorts. Their top two candidates — William McAdoo and Al Smith — were deeply polarizing for different reasons, the former for a scandal and latter for his Catholicism. The party was split over many fundamental issues of the day, none more so than whether Democrats should condemn the Ku Klux Klan (they didn't). The front page of The New York Times on June 28, 1924 shouted: "Klan issue overshadows all on eve of balloting."
Just below that headline, though, was something unusual for newspapers then: A photograph. Even more unusual, it was a photograph of a woman. Democrats had yet to start voting on whom to nominate for president — it would eventually take them a painful 10 days and 103 ballots to produce a nominee — but the news of this day concerned what normally would have been an afterthought, the vice presidential nomination. The woman in the photograph was Lena Springs, and she was about to make history. Long before Democrats knew who their presidential nominee would be, a handful of party leaders had determined they would put forward Springs' name for vice president — making her the first woman to be placed in nomination for national office by a major political party. Whoever Joe Biden picks for a running mate (and he says he'll pick a woman) will be following in her footsteps.
This year, like 1924, is a presidential election year and over the course the campaign we will publish a series of editorials looking at elections to see what lessons we can learn that might apply today. We begin with the story of Lena Springs, who conveniently for us has a Roanoke connection. It's slight, but we seize upon it anyway: She went to school here. We're not sure for how long. We know she was born Lena Jones in Pulaski, Tennessee, in 1883 and attended Sullins College in Bristol (which closed in 1976). We also know she did "post-graduate work" at Virginia College, a women's college in Roanoke that closed about 1930. Her stint at Virginia College must have been significant enough because she later became chair of the English department at Queens College in Charlotte, North Carolina. We'd love to think that her Roanoke experience gave her the leadership qualities she later put to use, but we really have no idea. Her first husband died — we don't know how — and in 1913, she married Leroy Springs, a wealthy widower from Lancaster, South Carolina. According to the website Our Campaigns, he owned cotton mills, a bank and "thousands of acres of cotton plantations."
Lena Springs did not fit the stereotype of a Southern belle. She plunged into politics, campaigning across South Carolina for women's suffrage — even though South Carolina was so emphatic about not allowing women to vote that it didn't ratify the 19th Amendment until 1969, long after it had gone into effect in 1920. Springs, like most white Southerners of the time, was a Democrat. She cast her first vote in 1920 for that year's losing Democratic ticket and by 1922 had gotten herself elected a Democratic National Committeewoman — part of the national party's official governance. And in 1924, both she and her husband were delegates to the national convention in New York that was looking to find a candidate to run against President Calvin Coolidge. That alone made her part of history — she was one of 182 women who were delegates at the convention.
By then, Springs was well-regarded enough that an otherwise fractious convention unanimously elected her to chair the credentials committee — a big deal in those days. "Mrs. Springs caught the fancy of the convention from the start," The New York Times reported. "Mrs. Springs handled her committees like a veteran, winning the plaudits of her colleagues not only for the ability she showed but for the courtesy and fairness of her every act." Springs took another turn in the spotlight when she was tapped to deliver one of the seconding speeches for McAdoo, who had been Woodrow Wilson's treasury secretary.
South Carolina Democrats may not have liked the idea of giving women the right to vote but they soon decided they liked Springs — and intended to nominate her for vice president. "Mrs. Springs was taken completely by surprise when told of the plan," the Times reported. There was one awkward problem. Was she old enough? The Constitution sets the minimum age at 35 and who was going to ask a lady her age? "Mrs. Springs admits she meets this constitutional provision," the Times reported. "To the casual observer she might seem to be below the age limit and therefore ineligible." (She was 41).
The next day, after the front page story in the The New York Times, Springs was "immediately surrounded by scores of friends and admirers, with men in the majority." The powerful Sen. Burton Wheeler of Montana declared he would approve of her nomination: "She would most certainly improve the situation in the Senate." Humorist Will Rogers suggested that "I am willing to consider you for head of the ticket." The South Carolina delegation proclaimed a tribute to Springs, with one notable exception: Her husband. "He appeared to harbor the fear that his wife might be nominated," The New York Times reported. "Delegates from nearly every state, it seemed were also among those who complimented the brilliant and comely woman."
It's hard to say whether Springs was ever seriously going to be considered or if this was just a popular gesture, a nod to changing times. In any case, Democrats labored through the longest political convention in history before finally nominating dark horse John Davis. Early in the morning of July 10, the convention delegates finally got around to picking a vice presidential candidate, those being the days when delegates still did such things. There were an astounding 30 candidates nominated — and Nebraska Gov. Charles Bryan led with 332 votes. Springs finished a distant fourth – but still ahead of the governors of New Jersey and Kansas, the mayor of New York City and apparently 23 others. The first roll call showed 42 votes for Springs before delegations started switching votes to get behind front-runner Bryan — and go home. The Davis-Bryan ticket lost badly in the fall and Springs was apparently never mentioned for office again. How might history have been different if she had been?
Catch the latest in Opinion
Get opinion pieces, letters and editorials sent directly to your inbox weekly!