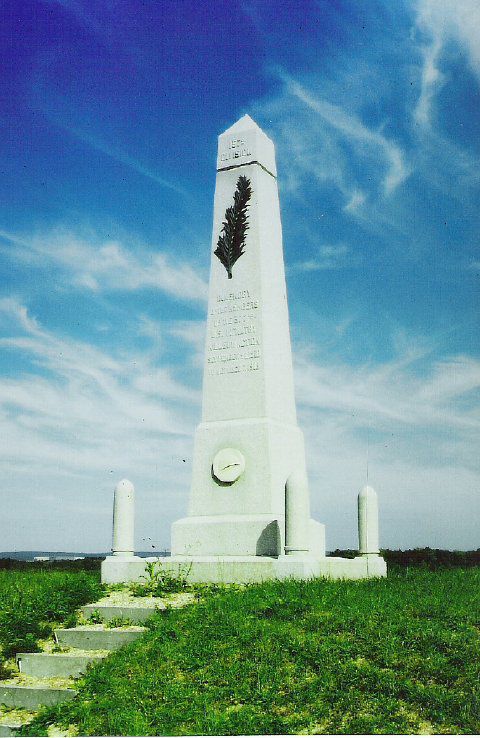 News columnist Dan Casey has been documenting the heroic efforts of Glenvar High School students who have been trying to obtain a Purple Heart for a long-deceased World War I soldier from Roanoke County.
The saga began a year ago when AP history students Will Stacy and Noah Willard became curious about four names on the county's World War monument who were segregated under the heading "colored." Casey wrote about the students' questions, which generated some leads about the four men, and generated this wrinkle: One of the men, Harrison Wright, died in battle but he was never awarded the medal he had earned.
The U.S. Army told the students that Wright was, indeed, entitled to a Purple Heart —but that only relatives could apply on his behalf. That was a problem because Wright's only surviving relative was a sister who had moved to Massachusetts and has long since died. Casey put the question to readers again and several genealogical sleuths turned up a great-great niece in North Carolina, who has expressed interest in applying for the medal. Casey also wrote that one of the genealogists "said that Harrison Wright may be eligible for French military honors, too — because he was fighting under French command when he died." The Glenvar history students of teacher Neil Swanson may not realize it, but their quest has opened a door on another part of U.S. history that is usually kept closed. Why was Wright fighting under French command? The short answer is that the U.S. Army at the time was very uncomfortable with the notion of African American men in arms so it reassigned many of its black soldiers to the French. The longer answer goes like this:
World War I was a transformative event for African Americans. The war accelerated the migration of black Americans from the South to the North, as munitions factories in the North cranked up and created more job opportunities. The war also saw African American men sign up for the military in such large numbers that for a time the War Department stopped accepting their applications. Why did African Americans sign up to fight for a country that discriminated so badly against them? Brandeis University historian Chad Williams writes that many African Americans saw the war as an opportunity: "Black political leaders believed that if the race sacrificed for the war effort, the government would have no choice but to reward them with greater civil rights." The African American press encouraged black men to enlist: "Do not let us be chargeable with being disloyal to the flag," wrote the Richmond Planet. In the end, more than 370,000 African Americans were in the army that the U.S. sent to Europe.
"What to do with black soldiers generally once they were trained bedeviled leadership," writes the Library of Congress in its history section. The Army refused to train black soldiers for anything other than the infantry —no engineering skills, for instance — and insisted that they serve only under white officers in segregated units. Even then, the Army was reluctant to send them into combat —the notion of black men with guns troubled many white officers. Instead, "most toiled away in important but menial positions — as stevedores, camp laborers, clerks," the Library of Congress writes. The problem, though, was the war needed more men on the front lines. Our European allies might be grateful that the U.S. had entered the war on their side but wondered why the Americans refused to fight with their full force.
Here's where other politics came into play. The French, their ranks depleted by four years of war, wanted the newly-arriving Americans to fill in their lines. But the top American general, John Pershing, insisted that the Americans would only fight as an independent force. The French and Americans argued about this all through the spring and summer of 1918 — two proud people with very different ideas about how to win the war. In August, French Gen. Ferdinand Foch and British Gen. Douglas Haig told Pershing they had come up with a plan to launch a grand offensive against the German lines — but they wanted two-thirds of Pershing's soldiers. Pershing refused. "Do you wish to take part in the battle?" Foch demanded, becoming so angry that it was said that his mustache vibrated. Pershing shouted back: "As an American army and in no other way!'"
In the end, they reached a compromise. The Americans would have their own sector in a densely-wooded area known as the Argonne Forest. But Pershing sent his black soldiers to fight under the French. "They now became France's problem, an act that cast African American troops as outside the U.S. Army, and in a symbolic sense, outside the nation itself," Williams writes. And that's how Corporal Harrison Wright came to be fighting under French command.
The French were not devoid of racism but still had very different racial sensibilities than white Americans. "Black soldiers received a warm welcome from French civilians, who, unlike white troops of the American army, exhibited little overt racism," Williams writes. This was a revelation that America's black soldiers could not forget.
Wright's unit — the 372nd Infantry — went into battle in northern France in late September and pushed back the Germans from one village after another. On the day Wright was blown apart by a German shell — Oct. 9 — the unit liberated Somme-Bionne. The National Museum of the United States Army says that the grateful French awarded the regiment a medal called the Croix de Guerre with Palm, and also awarded some of the 372nd's soldiers that medal individually. Might Wright be eligible for that? We don't know. We do know, though, that's there's now a monument to Wright's regiment in Monthius, France — a village he helped liberate two days before his death.
Wright did not live to see what came after the war: America's black soldiers returned home with a new sense of purpose. They had fought for democracy abroad, and now wanted to see their democracy at home include them. President Woodrow Wilson, one of our most racist presidents, fretted that this might become a problem. Indeed, one black veteran wrote to the Chicago Daily News to declare that he and his fellow soldiers were "new men" who saw "limitless" possibilities: "They have awakened, but they have not yet the complete conception of what they have awakened to." Now, a century later, we awaken belatedly to the sacrifice of Harrison and all those who served with him.
Catch the latest in Opinion
Get opinion pieces, letters and editorials sent directly to your inbox weekly!