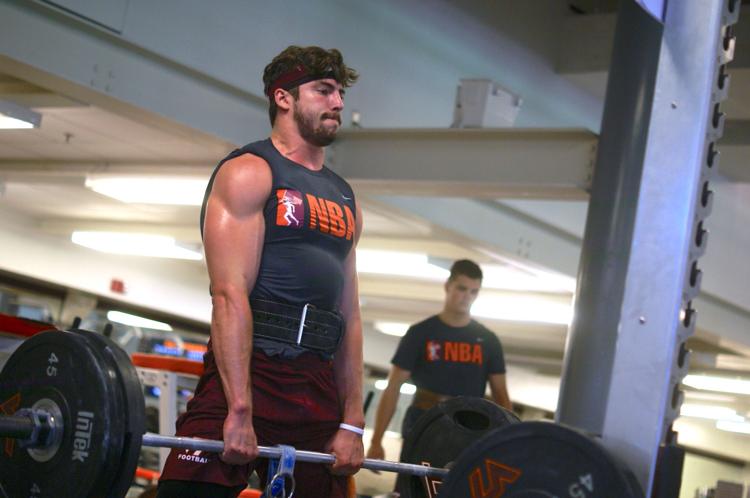 BLACKSBURG — The sun has broken through in Blacksburg after five straight rain-soaked days in early June.
The signs of summer don't extend to the Jamerson Athletic Center where Virginia Tech players rotate through the Merryman weight room and indoor practice facility putting in grueling strength and conditioning work on a near daily basis.
The weight room is the focal point of the summer for the student-athletes — Virginia Tech associate athletic director for strength and conditioning Ben Hilgart and his team put together a detailed plan of attack for every player — who balance varying loads of schoolwork, team meetings and activities plus "skills and drills" sessions organized by team leaders.
It's far from the kind of summer break most of their classmates are enjoying.
---
For a handful of Virginia Tech football players, the day starts at Dietrick Hall. The building houses one of the lone cafeterias open during the summer. The sparsely filled dining spot is a short walk from the front doors of Cassell Coliseum.
The cafeteria has a dozen service counters, but only half of them have their lights on serving breakfast. Hendon Hooker, Austin Cannon, Lecitus Smith and Dax Hollifield sit around one of the few occupied tables.
Virginia Tech tight end Dalton Keene walks into Dietrick Hall, but doesn't join his teammates. He's in a hurry to get to his principles of accounting class across campus after starting out his day with a modestly filled plate of food — two hash browns with gravy, bacon and scrambled eggs drizzled with ketchup.
Not many Virginia Tech students are outside enjoying the picturesque summer morning. Campus is all but deserted outside of a lone female student walking her dog at a leisurely pace down Beamer Way.
Even if the walkways were busy, it's unlikely many would recognize Keene, who cut off the long brown locks he was known for during his first two seasons in favor of a cleaner look.
Keene walks the three-quarters of a mile to his accounting class in the aptly named Classroom Building. Virginia Tech's sporadic bus schedule in the summer and aggressive parking enforcement on campus make it an easy decision to hoof it.
"They would give Coach Fuente a parking ticket, they don't care," Keene says.
Keene makes it to class with a few minutes to spare. He sits down in a modern classroom with a pair of flat screens decorating one wall and white boards on the other. There are long rows of seats with room for more than 40 students.
Virginia Tech running back Deshawn McClease takes the seat next to Keene as the professor, Lynn Almond, starts the morning at a raised desk and projector screen in the front of the classroom.
Deary-eyed students have their laptops out, but few take notes. The professor's entire lecture is online with students able to revisit the day's slides whenever they want.
The bespectacled professor notes the sparse attendance — about half of the red swivel chairs are occupied — a number down sharply from the day before.
"Look at all these empty seats," Almond says. "What happened?"
"Today was the deadline to drop," a male student observes.
Another speculates that Almond's test on Monday might have caused a few students to take the morning off.
---
Keene has loaded his summer schedule up with three courses for Tech's first summer semester. The heavier workload will help the junior in the fall when he only has to take the minimum 12 course hours to stay on track to graduate early (he's only three semesters away).
The accounting class isn't directly related to his major (building construction) — it's more of a general business course — but Keene isn't upset about it.
"Many guys in my major start their own business, so it could be helpful in that aspect," says Keene. "There's not a whole lot of options in the summer that fit my schedule, so you do your best."
Keene's other two classes — property management and business writing — are done online. Students can set their own pace with online courses as long as they meet certain deadlines. Nothing is stopping Keene from finishing the whole thing in a week, but he's not jumping ahead.
"I'm way too busy to be able to read that far ahead," Keene says, also pointing out that much of the required reading is pretty dry.
This is the first summer he's attempted taking three courses (he's split up two courses over the two summer semesters each of the previous summers) with Keene's accounting class meeting up to four times a week.
"That's a lot packed into a six-week period," Keene said.
The course will prevent Keene from making it back to his native Colorado during the summer months, which isn't unique for Virginia Tech players. The Hokies get the Independence Day holiday week off, but many players like Keene will be in class all the way up to the holiday. Others have classes right after. 
Keene's focus isn't on fireworks anyway as he listens to Almond lecturing the class about calculating inventory expenses for merchandising businesses. Almond keeps a conversational tone periodically engaging students with a question about the fictional McGiver Company's large purchase of goods.
Students are quick to gather up their belongings when Almond wraps up class 15 minutes early. He tells them to enjoy the nice weather, but Keene is heading to the door on his way to the Merryman Center, his home away from home for the summer.
---
Keene goes from accounting class to the athletic facilities for a noon lift on this Tuesday. He has field work at 4:30 p.m. that concludes with team dinner at Lane Stadium. He lifts four times a week, but it's rare for him to have a weekday without at least one team activity.
Wednesday is day off from organized workouts, however most players take advantage of getting some work done during the weight room's open hours after a weekly team meeting.
Keene prepares for Tuesday's practice in Virginia Tech's locker room, where fellow early arrival Ryan Willis is tossing the football around and Hollifield is dancing through the room to blaring music. Keene eats a small pre-packaged peanut butter and jelly sandwich as he looks on.
Keene's standard training gear includes a maroon headband and a gray Hokies shirt with "NBA" blazoned across the front. Players won't say what the acronym stands for, but it isn't National Basketball Association. Keene said the slogan was decided upon during a team meeting at the start of spring camp after a disappointing 2018 season.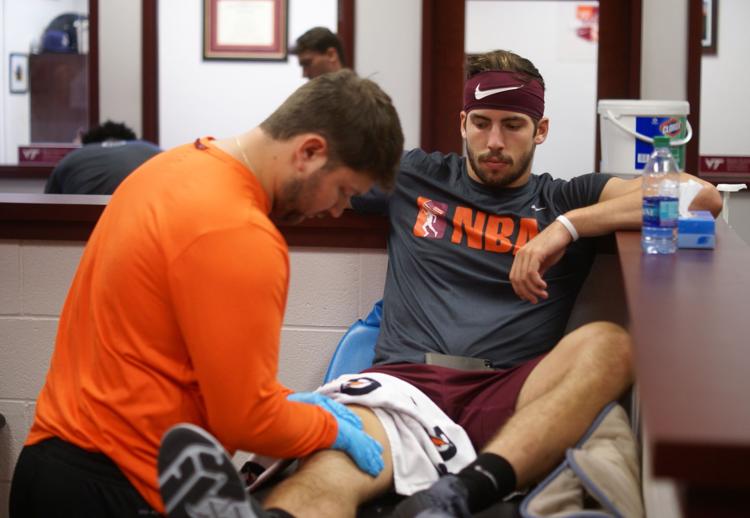 The tight end adds a compression sleeve on his right leg after hitting the training room. It's a nod to the offseason knee surgery that kept him out of spring camp. Keene tells trainers the knee is a "little sore" as he wraps a heat pad around it.
"Are you using Biofreeze?" the trainer asks.
No alarm bells go off at Keene's observation and he's ready to work out after a short massage.
Keene knew going into the offseason he would need the procedure done, a "minor thing" is as specific as he'll get describing it. The injury kept him from practicing in the spring, but trainers cleared him to resume weight room activities at the end of March. It's the first time in Keene's career he's gone under the knife.
"I'm totally good now," Keene says.
---
Virginia Tech's football team splits into groups for workouts. It's both a practical decision — while the weight room is set to be expanded, it can't currently accommodate the entire team at once — and a purposeful one. 
"We have different stages of development, in my mind, I'm not going to train an 18-year old true freshman corner the same way I train a fifth-year senior offensive lineman," Hilgart says.
The incoming freshmen make up one tier, but there are three others (maroon, orange and Hokie) with varying focuses.
Keene graduated to the elite Hokie tier at the end of spring. The group consists of about a third of the team including Wills, Hollifield, TyJuan Garbutt, Zion Debose and Rayshard Ashby. Membership in the top group — which requires meeting certain physical standards — means a more specialized workout plan.
"There's no such thing as too strong, but when you have a kid like Dalton and he's squatting 500 pounds — how strong is strong enough?" Hilgart says. "Now our intent is how fast can we move that bar. Now we're focusing rate of force development, explosiveness, power, those type of things." 
Now at 246 pounds, Keene is one of many success stories for the current strength and conditioning staff. He has added more than 20 pounds of muscle to his 6-foot-4 frame since arriving in Blacksburg.
His max numbers are impressive in bench press (315 pounds), power clean (345) and squat (510). The biggest challenge in Keene's physical transformation was eating enough food to keep up with his workout routine.
There's also been carry-over to the football field, where the fan favorite had a breakout season in 2018 with 28 catches for 341 yards and three touchdowns.
Keene's memorable catches against Duke (turning a short screen into a 63-yard touchdown thanks to a series of athletic moves) and Virginia (a contested grab against Bryce Hall to keep a last-ditch game tying drive alive) cemented his status as a fan favorite.
"I definitely feel a lot different," Keene says. "I think once you get here a lot of high school guys worry about it because they see the transformations we go through, but you don't have to think about a lot of that stuff. You show up to your workout and as long as you bust your ass you don't have to think about it. We have coaches that write our workout plans for us, we have a nutritionist that gives us meal plans. Once you get on a schedule like that week after week, you don't have to think about it, it just happens."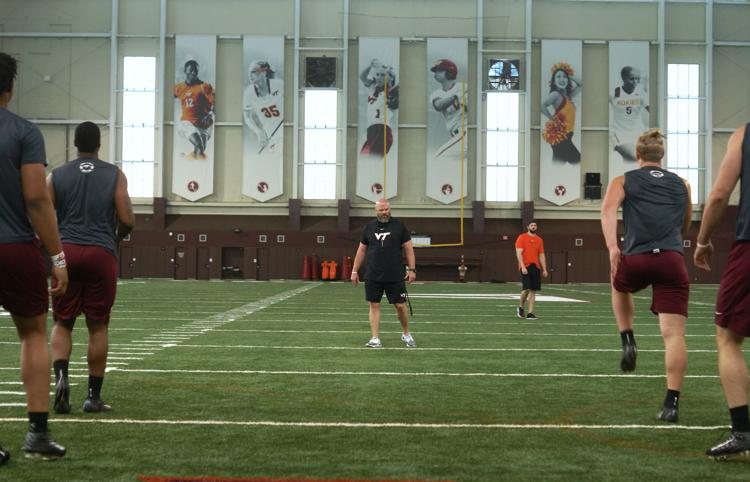 On this day, the Hokie tier starts off practice in the indoor practice facility, focused on speed work.
It's early in the summer conditioning program so the coaches are in teaching mode. They patiently walk players through each exercise with players going from the end zone to the 20-yard line on their tiptoes, back again on their heels and another rep sees them striking one of their feet into the ground with each step.
"Strike [those feet]  down, I need to see RPMs," one assistant calls out as players march to a band that isn't playing.
Virginia Tech's intense focus on conditioning is unique to the summer program.
"Ultimately we are preparing them for camp and preparing for the season," Hilgart says. "Our winter program is when we are testing and getting a lot of strength gains. When we get to the summer there's an increased emphasis on conditioning to prepare them for camp. It doesn't matter how strong or how fast you are if you are tired."
The only sign that Keene is still recovering from injury comes when his group moves off to the side to work with hurdles. Most work with regular hurdles while Keene does the exercises on mini ones. He's at full speed again when players move outside for three 20-yard sprints.
Special teams coach James Shibest and offensive coach Vance Vice take in a portion of the session from the sidelines.
The bearded Hilgart walks around the field overseeing everything. He's quiet, but quick to offer pointers when something catches his eye. Hilgart can be as vocal as any coach on staff, but he's conscious of his tone at this time of year. Visitors would see a more animated Hilgart next month as the team gets closer to fall camp.
"We try to present it [information] to the athlete in the manner it's going to be best received," Hilgart says with a smile. "Some guys respond to yelling, some don't. When you think about football practice and you are teaching someone to get into a three-point stance, you wouldn't scream at them. We were teaching running mechanics and they had some new drills they've never done before."
Hilgart sends the group to the locker room after an hour, but they are only midway through practice. After a short break to change their footwear it's time to lift.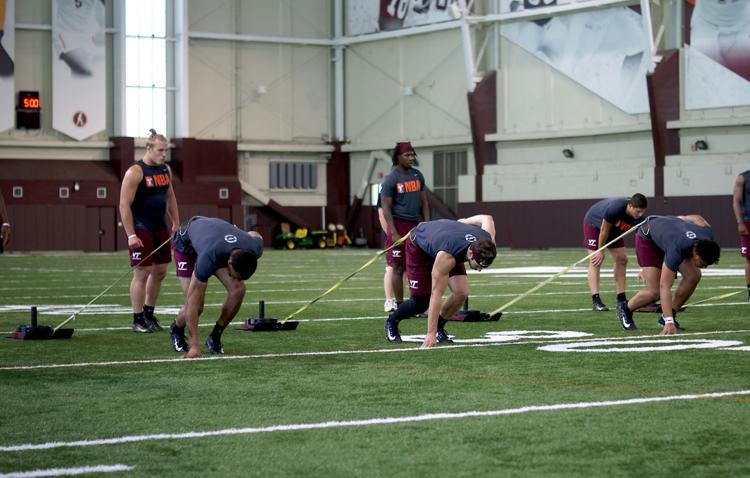 Keene was set up for success in the weight room by his father, Wes.
Wes Keene starting running workouts for his son's middle school team in seventh grade. When Keene made the jump to high school, his father ran the weight room at Dalton's high school in suburban Denver, where he was the team's defensive coordinator as well.  
"After he got there, it might not sound like a huge thing in high school, but we had a ton of guys on our team power cleaning 225, which was really big for us," Dalton Keene says. "He's the one that really taught me how to lift. I was pretty far ahead as soon as I came here having the technical stuff down. I could see gains in the locker room earlier than the guys I came in with."
Keene looks back fondly on the endless hours spent in the weight room with his father, whom he credits for also building up his confidence.
"He saw it coming from the beginning," Dalton Keene says, of his physical transformation. "Everything he says happens. I guess he speaks it into existence. He's the one that first told me I could do all this stuff."
Keene is paired with linebackers Rayshard Ashby and Daniel Griffith at Rack 1 for much of the hour. The trio goes through a series of power clean lifts and dynamic sumo deadlifts. They also do chin-ups, face pulls (a shoulder exercise) and reps with a neck harness.
A thick metal chain is wrapped around the bar for the deadlifts while a Tendo weightlifting analyzer is hooked up to it as well. Keene's working sets are five reps at 225 pounds.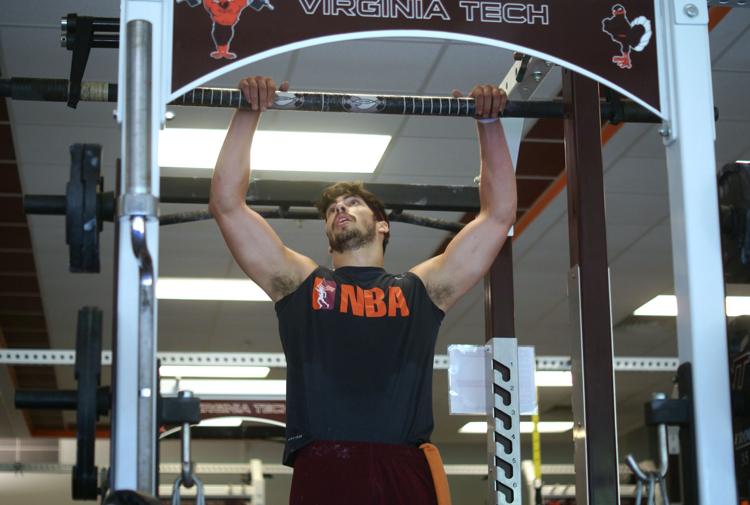 "I've got enough experience to look at a bar and knows it's moving fast, but I don't know exactly how fast it's moving," Hilgart says. "That machine is telling us in meters per second how fast that bar is moving. That's real life usable strength that can be transferred to the football field. Can I be explosive? Can I have pop? There's a priority emphasis on that for Dalton's group."
Hilgart continues to preside over the festivities with a clipboard in hand. He's an imposing presence weaving through the lines of machinery without having to say a word.
"He's a guy that's going to push you to your absolute limits, but you appreciate him for that," Keene says. "He does it in a way where you aren't mad at him. He inspires you to go out everyday and push yourself."
The other constant presence around the room is Hollifield, who paces in between reps while talking to himself about his next set or sharing words of encouragement for his teammates.
"He's the energizer bunny, man," Hilgart says with a laugh. "He's got energy, non-stop energy."
Coach Justin Fuente doesn't make an appearance on Tuesday, but he's a regular visitor in the summer. He takes less of a coaching role than that of a cheerleader in the weight room.
"I think that's pretty cool," Keene says. "Not a lot of head coaches do that. I know he's busy with recruiting and whatever else he has going on. I think it's really cool to have him there. He'll even change out weights. I think that's awesome."
---
Keene's day is far from over when the lift concludes.
Every player grabs a protein shake on the way out along with a multivitamin. A stint in the cold tub is a common occurrence before heading back out to the indoor practice field at 4:30 p.m. for a closed-door, players-only session.
The twice-weekly voluntary practice nearly always includes the whole team. Much of the time is spent working on individual drills with the offense and defense splitting up. The sides come together for 7-on-7 work — the veterans handle play-calling duties — towards the end of the hourlong practice.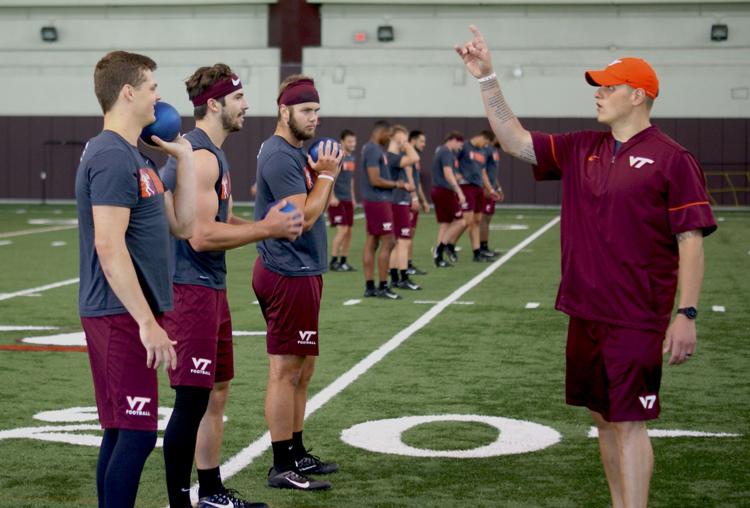 Quarterbacks and receivers regroup on Sunday nights at the facility to run routes, but that's a more informal practice.
"If you don't go you are not going to develop the skills you need or know the playbook as well as you should," Keene says. "We usually do a pretty good job of organizing it. It's more to keep us sharp so when we go into camp we aren't starting from scratch."
The last stop for Keene is a catered dinner with his teammates in Lane Stadium, more than nine hours after his day started at Dietrick Hall.
"It's definitely tough, we've had guys that couldn't make it," Keene says. "I think the biggest thing is taking it one day at a time. You have class in the morning, alright just got to get through that to have lunch and a break then I got to get through practice. There's a point where you definitely appreciate it a lot. You get used to it and embrace it."
---
The strenuous day's work doesn't wipe the smile off Keene's face, but he's not unique in that regard. Virginia Tech players are moving through the summer workouts in lockstep as they did during the winter and spring.
"We definitely have a young team, but it has been impressive to see how we have responded to that," Keene says. "Everyone is putting up huge numbers. We had our max days just a few weeks ago until the end of the spring. We have little guys bench pressing 315 pounds. It was really cool to see how much we have developed as a team."
Virginia Tech's veteran players set the tone coming off a 35-31 loss in the Military Bowl to Cincinnati.
"That first day of workouts in the spring was probably the most intense workout I've ever seen," Keene says. "Everybody showed up ready to go. It was a whole new mindset. Guys didn't want to just survive the workouts. We wanted to go compete with each other and that's another big thing too. We aren't saving anything until the last rep. We are running as hard as we can rep one. I'm not sure what it was, guys just flipped a switch."
While offseason coverage of Virginia Tech has centered on the numerous departures from the roster, those transfers haven't done anything to diminish the quality of work being done on a daily basis at the Merryman center.
"That's a tribute to our kids," Hilgart says. "They certainly were upset about last season. They know the one way to fix that is to work. It's carried through the summer and that's going to be the key to our success and set us up to have a good camp and potentially a good season. We need to be consistent with that. Anybody can do it for one day or one week."
Keene isn't the most vocal of Virginia Tech's leaders, but he's one of the players Hilgart credits for the team's laser focus in the weight room.
"He's a tremendous example of what it is to be a Hokie," Hilgart says. "... He's one of those guys that brings that out in his teammates. He's a standard-setter. When we are conditioning, he's trying to beat everyone on every single rep. That does nothing but help us. That raises everybody else's game as well."
Hilgart, who spends the most time out of anybody on Virginia Tech's staff with the players, can't help but smile when he talks about how the 2019 team has embraced the grind.
"One of the exciting parts of my job, whenever they are doing something physically challenging or hard, I'm right there by them," Hilgart says. "I get to be in the trenches with them and that's why I value my job so much and don't have a hard time coming to work and being excited. There may be 12 games guaranteed each year, 12 Saturdays, but these guys put in a tremendous amount of work for those 12 opportunities."