ASHBURN - Washington Football Team quarterback Ryan Fitzpatrick suffered a partially dislocated hip just 22 minutes into his debut with the team, and will not play in the forseeable future.
Fitzpatrick, whose injury is officially known as a hip subluxation, will attempt to make a comeback later this season. For now, he is headed to injured reserve, meaning he will miss at a minimum Washington's next three games, against the Giants, Bills and Falcons, and likely many more.
"He is going to see a couple other doctors," coach Ron Rivera said on Monday. "We want to make sure we get a good answer as to what's going on so we know how to handle everything from that point."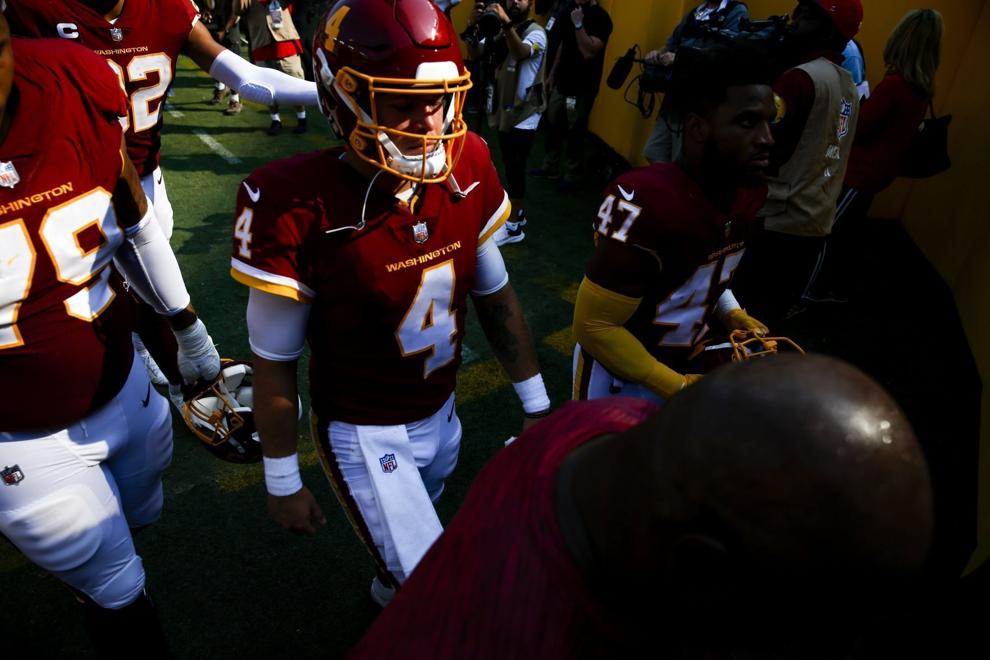 Backup Taylor Heinicke will aim to reprise his memorable performance from last season. Called upon in an emergency spot, he nearly led the team to a come-from-behind win against the Carolina Panthers, then hung tight with Tom Brady and the Tampa Bay Buccaneers in a playoff game.
"I think that the biggest thing is going out there with some confidence," Heinicke said. "Throughout the week, just preparing every day gives you that confidence so that you're prepared. I'll go out there and kind of play freely just knowing what we're trying to accomplish."
Heinicke, a former ODU star who won the Dudley award as the state's best college football player, has the confidence of his teammates and coaches.
"Some guys have an innate ability to create some enthusiasm and some excitement," Rivera said. "That's kind of Taylor, because of the way he plays. He plays a little bit like his hair's on fire. He plays a little bit like a gunslinger."
It's the second consecutive season Rivera has dealt with a quarterback carousel. Last year Dwayne Haskins, Kyle Allen, Alex Smith and Heinicke all took snaps.
"Business as usual, man," said tight end Logan Thomas. "We've been in this situation before. Obviously, Taylor is a little more mobile than Fitz is, but same old story, just like last year."
Kyle Allen will serve as Heinicke's backup. Allen was the team's backup quarterback last year before injuring his ankle. He was limited during training camp as he continued rehab, but Rivera said Allen has been fully cleared to participate going forward.
The team also added Kyle Shurmur, a former Vanderbilt quarterback, to its practice squad on Monday. Shurmur was on the Chiefs' practice squad during their Super Bowl season, and has spent portions of the last two years with the Bengals.
The addition of Shurmur will put an end to rumors that Cam Newton is headed to Washington - Rivera has repeatedly said the team is morning forward with its young quarterbacks, and there is no interest in bringing in Newton.
Former Washington quarterback Robert Griffin III also threw his hat in the ring, tweeting out, "make the call," along with a video showing some of his NFL highlights. Griffin went unsigned this offseason and joined ESPN as an analyst, but his contract allows him to leave if an NFL team calls.
(804) 649-6546
Twitter: @michaelpRTD