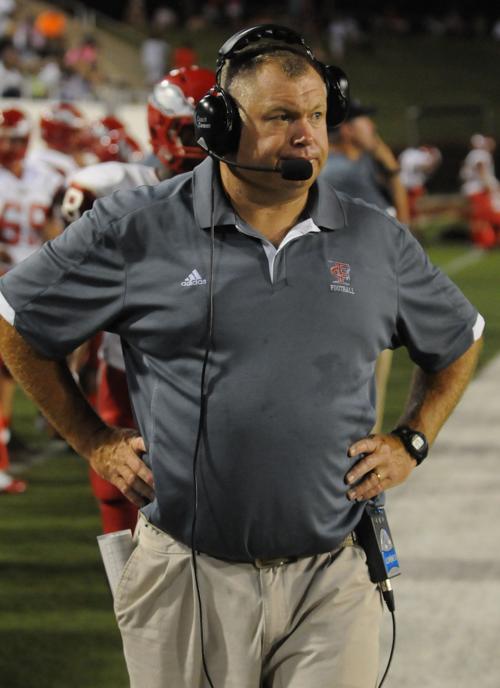 Chris Jones has won two VHSL state championships and more than 140 games in two decades as a head football coach.
He likely never had another night like Oct. 24, 2003.
Jones was in his second season at Lynchburg's Heritage High School, leading the Pioneers to the Group AA Division 4 title in 2002.
The late October date produced a classic Seminole showdown against another returning state champ: 2002 Division 3 title holder Liberty.
Both teams walked into City Stadium unbeaten at 7-0 overall, 3-0 in the district.
For much of the game, it appeared Liberty would maintain its perfect record.
The Minutemen led 20-0 at halftime and were still up 27-14 late in the fourth quarter.
Liberty took possession at its 20-yard line with a 13-point lead.
There were 2 minutes, 30 seconds to play.
Heritage was out of timeouts.
And the Pioneers still won.
Final: Heritage 28, Liberty 27.
"That's one of the most exciting games I've ever been in," said Jones, who is now the head coach at Covington.
Liberty coach Chris Watts, who is getting ready for his 19th season at the Bedford County school, left Lynchburg with a different feeling that night.
"I'm still haunted by that when I coach," Watts said of the game 17 years ago. "I imagine every other coach is the same way. There's certain memories you can't shake. That's one that hits me.
"I can't even fathom how. But once it started rolling that way, it just didn't stop."
Liberty stopped a Heritage drive at its 20 with 2:30 to play.
With the Pioneers out of timeouts, the Minutemen could have taken a knee three times and punted, leaving Heritage with roughly 40 seconds, still down by 13 points.
Instead, Liberty opted to run a play, but it was one the Minutemen did not often use, a straight handoff to a running back outside their normal stack-I formation set.
"You think that's going to be the safe thing, but that wasn't our typical offense," Watts said.
The ball went to halfback Stephen Toler, who had a 69-yard TD run on Liberty's only play of the first quarter and was the game's leading rusher with 108 yards.
Toler broke a tackle up the middle and bounced outside. Heritage's Julius Baxley stripped the ball and recovered.
Suddenly, the Pioneers were in business.
Heritage quarterback Donnie Foster quickly tossed a 7-yard TD pass to Pierre Penn and Liberty's lead was down to six points.
Foster was playing only because starter Wayne Ford was out for the year with an injury.
The senior stepped in and completed 12 of 23 passes for 212 yards including a 25-yard TD pass to Penn earlier in the fourth quarter.
"Donnie did not complete a lot of passes in practice, but when the lights came on, he was a beast," Jones said.
The 2003 Liberty-Heritage game matched two teams that won VHSL championships the previous year.
Liberty's 41-6 win over New Kent gave Watts a state title in his first season, and it was the first in school history.
Liberty jumped Heritage early, racing to a 20-0 halftime lead on Toler's long run, a TD run by quarterback O.B. Blake and Blake's TD pass to Barry Flood.
This was a Heritage team that featured running back Chris Cook, who went on to a five-year career as a defensive back in the NFL.
"We were all frustrated at halftime and they just came out and decided they wanted to get it done," Jones said.
Trailing 20-14 after Foster's first TD pass to Penn, Heritage attempted an onside kick that backfired in the worst way possible.
Heritage's kicker aimed a line drive at Liberty's front wall. Lineman Ian Childress snagged it and raced 52 yards for a TD past the stunned Pioneers to put the Minutemen back up by two scores.
Heritage's second onside kick went better for the Pioneers after Foster's second TD pass to Penn made the score 27-21.
The kick came in low and hard and bounced off the shin of another lineman, Joe Luck. James Lawhorn recovered for Heritage at its 47.
Minutes later, Heritage completed the miracle comeback to stretch a two-year winning streak to 22 games.
Liberty had the last laugh, however.
The Minutemen avenged the loss by returning to City Stadium three weeks later and taking a 17-14 victory in the first round of the Region III Division 4 playoffs.
Ironically, Liberty needed Heritage's help just to make the postseason despite its 9-1 record.
Heritage edged Amherst County 26-21 in the regular-season finale. Had the outcome been reversed, Amherst would have joined Heritage in the region bracket and Liberty would have been out.
"And we beat Amherst 41-6 that year," Watts noted. "Heritage was the No. 1 power-rated team in [Division 4] and we were No. 2 and we had to play each other in the first round. It shouldn't be that way."
In 2003, Liberty was in the middle of the program's heyday that former coach Scott Abell started with back-to-back 10-win seasons in 2000 and 2001.
The Minutemen won at least 10 games from 2000-05 and posted the school's only 10-0 regular season in 2004 before falling to eventual state champ Salem in the first round of the playoffs.
The 2003 season ended with a 13-0 loss to a William Fleming team led by Dwayne Priest, Darryl Gresham, Dere Hicks and Maurice Kitchens in a region final at Victory Stadium.
"That was probably, for me, the worst important game that I've been a part of, for us," Watts said. "It was dark. You couldn't see the hash marks on the field.
"They did a good job defensively. They were talented, but I still feel like if we had played them anywhere at any other time ...."
Liberty's enrollment has gone from 1,030 in 2003 to 752.
Examining the 2003 loss to Heritage is akin to opening an old sore for Watts, but he will take that over last year's 1-9 season that saw the Minutemen give up 346 points in seven Seminole losses, beginning with a 68-14 drubbing by Heritage.
"As disappointing as it is to talk about [2003]," Watts said. "I'd much rather be in those conversations than the one we were in last year, which was not fun."
Be the first to know
Get local news delivered to your inbox!