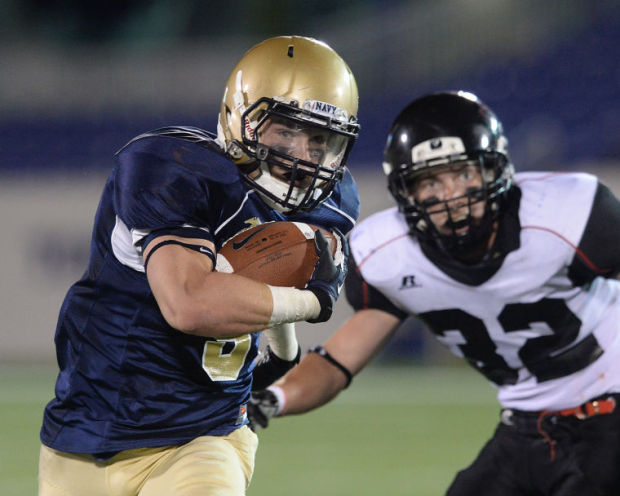 Good things do come to those who wait.
At least they did for David Williams and the 2009 Hidden Valley High School football team.
Williams entered his senior season after seeing little action at running back during his first three varsity years with the Titans.
All the 5-foot-10, 178-pound Williams did in 2009 was set Hidden Valley's single-game rushing records on the first two Fridays of the season and break the Timesland regular-season mark with 2,449 yards in 10 games.
So he was a marked man on the night of Nov. 6, 2009, when Hidden Valley lined up against rival Cave Spring for their annual rivalry showdown at Dwight Bogle Stadium.
Cave Spring — which wound up making the VHSL Division 3 semifinals with a lineup that included future college standouts Josh Woodrum, Michael Cole, Sam Wright and Adam Anderson — jumped out to a 21-0 first-half lead.
So what did first-year Hidden Valley head coach Scott Weaver do about it?
He gave the ball to Williams. Again. And again. And again. And again.
By the time the senior was done, he had carried 50 times for 313 yards and four touchdowns, including a 4-yard TD run with 27.9 seconds to play in a remarkable 28-21 comeback victory for the Titans.
Fifty carries. For one man.
"I had absolutely no idea," Williams said after the game. "I'm pretty tired, but I didn't know it was that much."
Hidden Valley took possession at its 6-yard line with the score tied at 21 and slightly more than five minutes on the clock.
The Titans called 14 running plays. Williams got 13 of the carries capped by the game-winning TD.
Weaver might have been a rookie head coach in 2009, but he was more than ready for this assignment.
"I told our offensive coordinator under no circumstances do we pass the ball," Weaver said reflecting back on the game. "It was David's game."
In the fourth quarter alone, Williams carried the ball 20 times for 177 yards, including a 59-yard TD that tied the game with 10 minutes to play.
An offensive line that returned five starters from the previous season paved the way.
"They lined up in the second half and just hammered us down," Cave Spring coach Tim Fulton told The Roanoke Times after the game. "What can you say? They did a great job."
Eleven years later, Williams, 29, has a different job.
He is a Marine captain who has taught U.S. government at the Naval Academy in Annapolis for the last two years.
Williams also is a volunteer assistant coach for Navy's Sprint Football team, which has a 172-pound weight limit for all players.
Williams played Sprint Football at Navy for four years, but initially he had designs on suiting up for Navy's FBS program. He was named the Collegiate Sprint Football League MVP in 2011, and he still holds Navy's single-game record for carries (39) and yards (291) in a victory over Army.
He was offered a spot on the varsity roster, but the 2010 Hidden Valley graduate declined after realizing the gravity of juggling athletics and academics at a service academy.
"The amount of skill and ability and the depth of Division I football ... I did not have the understanding of as a senior in high school and even less as a freshman trying out for that team," he said.
"Trying to balance all the opportunities that you have at the Naval Academy as it pertains to professional development and sports and school, I realized the time commitment was something I felt like was going to take away from some other opportunities."
Williams was Navy's 2014 class valedictorian with a 3.94 GPA. He achieved a double major and when he graduated as second lieutenant in the Marine Corps, the school paid for him to obtain a master's degree.
Williams eventually was deployed overseas, mostly in Kuwait. He returned briefly to Camp Pendleton in California before coming back to Annapolis.
Married with a 10-month-old daughter, the former Hidden Valley star isn't sure what is next.
"Trying to figure out the balance between military service and family is not an easy one," he said. "I may end up leaving active duty this summer.
"Long term, I'm interested in staying within higher education and college athletics."
Williams more than made his mark as a high school senior when he was the male recipient of the B'nai B'rith Athletic and Achievement Award.
He broke the Hidden Valley career rushing record held by VMI-bound David Turner, who was the Titans' starting tailback during Williams' first three seasons.
His 2,449 yards in 2009 broke the Timesland regular-season record previously held by Patrick County's John Harris.
Williams also won the Group AA wrestling championship at 160 pounds as a senior.
The previous year, he lost his first-round match at 145 pounds before winning five consolation bouts in the span of 16 hours to place third.
"It's not something I'd recommend somebody do if they're trying to place third in the state," he laughed.
Williams never seemed to take the easy path.
How many wrestlers place third after a first-round loss, then win a state title the next year?
Who else could wait until his senior year to crack the starting lineup, then break school and Timesland football rushing records?
How many high school players have carried the ball 50 times in one game, leading their team back from a 21-0 deficit to defeat a rival?
Williams is a Marine captain, a Navy instructor, a football coach, a husband, a father.
"There's certainly resiliency that comes from playing sports," Williams said. "I found that oftentimes you learn the most and grow the most when you're not successful.
"I feel like I wouldn't be where I am if it weren't for that adversity."
Be the first to know
Get local news delivered to your inbox!