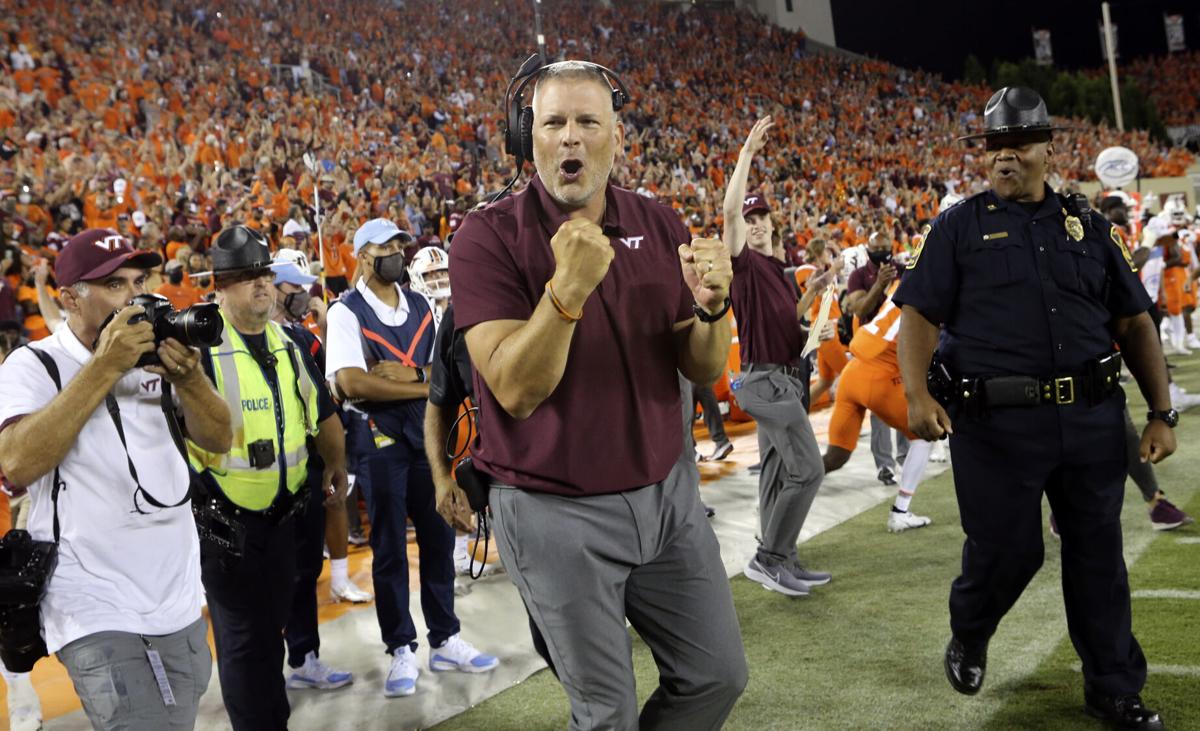 Here's what we know: Virginia Tech's performance against Middle Tennessee State on Saturday will be indicative of the team the Hokies are in 2021.
No mirages here. No letdowns. No "we came out a little flat." No trap-game victimization.
All those pitfalls, those potential excuses, would be there for anybody else in this position — but not the Hokies. They know the recent history without having to be told. Losses to Liberty, Old Dominion and Syracuse as heavy favorites are the biggest blights on coach Justin Fuente's record in Blacksburg.
The message isn't that extraordinary upsets could happen. They have happened. And Tech's awareness of this couldn't be higher, particularly when the Hokies are in a situation that screams "hangover."
A dream start to the season — a 17-10 victory over No. 10 North Carolina on Sept. 3 — launched a three-game sandwich stretch in which MTSU is the potentially poisonous meat.
"Basically you've been thinking about that [UNC] game for six months, and then the game's over and you've got six days to get ready to play the next game," Fuente said. "That's a huge challenge for us right now.
"We've got to do a great job as coaches and as a staff getting refocused, wiping the slate clean, getting recharged. Fill our cups back up emotionally, mentally and physically so we can put a great effort out there Saturday."
What, exactly, would a great effort look like against MTSU? Surely the fans would like to see the offense put on a show, after a combination of a ball-control strategy and lack of second-half execution suppressed Tech's production.
But for me, the benchmark should be something else: Hold the Blue Raiders to 10 points or fewer. While offensive numbers beyond a certain level don't have much value against an opponent like MTSU (and the late-game play-calling often reflects that), you're always looking to keep the other team off the scoreboard. All the way to the end.
Nothing was more encouraging last week than the performance by Tech's defense. The way the Hokies flew to the ball, disrupting plays in the backfield and creating havoc with interceptions, it was easy to dream on Tech being a Top 25 team all season long.
"I felt good about our preparation," Fuente said of the defense. "Of course, you can feel good about your preparation and still play really good people and have it be hard. Right from the start, I felt good about how we looked on the field as far as our overall team speed. I thought we looked fast and were playing fast."
There's no reason to slow down now. The Hokies should be aiming to reclaim the defensive identity they had for so many years under Bud Foster, and that demands top effort against all manner of competition.
Tech defenders should feel insulted that the entire preseason featured proclamations of how much of a challenge UNC quarterback Sam Howell was going to be to them. It used to be the other way around. How were the other guys, even very good ones, going to move the ball?
Saturday has the potential to be another step in that direction for the Hokies. Then they can proceed to the other slice of the sandwich — a road trip to West Virginia — with the confidence that UNC was no fluke and the days of massive letdowns are behind them.
"We are a mature, older football team. We claim to be," Fuente said. "If we've got serious aspirations about being the type of team that we've talked about, we've got to be able to do these types of things."
If they can't? Well, that's just as reflective of the team that they are. And they'd prefer not to have that lesson again.