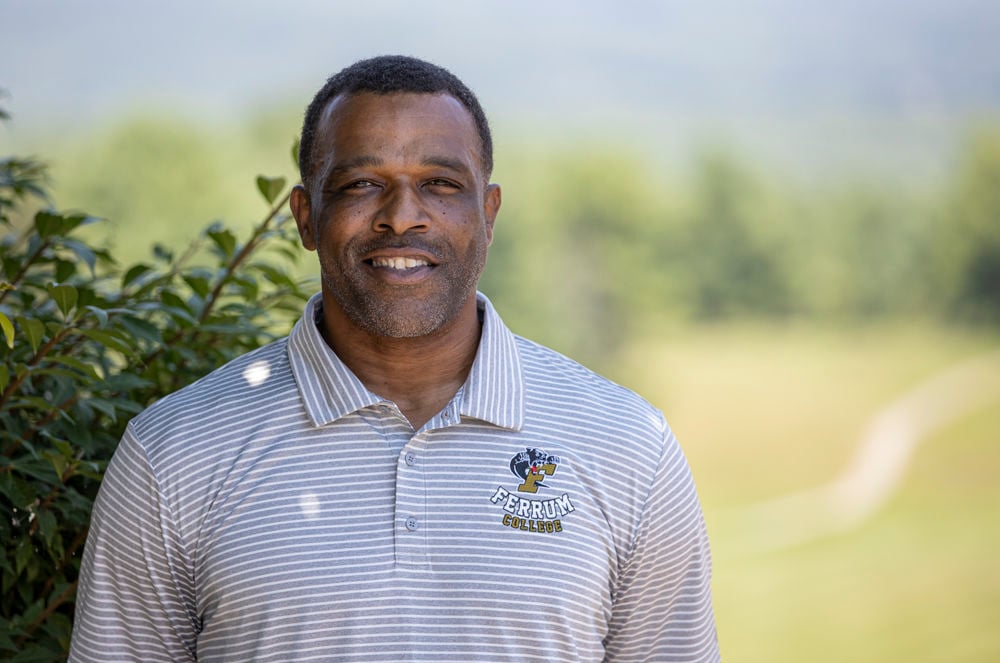 Chris Warren played football for Ferrum College for only two seasons, but those years meant a lot to him.
"I could go on and on about Ferrum," Warren, 53, said in a recent interview. "I was here for two years, but it seemed like four years. It seemed like I spent my entire college career here. I just remember the closeness of the community, the closeness of the team.
"We played great football. We had a lot of fun."
Warren, who spent 11 seasons as an NFL running back, returned to Southwest Virginia recently to play in the Hank Norton Memorial golf tournament at the Botetourt Golf & Swim Club in Troutville. The Chantilly resident was one of many ex-Panthers to play in the tournament, which was a fundraiser for the Ferrum football program.
After Warren's University of Virginia career was cut short for academic reasons, Warren became one of the best players to ever play for Norton at Ferrum. He played for the legendary coach in 1988 and 1989.
"Hank was great," Warren said before playing in the tournament. "He was a tough coach to play for, but we had fun. He was never negative. He was always a motivator. It was tough love.
"My whole situation was kind of unique, coming to Ferrum. He just treated me like everyone else, and that's all that I asked for. … I just wanted to be one of the guys on this team, and Hank was definitely the man for that."
Warren earned All-America honors at Ferrum in 1988 and 1989. He helped the Panthers reach the NCAA Division III semifinals both years.
"[Norton] would reward me with letting me sit out the second half of games sometimes," Warren said with a laugh.
Warren held the Ferrum record for the most rushing yards in a season (1,443) for 28 years until Brian Mann broke it in 2016. Warren also held the school record for the most all-purpose yards in a career (4,583) until Mann broke that as well.
Warren still holds other Ferrum records, including marks for the most total touchdowns in a season (23); the most all-purpose yards in a season (2,366); and the highest yards per carry in a career (8.2).
Cleive Adams, who was hired as Ferrum's coach in March, was one of Warren's Ferrum teammates.
When Warren served as a Ferrum assistant coach in the 2011 and 2012 seasons under former Ferrum teammate Dave Harper, Adams was the team's defensive coordinator.
"One thing that stands about Cleive is his work ethic is like no other," Warren said. "No matter how early I would get to the building, he would already be there. He was always prepared, and he always had his players prepared."
Warren, who was chosen by Seattle in the fourth round of the 1990 NFL Draft, played in the NFL from 1990 to 2000. The three-time Pro Bowl pick rushed for 7,696 yards in his NFL career. He played for Seattle, Dallas and Philadelphia.
"I consider myself lucky to be able to play that long and not have any major injuries," he said.
"Not really," he said with a laugh. "I miss the paydays, of course. But not as far as the preparation and going through training camp. But now, how training camp is so easy, I probably could have played 20 years if I was playing today."
Despite the coronavirus pandemic, the NFL is planning to have a 2020 season. Warren said if he was still an NFL player, he would be willing to play this year.
"You want to be there for your team," he said. "We're ballplayers; no matter what, we're going to want to play. The game's dangerous already, so this is another danger for us."
The Northern Virginia resident applauds Washington's pro football team for recently dropping its nickname.
"If it offends one person, it's something that needs to be changed," he said.
Warren is hopeful that the country will change because of the Black Lives Matter movement.
"I just want people to have fair, equal treatment," he said. "Justice for all. We should all live together peacefully.
"Every day, more and more people are becoming more and more aware of the injustices. More and more people are joining the cause.
"Nobody wants to get pulled over by the cops, but with certain situations and things that you have seen over the years, you think, 'When is it going to happen to me?' "
Warren said he had been working as a sports performance trainer in recent years, but he is now getting into a new line of work. He said he is starting a sports management agency with veteran agent Karl McDonald. Warren wants to get certified as an NFL and NBA agent.
"I was lucky enough to have four contracts. I think I'm pretty qualified to help the next generation," Warren said. "I was also the player rep for the union for two years when I was with the Seahawks, so I have pretty good knowledge behind the scenes."
A book Warren wrote was published last year. It was entitled, "Life Lessons: Before & After The Game."
Warren said he wrote the book to "give back to the game that brought a lot to me."
"There was a bunch of adversity I went through to make it to the league, transferring from one school to another," he said. "From my life experiences, I wanted to share and give back."
Be the first to know
Get local news delivered to your inbox!