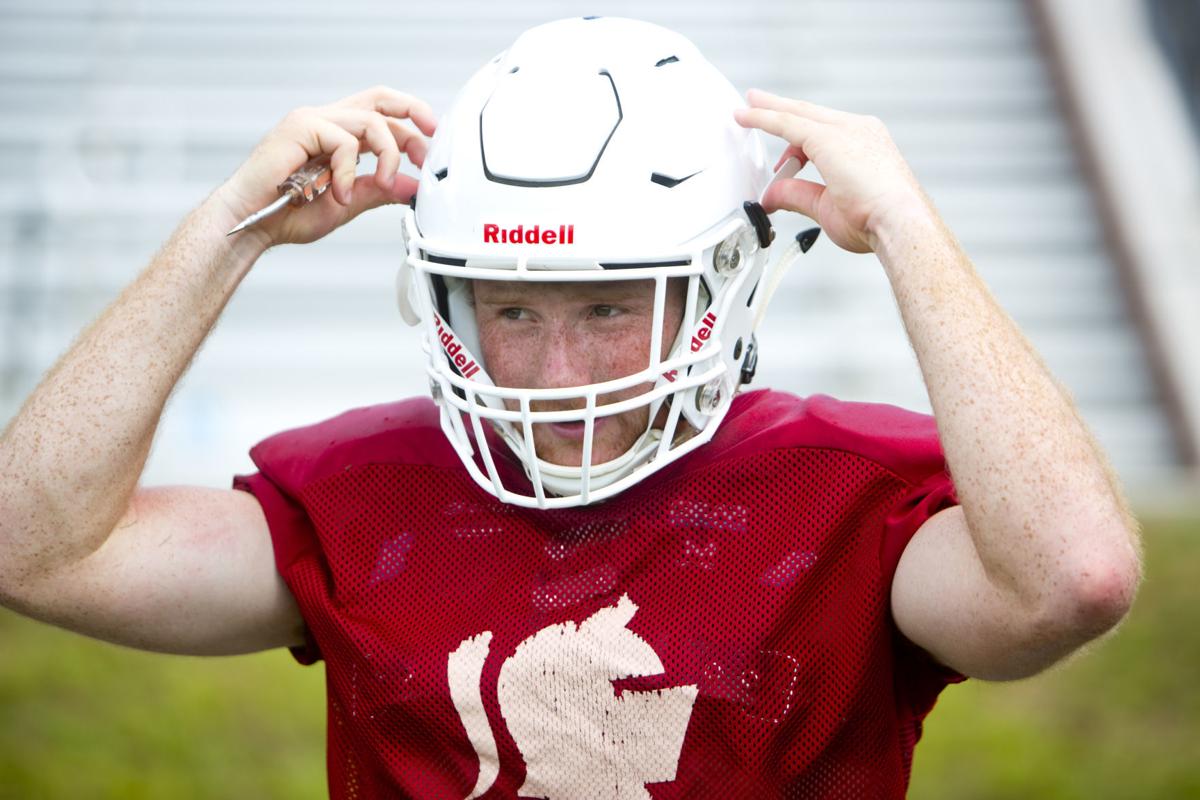 The Knights from Buena Vista and the Generals from Lexington will square off in football for the first time since 2008. This time, it will be in an ODAC game.
"They're the school about 6-7 miles away. … The motivation, as far as a pride thing, it's there," SVU coach Edwin Mulitalo said. "We'll approach it like a rivalry, but there's no history right now."
"It's going to be a great atmosphere," W&L coach Garrett LeRose said.
W&L (4-4, 3-3) has lost three straight games, including two in which it blew a late lead. W&L led Emory & Henry 42-28 with 6:24 left but lost 48-42 on Oct. 19. Last week, W&L led Randolph-Macon 35-26 with 3:06 left but lost 36-35.
"We just have to take that next step and learn how to finish a game," LeRose said. "Not getting complacent when you make some big plays and take the lead back."
Defenses have been focused this year on stopping W&L RB Josh Breece up the middle. But he rushed for 195 yards on just eight carries in last week's loss — the first time all year he has run for more than 83 yards in a game.
"Randolph-Macon, they were certainly cognizant of some of the perimeter success we had, … so they were one of the first teams that allowed him to have some creases on the inside," LeRose said.
Breece needs just 28 more yards to eclipse Luke Heinsohn as W&L's career rushing leader.
Generals WR Montgomery Owen leads Division III with an average of 28.4 yards per catch.
W&L QB Drew Richardson, who suffered a sprained knee in the second game of the year, returned to action last weekend in a reserve role.
SVU (3-5, 2-5) beat Guilford 30-17 last week to snap a five-game skid, thanks in part to Neil Davis picking off two passes in the end zone. He returned one of them 103 yards for a TD.
3:30 p.m. Saturday, ESPN2
The Cardinals (5-3, 3-2 ACC), who were idle last week, have won three of their last four games.
Miami (5-4, 3-3) has also won three of its last four games. The Hurricanes have allowed a total of 22 points in back-to-back road wins over Pittsburgh and Florida State.
"The players are starting to gain some confidence. And we're going to need it because this Saturday we play a very dangerous Louisville football team who had a week off to think about nothing but the Miami Hurricanes," Miami coach Manny Diaz said.
Micale Cunningham will start at QB for the Cardinals. Look for him to throw the deep ball against Miami's man-to-man pass coverage.
"You're going to get some one-on-one opportunities out there," Louisville coach Scott Satterfield said. "You have to be able to take advantage of that, when it's one-on-one and no help over the top. … You have to throw the ball downfield and hope you're able to hit some of those plays."
FLORIDA STATE AT BOSTON COLLEGE
Noon Saturday, ACC Network
In the wake of the firing of Willie Taggart, the Seminoles (4-5, 3-4) will play their first game this season under interim head coach Odell Haggins.
Haggins was 2-0 as FSU's interim coach after Jimbo Fisher exited in 2017.
"Second time around. I think this is a blessing," Haggins said.
BC (5-4, 3-3) ran for 496 yards in last week's 58-27 rout of Syracuse. But QB Dennis Grosel also got to show off his arm, throwing two TD passes of at least 50 yards.
"Along with a powerful run game, we have an explosive throw game because people are selling out to [try to stop] the run," coach Steve Addazio said.
RB Travis Etienne has rushed for 1,102 yards for the Tigers (9-0, 6-0), who are No. 4 in the Associated Press Top 25.
"He's just so explosive. It's just amazing," Tigers coach Dabo Swinney said.
State (4-4, 1-3) has lost to Clemson seven straight times.
"We're injured and we're young," coach Dave Doeren said. "When you're playing the second-most freshmen in the country, … it's painful right now because we're not getting to enjoy the improvement."
7 p.m. Saturday, ACC Network
Notre Dame (6-2), ranked No. 15 in the AP poll, is coming off a 21-20 comeback win over Virginia Tech. It was the first time Notre Dame scored the game-winning touchdown in the final minute since a 2015 victory over Virginia.
Duke (4-4) beat the Fighting Irish when the teams last met in 2016.
1 p.m. Saturday, ESPN Plus
VMI (4-5, 3-3 Southern Conference) could have trouble with Furman (6-3, 5-1), which is ranked No. 9 in one FCS poll and No. 10 in the other.
Paladins QB Darren Grainger has thrown for 1,126 yards, while RB Devin Wynn has rushed for 880 yards.
"The way they throw the ball for big, explosive plays … in an option-style of offense to me has been the most impressive thing they do," VMI coach Scott Wachenheim said. "We've got to stop them from hitting on the explosive plays in the play-action pass game. And while we do that, we've also got Devin Wynn running the football; that's why they're so hard to defend."
Furman ranks 12th in the FCS in scoring defense (19.2 ppg).
VMI RB Alex Ramsey (Salem), who ranks third in the FCS in rushing yards (1,078) and first in TD runs (20), was one of 16 players added Wednesday to the watch list for the Walter Payton Award, which goes to the FCS offensive player of the year. There are now 41 players on that list.
Ferrum (3-5, 2-4 ODAC) is allowing an average of 32 points this season. The injury-plagued team has surrendered at least 49 points in two of its last three games.
"We lost a bunch of D-linemen early [this season] … for the season," coach Rob Grande said. "We lost three key components to our defensive front. … That's going to change you dynamically."
There have also been injuries on the offensive side.
Grande hopes RB Brian Mann (Giles), who has missed four straight games with a sprained knee, can play Saturday. RB Joe Burris, who has been sidelined the past three games, also could return Saturday.
Slotback Austin Pennington (Giles) ran for 82 yards in last week's loss to Shenandoah.
The Tigers (1-7, 0-6) are on a six-game slide.
RANDOLPH-MACON AT BRIDGEWATER
The winner of this game will earn the ODAC's automatic bid to the NCAA Division III playoffs.
Defending ODAC champ Randolph-Macon (7-1, 6-0) beat Bridgewater in overtime last fall. But the No. 23 Eagles (8-0, 6-0) have won 12 straight games since that defeat.
The Eagles have not made the NCAAs since 2005.
7:30 p.m. Saturday, ESPNU
Before visiting UVa next week, the Flames (6-3) will head west to face the Cougars (4-4) for the first time.
Two of Liberty's wins have come against FCS foes, so Liberty still needs one more win to become bowl eligible.
JMU (8-1, 5-0 Colonial Athletic Association) is ranked No. 2 in both FCS polls. New Hampshire (5-3, 4-1) is ranked in No. 23 in one and No. 25 in the other.
The Wildcats beat JMU last year.
Be the first to know
Get local news delivered to your inbox!