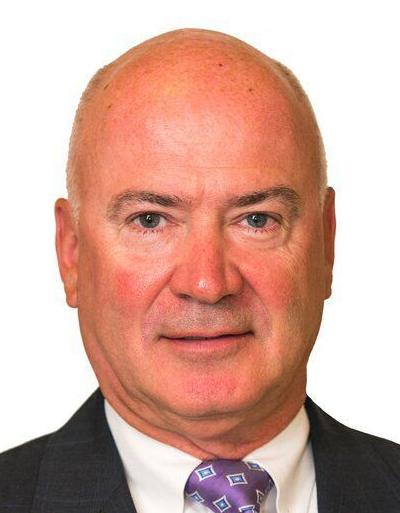 While it is obvious that college football teams are continuing to have issues during the coronavirus pandemic, consider that the upcoming college basketball season is likely to have similar challenges.
That was apparent as Paul Brazeau, senior associate commissioner for ACC men's basketball, addressed the Roanoke Valley Sports Club earlier this week.
"If we get 11 games in for football, that would be awesome," Brazeau said, "Then, we'd turn around in basketball and try to do the same."
The NCAA has delayed the start of the men's basketball season from Nov. 10 to Nov. 25 and has reduced the number of games by four.
"If we get 25, 26 or 27 games, we'll really be fortunate," Brazeau said. "Right now, the NCAA Tournament is in the same spot on the schedule that it's been planned for in March. Whether we get to that spot, we'll just have to wait and see."
Brazeau has been with the ACC since 2014 after serving in the same capacity with the Big East. Prior to that, he was an NBA vice president for 10 years.
"We're lucky to have him," said Roger Ayers, a longtime ACC basketball referee from Roanoke who is speaking to the sports club in October.
Brazeau is concerned that the threat caused by COVID-19 might affect such issues as the number of officials who are available to call a game.
"There's a lot that causes me to wake up at 3:30 in the morning and think, 'How's this ever going to happen?' " Brazeau said. "I don't want to be a doomsday guy, but it's going to be challenging."
Brazeau received several questions about the so-called "bubble" in which NBA teams have faced off in mostly empty arenas.
"That's like the buzzword of sports," Brazeau said. "It means a lot of different things. When you're talking about basketball, it's just a site. The NBA and the NHL have done a pretty good job, but they're professional [franchises] who can create an environment as sterile as can be."
According to an article on its website, ESPN is moving at least eight of the men's basketball tournaments that it runs to the ESPN Wide World of Sports property in Orlando — the same site the NBA has been playing.
The tournaments include the Wooden Legacy (whose field includes Virginia), Charleston Classic (which includes VCU), Champions Classic, Myrtle Beach Invitational, NIT Season Tip-Off, Orlando Invitational, Jimmy V Classic and Diamond Head Classic.
The tournaments would start on Nov. 25 and run for the first two weeks of the season.
In eight seasons as the head coach at Hartford, Brazeau was maybe best known for coaching 6-foot-11 Vin Baker, once described by
Sports Illustrated
as "America's best-kept secret" before he went to the Milwaukee Bucks with the eighth pick in the 1993 NBA Draft.
The Nov. 16 speaker will be Mark Byington, who is preparing for his first season as the head men's basketball coach at James Madison.
Byington, a former Salem High School player and UVa graduate assistant, had a 131-97 record in seven seasons as the head coach at Georgia Southern. Each of his last three teams won 20 games or more.
Mack McCarthy, a Virginia Tech graduate from Woodstock, has published a book on his college coaching career that is titled "What I'm About To Tell You Is The Truth, Or Could Be: My Accidental Career Path."
McCarthy was an assistant coach at Tech from 1974-76 under Don DeVoe, on a staff that also included Sonny Smith. McCarthy later was the head coach at Chattanooga for 12 years, including seven seasons of 20 wins or more, followed by stints at VCU and East Carolina.
McCarthy, who is 68, had a 19-year Division I coaching record of 343-234.
Wake Forest men's basketball coach Steve Forbes has taken a commitment from Carter Whitt, a 6-foot-4 guard from Raleigh, whose list of 19 offers included Boston College, Clemson, Virginia and Virginia Tech.
Whitt, rated the No. 63 prospect in the country by Rivals.com, is in prep school at Brewster Academy in Wolfeboro, New Hampshire.
Be the first to know
Get local news delivered to your inbox!