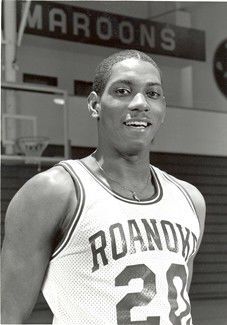 Reggie Thomas and Dwayne Evans lived on opposite sides of the country, but the former Roanoke College teammates and roommates remained close.
Thomas, the second-leading scorer in Roanoke College men's basketball history, was the godfather of Evans' children.
Five years ago, Evans and his wife joined Thomas and his mother for a cruise to celebrate the birthdays of Thomas and his mom.
Evans, a Salem resident, and his wife flew west last week after Thomas, who was a sheriff's deputy in the Seattle area, suffered a massive stroke.
Evans is now mourning his friend.
Thomas died at about 3 a.m. Monday in hospice care at his Federal Way, Washington, home at the age of 56.
"He was a great guy," Evans said in a phone interview from Thomas' home.
Thomas started as a sophomore off-guard for the Roanoke College team that made the 1983 Division III final four. The Danville native earned first-team All-America honors the following two seasons.
His No. 20 jersey was retired by the school. He was inducted into the Roanoke College hall of fame and made the program's all-century team.
"He had the work ethic," said Lamar coach Tic Price, a former Roanoke College assistant. "He put that extra work in, and that's how he became an All-American.
"I'm having a real tough day right now, knowing that he's gone."
Thomas was a sheriff's deputy in King County, Washington. He served the department for 30 years in jobs that included street-crimes detective and patrol officer. He was planning to retire next year and move back to Virginia.
"He was a great police officer," said King County sheriff's deputy Brian Taylor, who was one of Thomas' best friends. "We have a pretty large sheriff's department and everybody respected him and loved him.
"I met so many people who said Reggie would respond to a detail where they would be having problems with their kids and he would take his personal time and go play video games with the kids or play ball with the kids."
Thomas was driving a King County Sheriff Transit Patrol SUV on Aug. 29 in Seattle when he suffered a massive stroke, according to the King County Sheriff's Office and the Seattle Times.
Thomas' vehicle struck a parked car, killing 41-year-old attorney Sarah Leyrer, who was in the passenger seat of the parked car, according to the Seattle Times. She died at the scene. Her death was ruled an accident.
Thomas was extricated from his SUV and taken to a hospital, according to the newspaper.
"They discovered the massive blood clot on the left side of his brain," Taylor said.
Leyrer's husband sent Thomas' mother a card last week, Taylor said.
"A moment of grace," Taylor said.
Ten police cars escorted the car containing Thomas' flag-draped coffin from Thomas' house to the funeral home Monday, Evans said.
Thomas was a basketball standout at Dan River High School.
"He was exceptional," former Dan River boys basketball coach Frank Scott said. "He was like a coach on the floor. He was so intelligent. He was the catalyst.
"He amazed me so much because not only could he shoot and handle the ball, but he could jump. He was the first 6-footer I ever had who could dunk the ball with no problem.
Ed Green was the coach at Roanoke College back then, and Price was his assistant. Price, a graduate of George Washington High School in Danville, recruited Thomas to Roanoke College.
"Reggie actually had offers from some D-I schools, but he just fell in love with Ed Green, and Tic being a hometown guy [helped]," Scott said.
Price said Thomas was "the epitome of what a student-athlete should be."
"Reggie was my first recruit at Roanoke College," Price said. "I saw a kid that was an undersized guard, about 6-1, but played [like he was] 6-3, 6-4 — strong upper body.
"Reggie could not only score but he could defend, too. … He had a high basketball IQ."
Thomas, a three-time All-ODAC first-team pick, ranks second in Maroons history in points (1,873).
"He was an outside shooter, but he had a good mid-range game," former Maroons teammate Gerald Holmes said. "He could put the ball on the floor and stop and shoot, or he could get all the way to the rack."
"Very athletic at 6-1," Evans said. "He was very quick."
Thomas ranks third in Roanoke history in steals (186).
"Boy, he was a strong defender," Green said. "He had an unbelievably strong upper body, and he could play 6-3, 6-4 [foes] because he had longer arms and could definitely battle them inside."
Thomas ranks seventh in school history in assists (292).
Roanoke won 106 games and four ODAC tournament crowns during Thomas' college career.
"He was quiet, and he led by doing," Green said.
Thomas led the Maroons in assists and steals as a freshman, when he averaged 13.4 points and made Eastern Basketball magazine's Division III all-freshman team. Roanoke went 27-4, falling in the Elite Eight of the Division III tournament.
He ranked second on the Maroons in scoring (16.3 points) as a sophomore. Holmes, then a senior power forward, averaged a team-high 19.8 points. The team went 31-2, falling to Scranton in the Final Four before beating Wisconsin-Whitewater in the third-place game.
"We complemented each other very well," Holmes said. "We had that 1-2 punch, inside-outside. He could put the ball on the floor and he could jump very well."
That team's lineup also included Evans, Donnie Morris and Dick Foutz.
Thomas averaged 13.6 points as a junior and 18.5 points as a senior. He led the squad in assists and steals both years.
Thomas served in the U.S. Army before becoming a police officer.
Although Thomas was the godfather to Evans' two children, Evans said he was more like an uncle because he made sure to reach out to Evans' children on birthdays and holidays.
When Evans' son played basketball for Longwood in a tournament in Las Vegas, Thomas made the trip down from Washington to cheer him on.
As a sheriff's deputy, Thomas volunteered in the Seattle area.
"He did a lot for kids," Taylor said. "For almost 20 years, he worked on a teen league night with middle-school and high-school age kids. … Reggie volunteered for that every Friday. All the kids loved him."