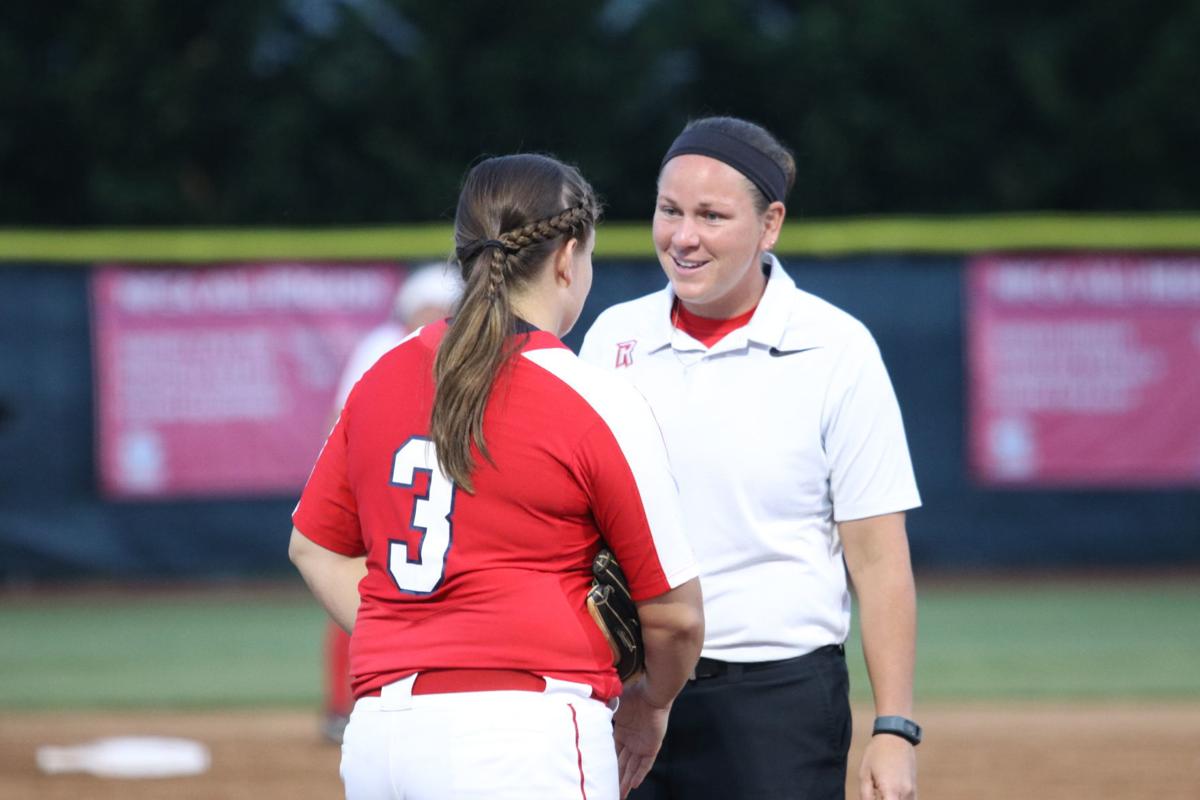 Radford University announced Wednesday that Hope Creasy has stepped down as softball coach.
Creasy, a former standout at Christiansburg High School and Radford University, was 96-88 in four years at the helm of the Highlanders. The team was 22-32 overall and 11-10 in Big South play this year.
"We wish Hope Creasy the very best of luck as she steps away from coaching," athletic director Robert Lineburg said in a news release.
TRACK AND FIELD
EUGENE, Ore. — Virginia Tech's Alexios Prodanas finished fifth in the men's hammer throw on the opening day of the NCAA outdoor championships with a throw of 233 feet, 2 inches, earning All-America honors.
WRESTLING
Ferrum announced it has promoted Logan Meister from assistant to head men's wrestling coach.
Meister succeeds his former boss Ryan Riggs, who left to become Mount Union's coach.
Meister, a 2017 Ferrum graduate, became the program's first All-American in 2016.
GOLF
Allara 2nd in VSGA tourney
RESTON — David Partridge of Manakin won the 65-and-over division at the 36th VSGA Super Senior Stroke Play Championship on Tuesday at Hidden Creek Country Club with a two-day total of 5-under 141.
Defending champ Jack Allara of Roanoke was second with a 2-under 144.
Mike Brown of Fairfax won the 70-and-over division. Mike McDonald of Williamsburg was second and Bill Nunnenkamp of Roanoke was third.
John Walsh of Vienna won the 75-and-over division.
FOOTBALL
Virginia announced Tuesday it has added graduate transfer Artie Henry III, a receiver from Marshall who will be using his extra year of eligibility at UVa.
Henry played in 22 games in three years at Marshall (including a medical redshirt year) after spending two years at a junior college. He had 22 catches for 308 yards and three touchdowns in eight games last fall.
Last weekend, UVa received a verbal commitment from three-star quarterback Davis Lane of Liberty Christian Academy. He picked UVa over Army, Columbia and Dartmouth, among other schools, according to 247Sports.com.
Virginia picked up a verbal commitment from three-star defensive lineman Anthony Holmes on Monday. The Texas native also received offers from Duke, Houston and Indiana, according to 247Sports.com.