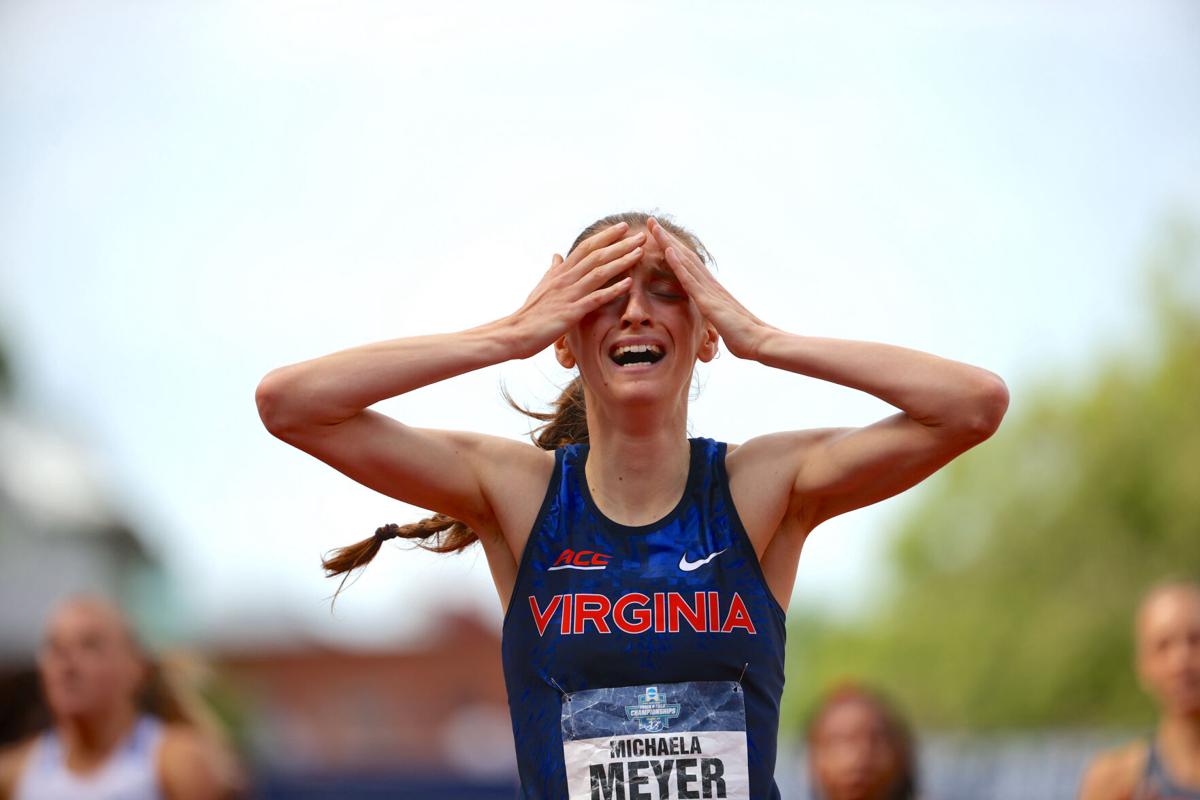 EUGENE, Ore. — Virginia's Michaela Meyer won the final of the women's 800 meters Saturday on the fourth and final day of the NCAA outdoor track and field championships.
She became the first NCAA individual champ in UVa women's track and field history.
The Delaware graduate transfer had a school-record time of 2:00.28 — the ninth-fastest time in collegiate history. Virginia Tech-turned-Clemson runner Laurie Barton was second at 2:00.65. Virginia Tech's Lindsey Butler was sixth (2:02.83). All three earned All-America honors.
UVa's Andrenette Knight finished third in the women's 400-meter hurdles final (55.81 seconds). She also earned All-America honors.
Virginia Tech's Essence Henderson took seventh in the women's discus with a school-record throw of 189 feet, 4 inches. She earned All-America honors.
Tech's Lauren Berman was 11th in the final of the 1,500 meters (4:16.37), while Virginia Tech's Eszter Bajnok was 12th in the women's triple jump (43-9 3/4).
Southern Cal won the women's team title. Southern Cal's Anna Cockrell swept the 100 hurdles and 200 hurdles, joining ex-Tech star Queen Harrison as the only women to win both of those titles at the same NCAA championships.
UVa tied for 16th in the women's team standings, with Tech tying for 46th.
On Friday night, UVa's Claudio Romero took third in the men's discus (201-4), with teammate Jacob Lemmon fifth (189-7). Both earned All-America honors.
UVa's Owayne Owens was 15th in the men's triple jump (51-9) on Friday, with Virginia Tech's Chauncey Chambers 21st.
LSU claimed the men's team crown Friday, with UVa tying for 28th and Tech tying for 37th.
Roanoke announces home schedule
The Roanoke Rail Yard Dawgs have announced the dates for their 28-game home schedule for the 2021-22 season, although the opponents for those dates have yet to be revealed.
Roanoke will play a total of 22 home games on Fridays and Saturdays, along with three Thursday home games and three Sunday home games.
The home opener will be Oct. 15, with the home finale on April 2. Other home dates of note include Nov. 26 (Black Friday), Dec. 23 and Dec. 31.
Carman honored
Roanoke College defender Joe Carman, who helped the Maroons record six shutouts, has been named the state small-college defensive player of the year by the sports information directors of Virginia colleges.