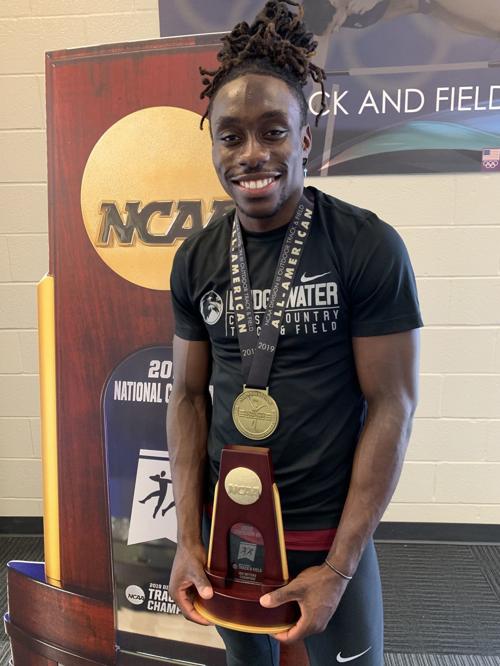 Salem High School graduate Davonta Womack of Bridgewater College has been named a Division III All-American in indoor track and field by the U.S. Track and Field and Cross Country Coaches Association.
All-America honors in track and field are usually based on how athletes fare at the NCAA championships. But the NCAA Division III indoor championships were canceled in March because of the coronavirus pandemic, so this year all athletes who had qualified for that meet were named All-Americans.
Womack was named an All-American in both the 60 meters and the long jump. The fifth-year senior tied for the fastest time in Division III in the 60 meters (6.78 seconds) this season and had the fourth-best distance this season in the long jump (24 feet, 1 3/4 inches).
Also honored were Southern Virginia's Murray Bingham (800) and Washington and Lee's Joe O'Connor (pole vault).
Fifth-year senior outfielder Adam Linkous (Blacksburg) of Concord University was named one of the winners of the Mountain East Conference's Spring Senior Career Achievement Award.
The NCAA Division II league honored one man and one woman from each of its members to recognize seniors whose spring sports seasons were cut short by the coronavirus pandemic.
Linkous made the all-conference second team in 2018 and 2019. He hit .308 and recorded six saves last year.
ACC honors Robinson, Matson
Clemson soccer star Robbie Robinson and North Carolina field hockey standout Erin Matson have been chosen the ACC athletes of the year for the 2019-20 school year by a media panel.
Robinson became the first soccer player to be named the ACC male athlete of the year. He was the national men's soccer player of the year and was the first overall pick in the Major League Soccer draft. The junior scored 18 goals and led Clemson to the NCAA quarterfinals.
He received 38 votes from the 75-person panel. Duke basketball star Tre Jones was second with 13.
Matson became the first sophomore to be named the ACC female athlete of the year. She was the national field hockey player of the year. She had 33 goals, leading the 23-0 Tar Heels to the NCAA title.
Matson received 42 votes. Louisville basketball star Dana Evans was second with 12.