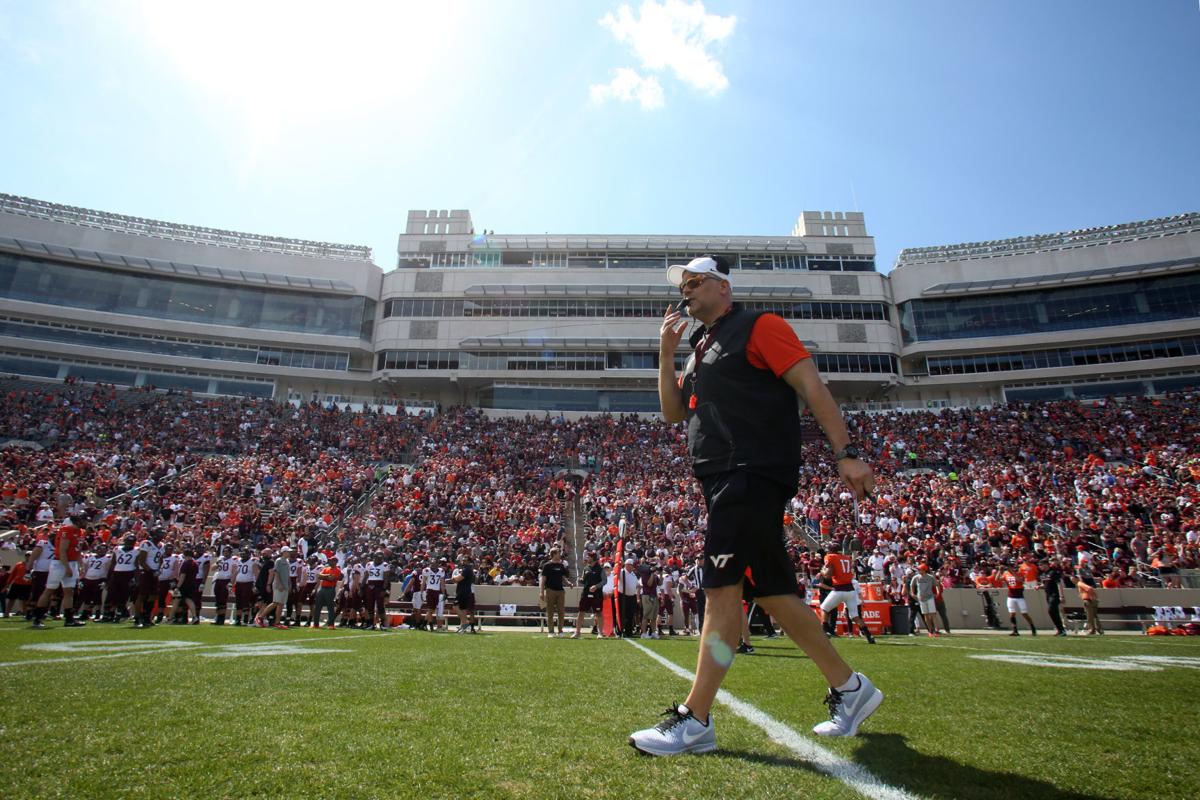 BLACKSBURG — Virginia Tech is looking to give Lane Stadium a signal boost. 
The athletic department outlined the potential WiFi upgrades during a virtual meeting of the Board of Visitors' governance and administration committee on Wednesday afternoon.
The project isn't in the pipeline for the 2020 season, but the athletic department continues to explore the feasibility of upgrading the venue's entire system.
According to senior associate athletic director for external operations Brad Wurthman's presentation, it would require a $5 million investment to "achieve (the desired) results" in the 65,632-seat stadium.
"It's the largest gathering place that we have in the southwest Virginia region for all intents and purposes," Wurthman said. "... We do not have anywhere near the bandwidth necessary when you have 66,000 people in there all stressing and texting a network to be able to take care of some of the basics let alone the larger pieces of this puzzle."
The main reason behind the push is to enhance the fan experience and allow attendees to send messages, make phone calls or check apps to give them what Wurthman described as a "seamless" online experience during home games. 
"We just do not have the confidence to deliver it as a completely immersive experience at this point," Wurthman said.
But Wurthman and athletic director Whit Babcock both emphasized the potential financial benefits of the upgrades. 
"This is a revenue generator for us," Babcock said. 
The athletic department estimates that each email address collected if fans had to sign-in for wireless access would be worth three dollars, and could potentially generate $400,000 in additional revenue each season.
"That's the potential revenue based on industry averages in terms of identifying new prospects and their investment if we can provide outreach," senior associate athletic director for external operations Brad Wurthman told The Roanoke Times.
The switch to mobile tickets alone would save the athletic department approximately $100,000 a year on printing expenses. A number of programs have recently moved to paperless ticketing — Wurthman specifically cited Florida State and Clemson — in response to the COVID-19 outbreak.
Digital-only tickets isn't an option for Virginia Tech this season. 
"The technology is something we have access to," Wurthman said. "It's the infrastructure that we do not in our current scenario.  It is not as simple as flipping a switch, but that's the best example that I can give you."
While Tech athletics has multiple projects currently under construction on campus — a new student-performance center at the Jamerson Center, an overhaul of the football team's locker room and a new residence hall for athletes — the department is hoping to work alongside the university to fund the initiative.
"That's what we are here for today is just to ask for a little help and push and exploration of everything we know," Tech athletic director Whit Babcock said during a question and answer session with board members. "It's not the best time to come around asking for $5 million, but if we can figure out a way to have some skin in the game and campus to help us, I'm confident we can put it together."
Mike Niziolek is the Virginia Tech football beat writer for The Roanoke Times. Follow him on Facebook and Twitter.
Be the first to know
Get local news delivered to your inbox!