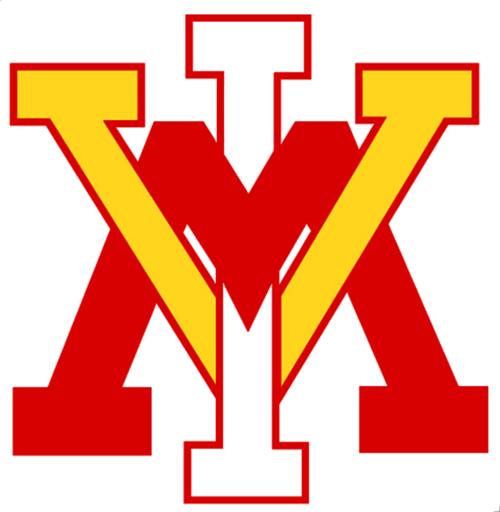 CHARLESTON, S.C. — Reece Udinski threw a 61-yard touchdown pass to Jakob Herres late in the game to help VMI snap a 12-game losing skid against The Citadel with a 34-21 victory on Saturday.
Brandon Rainey scored on a 3-yard touchdown run that pulled The Citadel (2-4, 0-2 Southern Conference) to 27-21 with 3:22 to play before Udinski connected with Herres three plays later for a score with 2:18 remaining.
Udinski threw three touchdown passes and was 25 of 35 for 335 yards. He also stretched his SoCon single season record to 252 consecutive passes without an interception. Herres had eight catches for 175 yards and two touchdowns. Alex Ramsey ran for 97 yards and a score.
Rainey was 19 of 34 for 233 yards passing and ran for three short-yardage touchdowns for the Bulldogs. Raleigh Webb caught 10 passes for 110 yards.
The Keydets last beat The Citadel on Nov. 16, 2002.
Shenandoah 42, Southern Virginia 14
WINCHESTER — Ben Agostino had a career day, completing 36 of 44 passes for 509 yards and six touchdowns for the Hornets as they downed the Knights.
Jake Wallace caught 11 passes for 123 yards and two touchdowns, while Brant Butler and Ethan Bigbee also hauled in two touchdown catches apiece for Shenandoah (3-1).
Davis Pinkston completed 18-for-33 passes for 178 yards and two touchdowns to Matthew Johansson for Southern Virginia (2-2).
James Madison 45, Stony Brook 38, OT
STONY BROOK, N.Y. — Ben DiNucci accounted for two touchdowns, Jawon Hamilton capped the scoring with a 3-yard run on the first possession of overtime, and No. 2 James Madison beat No. 24 Stony Brook in a battle of two top teams in the FCS.
Hamilton, who also had a 55-yard TD run in the first quarter, finished with 13 carries for 105 yards. DiNucci was 13-of-17 passing for 218 yards and a score and added 16 carries for 80 yards and a TD.
On the first play of OT, DiNucci hit Riley Stapleton for a 20-yard gain to set up Hamilton's eventual winning TD.
Nick Courtney's 47-yard field goal tied it for Stony Brook with five seconds left in regulation.
James Madison, which went into the game ranked No. 2 in the FCS coaches poll, has won five in a row since a season-opening 20-13 loss to West Virginia.
The No. 24 Seawolves, who had their three-game win streak snapped, have lost five in a row against JMU.
RICHMOND — Beau English threw a touchdown pass and ran for a score and Richmond (2-3, 1-1 CAA) sacked Albany quarterback Jeff Underfuffler seven times as the Spiders held off the Great Danes.
Jake Larson, Richmond's first true freshman kicker since 2006, booted a career-best 50-yard field goal. The Spiders scored only in the first half. The Great Danes fell to 3-3, 1-1.
Villanova 35, William & Mary 28
WILLIAMSBURG — Daniel Smith threw a 1-yard touchdown pass to Dee Wil Barlee on fourth-and-goal with 1:59 left in the game and Villanova held off William & Mary 35-28 on Saturday.
Villanova (6-0, 3-0 CAA), ranked No. 8 in the FCS coaches poll and one of six undefeated teams, had its hands full with the upset-minded Tribe (2-4, 0-2).
Smith completed 21 of 34 passes for 250 yards and three TDs for the Wildcats.
For the Tribe, Kilton Anderson finished 25-of-33 passing for 245 yards and three scores.
Western Kentucky 20, ODU 3
NORFOLK — Gaej Walker ran 25 times for 114 yards and a touchdown to help Western Kentucky beat Old Dominion.
Walker's 1-yard TD run gave the Hilltoppers (3-2, 3-0 Conference USA) the lead for good at 10-3 late in the second quarter.
DeAngelo Malone had three sacks for the Hilltoppers, which held the Monarchs (1-4, 0-1) to 160 yards of total offense.
North Carolina A&T 58, Norfolk State 19
NORFOLK — Kylil Carter threw for three touchdowns and Jah-Maine Martin ran for three more to lead North Carolina A&T's rout of Norfolk State in a MEAC contest.
Norfolk State's 19 points is the most scored by a MEAC team against the Aggies (4-1, 2-0) in their last four conference games.
Juwan Carter was 24-of-44 passing for 252 yards and a touchdown, but also threw three interceptions for Norfolk State (1-5, 0-2).
Hampton 40, North Alabama 34
HAMPTON — Deondre Francois threw three touchdown passes and ran for another on Saturday to lead Hampton.
Francois had 347 yards passing for the Pirates (3-2). William Robinson ran for 91 yards and a score and Jadakis Bonds caught 11 passes for 127 yards and two touchdowns.
Virginia Union 44, Livingstone 0
SALISBURY, N.C. — Khalid Morris completed 14 of 26 passes for 215 yards and four touchdowns to lead the Panthers (4-1, 2-0 CIAA) over the Blue Bears (4-1, 1-1).
Charles Hall caught six passes for 129 yards and two scores for Virginia Union, which put up 359 yards of total offense.
Virginia State 35, Shaw 0
ETTRICK — Cordelral Cook completed 12 of 23 passes for 129 yards and a touchdown, and ran for 70 yards and a score on nine carries to lead the Trojans (4-1, 2-0 CIAA) over the Bears (2-3, 1-1).
Maurice Davis caught two TD passes and Darius Hagans toted the ball 23 times for 89 yards and a touchdown.
Virginia State amassed 406 yards of total offense and held Shaw to 18 yards rushing.
No. 8 Lenoir-Rhyne 63, UVA-Wise 6
HICKORY, N.C. — The Bears (5-0, 3-0 SAC) rode a 49-0 halftime advantage to a rout of the Cavaliers (1-4, 0-3).
Lenoir-Rhyne outgained UVa-Wise 458-165, while holding a 356-94 advantage on the ground and forcing three turnovers.
Kyle Duggar ran back a pair of punts for touchdowns and Grayson Willingham threw two TD passes.
The Cavs' score came on a 4-yard pass from Lendon Redwine to Seth Phillips (Grayson County).
Emory & Henry 56, Hampden-Sydney 17
EMORY — Hunter Taylor connected on 26 of 35 passes for 391 yards and five touchdowns and added a touchdown run in the Wasps' ODAC win over the visiting Tigers.
Derrick Yates caught 13 passes for 265 yards and three touchdowns, and T.J. Tester (Staunton River) added 84 yards rushing and a score for Emory & Henry (2-2, 1-1).
Clay Vick tossed a pair of touchdown passes for Hampden-Sydney (1-4, 0-3).
Randolph-Macon 34, Guilford 21
GREENSBORO, N.C. — Presley Egbers threw a pair of touchdown passes and scored another on a short run for the Yellow Jackets as they held off the host Quakers in the ODAC opener for both teams.
Andrew Ihle added a rushing touchdown for Randolph-Macon (4-1, 3-0).
Derrien Phillips rushed for 80 yards and two touchdowns , and Shanaan McKoy chipped in a scoring run for Guilford (1-4, 0-3).
GREENSBORO, N.C. — Jacob Wright completed 15-of-20 passes for 185 yards and four touchdowns, and added a scoring run as the Cougars blanked the host Pride (1-3, 0-1).
Joshua Tapscott ran for 66 yards and a pair of touchdowns for Averett (3-1, 1-0).
Kean 30, Christopher Newport 6
UNION, N.J. — Anthony Broccoleti connected with Myles Toppin for a pair of touchdown passes, and Jessey Asare rushed for 159 yards and a touchdown on 23 carries as the Cougars (2-2, 1-0) downed the visiting Captains.
Dylan Curran connected on two field goals for Christopher Newport (0-4, 0-1).
Apprentice 35, Anna Maria 20
PAXTON, Mass. — Mason Tatum threw for two TDs and ran for two to lead the Builders (3-1) over the Amcats (0-5).
Tatum completed 15 of 24 passes for 255 yards with two picks. Teammate Trevon Hatch ran for 126 yards on 23 carries.
Apprentice amassed 444 yards of total offense and held Anna Maria to minus-2 yards rushing.
BLUEFIELD — Aidan Wilder completed seven of eight passes for 188 yards and four touchdowns, and the Rams (1-4, 1-0 MSC) topped the Bulldogs (0-6, 0-1) in the conference opener for both teams.
Jaquan Ebron caught four balls for 148 yards and three scores and Xavier Freeman ran for 114 yards and two TDs on 19 carries for Bluefield.
The Rams' Tyrice Henry ran a kickoff back 93 yards for a touchdown.
Be the first to know
Get local news delivered to your inbox!