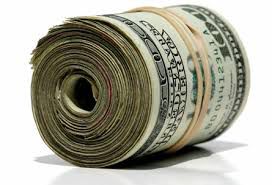 I felt like Krusty the Clown, that time the daffy Simpsons character bet on the Washington Generals to beat the Harlem Globetrotters because he "thought they were due."
"HE'S SPINNING THE BALL ON HIS FINGER!" Krusty shouted at the TV, as the woebegone players he'd backed with his life savings just stood and watched. "JUST TAKE IT! TAKE THE BALL!"
In my case, it was a football rolling around on the ground in Durham, North Carolina, in front of a cozy gathering of the players' friends and family last Saturday.
And all the lousiest team in the ACC had to do was fall on it.
"THERE IT IS!" I shouted.
Duke led Georgia Tech 27-24 with about 90 seconds remaining. The Yellow Jackets were out of timeouts and pinned deep in their own territory. A turnover would effectively end the game and make my $50 bet on Duke +170 a winner, moving my ACC locks of the week (Duke +3.5) to 5-0 on the season.
And oh, baby. The ball was loose.
"JUST GRAB IT!" I yelled. "GRAB THE BALL!"
I'm confident you did not watch this game — smart folks, you are — but I'm guessing you could guess what happened. Several players tried to fall on the fumble and couldn't. It skittered innocuously out of bounds. The Jackets retained possession on their own 14-yard line.
Surely you know what followed. Georgia Tech drove down the field, scored a touchdown, kicked the extra point and won 31-27, foiling both my moneyline bet and my Toutville spread lock.
Now, I don't consider this a "bad beat," per se. Locks should be locks. They need to be comfortable covers, like when we had N.C. State +10.5 against Clemson and the Wolfpack won the game outright. It's like players often say when they get hosed on a bad call by the officials late in a game: We never should have put ourselves in that position where it made a difference.
But it still stunk. As did our Pesky Pup of the Week (Texas +3), which blew an 18-point third-quarter lead and lost to Oklahoma 55-48.
Hey, there's no crying allowed in Toutville. Last Saturday was just a not-so-gentle reminder that this gambling game owes us nothing, and sometimes that's exactly what it gives us.
ACC Lines and Notes (Amac's line lean in bold)
Clemson (-14, O/U 45) at Syracuse: Clemson's failed to cover in six straight; Orange are 6-1 ATS in past seven as an underdog.
Duke (+11, O/U 69) at Virginia: Won't lure me in this time, Devils. Not when Cavaliers have covered in six of past seven as a home favorite and nine of past 12 games overall.
Pitt (-4, O/U 58) at Virginia Tech: The home team has covered in eight of the past 10 meetings between Hokies and Panthers, and the underdog is 10-3 ATS in the past 13.
Miami (+7.5, O/U 63) at North Carolina: The Hurricanes have failed to cover in each of their past four visits to Chapel Hill. Despite last week's flop, UNC is still 8-3 ATS in past 11 as a home favorite.
N.C. State (-3, O/U 52) at Boston College: The Wolfpack haven't covered in any of their past six road games. The Eagles have covered in six of their past seven at home. The last eight times N.C. State has visited BC, the Eagles are 6-1-1 ATS.
Amac's ACC Lock of the Week (4-1 ATS)
Week 6 Overachievers
ACC: Florida State (+17.5) beat UNC 35-25
Nation: Ball State (+12.5) beat Western Michigan 45-20
Amac's Pesky Pup of the Week (3-3 ATS, 3-3 SU)
Washington is the Miami of the west in 2021. The Huskies opened the season ranked No. 20 and have massively underperformed, going 1-4 against the spread and 2-3 straight up. The Bruins have covered in each of their past four games as an underdog. Wrong team favored here.
Feedback Welcome
Have a question or comment about sports gambling? Email me at aaron.mcfarling@roanoke.com or find me on Twitter at @aaronmcfarling. Good luck, gang!