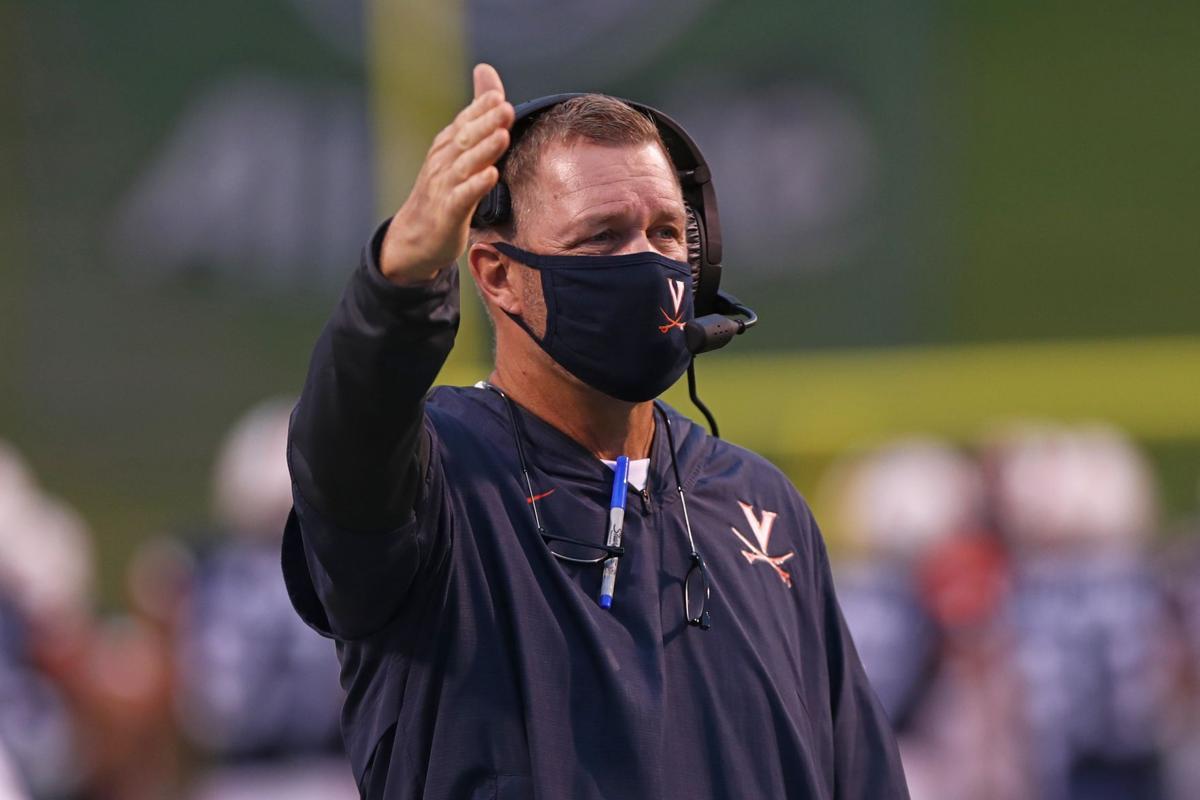 Bronco Mendenhall was noticeably upbeat Monday following his football team's fourth loss in a row.
Maybe that's because Virginia may have played its best game of the season in a 19-14 loss Saturday to 11th-ranked Miami, which was a 14 1/2-point favorite.
"I actually think we took a step forward in a lot of directions," Mendenhall said. "We had a great chance to win. I was encouraged by what I saw and viewed it as progress."
That might not be easy to measure Saturday night when 15th-ranked North Carolina (4-1, 4-1 ACC) visits the Cavaliers (1-4, 1-4) at 8 p.m. Saturday at Scott Stadium.
"We have just a simple mantra right now," Mendenhall said. "It's process, not outcome. That's how you perform at your best, focusing on what you can give every single play, knowing that the outcome will manifest at some point. It always does.
"Man, we had a meeting this morning and they're resilient, they're tough and they're anxious to play again. This is kind of uncharted territory foe a group of guys that had won a lot in the past three years and now it's 'well, this isn't what we expected.' "
A team meeting early Monday morning was uplifting for Mendenhall.
"Words aren't as powerful as how they're carrying themselves," he said, "and, when I saw my team this morning, they're leaning forward, they're engaged and they're taking notes.
"I'm proud of them for that because it's not easy, you know, when you're having setbacks."
The Miami game coincided with the return of starting quarterback Brennan Armstrong, who underwent a concussion protocol after taking a blow to head in the second quarter of a 38-21 home loss to North Carolina State on Oct. 10.
Armstrong was not in uniform Oct. 17 at Wake Forest and it was unclear to UVa fans that he would play against Miami until the night of the game
"We're a different team with Brennan — the throws he can make, how tough he is when he scrambles — just his leadership style," said Mendenhall, comparing this year's team to last year's 9-4 Coastal Division champion.
"Man, I like this year's mindset better and I think Brennan has a lot to do with that. He makes a difference for us, even though it hasn't shown on the outcome yet."
Lindell Stone, the starter one week earlier at Wake Forest, did not play. Two other quarterbacks, graduate transfer Keytaon Thompson and freshman Ira Armstead, had a combined nine rushing attempts and one pass (by Thompson).
"We're maximizing resources," Mendenhall said. "Quarterback runs are really effective for us right now in terms of yards per carry and moving the chains. Being able to throw off of those runs has to happen so we're not predictable."
PERSONNEL: Glenvar High School graduate Josh Clifford, a wide receiver who wears No. 93, made his debut for the Cavaliers as a member of the Cavaliers' punt-return unit. Clifford, who is in his third year at UVa, is the son of Glenvar head coach Kevin Clifford.
Sophomore Antonio Clary, a safety, made his first career start as the Cavaliers continued to deal with injuries to safeties Joey Blount and Brenton Nelson, injured after starting UVa's previous game at Wake Forest.