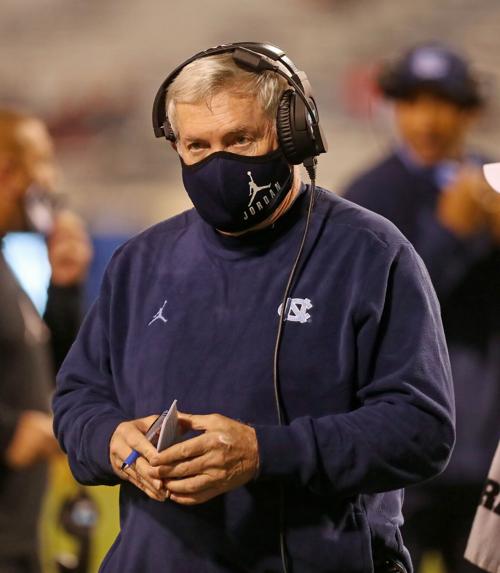 CHARLOTTESVILLE — When Mack Brown returned to college coaching after a six-year absence, there was at least one score he needed to settle.
Saturday's showdown with Virginia marked Brown's seventh trip to Scott Stadium, where a 44-41 loss left him winless.
Brown, who previously was the coach at Carolina from 1988-1997, is 3-9 against Virginia overall.
That included an early November meeting with the Cavaliers last year, when a UVa team led by quarterback Bryce Perkins beat the Tar Heels 38-31 in Chapel Hill, North Carolina.
Virginia had 517 yards in total offense that day (Carolina had 539), but nobody was predicting that UVa would top the 500-yard mark this time.
One week earlier, the Cavaliers had managed only 336 yards in a 19-14 loss at Miami, but that was an exception. Virginia had gained at least 400 yards in each of its first four games.
It was easy to forget that UVa had acquitted itself respectably in a 41-23 loss to No. 1 Clemson on Oct. 3 in South Carolina.
Cavaliers quarterback Brennan Armstrong completed 24 of 43 passes for 270 yards and three touchdowns that evening .
That was forgotten by most people when Armstrong was helped from the field one week later after taking a blow to the head prior to halftime in the Cavaliers' 38-21 home loss to North Carolina State.
Armstrong remained in a concussion protocol one week later when the Cavaliers used three different quarterbacks in a 40-23 loss at Wake Forest, UVa's third straight setback.
One week after that, the Cavaliers' losing streak reached four games in a 19-14 road loss to 11th-ranked Miami, where Armstrong took the field with the Cavaliers' starting lineup.
He showed signs of returning to form, throwing two touchdown passes and rushing for a game-high 91 yards on 15 carries.
It was more of the same against the Tar Heels as Armstrong threw three touchdown passes and ran for a score.
"I thought he played an amazing game and that's just a beginning," coach Bronco Mendenhall said of his sophomore left-hander. "He has such an amazing future — running and throwing and leading — and he's so competitive."
It seemed that the Cavaliers had the game sewed up after a touchdown pass from Armstrong to tight end Tony Poljan had put the Cavaliers on top 41-20 with 5:34 remaining in the third quarter.
The drama was just beginning as 15th-ranked Carolina scored two touchdowns in a 2-minute, 42-second span as the third quarter turned into the final period.
After another Carolina score that made it 44-41 with 2:51 left, it appeared that the Tar Heels, with three timeouts remaining, would have enough time for one more comeback.
On the first play after the ensuing kickoff, Armstrong was slammed to the turf and did not return. Taking his place was Keytaon Thompson, a transfer from Mississippi State, who was lined up in short punt formation before taking a snap and plowing 5 yards for a first down.
It was one of many contributions that UVa got from transfers as Shane Simpson (Towson), Ra'Shaun Henry (St. Francis) and Poljan (Central Michigan) all caught touchdown passes.
"It took our entire program," Mendenhall said. "I wouldn't take it any other way."
As pleased as the Cavaliers were with the win, the fact remains that they're 2-4 overall and in ACC play, with Louisville (2-5, 1-5) headed to Charlottesville next week for what is scheduled to be a third straight 8 p.m. game for UVa.
In the week leading up to Saturday's game, UNC's Brown had spoken at some length about the challenges facing a team in getting ready for a night game after doing much of its practicing early in the morning.
It turned into a self-fulfilled prophecy of sorts, not that previous Cavalier teams hadn't ruined previous afternoons for Brown in the daylight.
Be the first to know
Get local news delivered to your inbox!