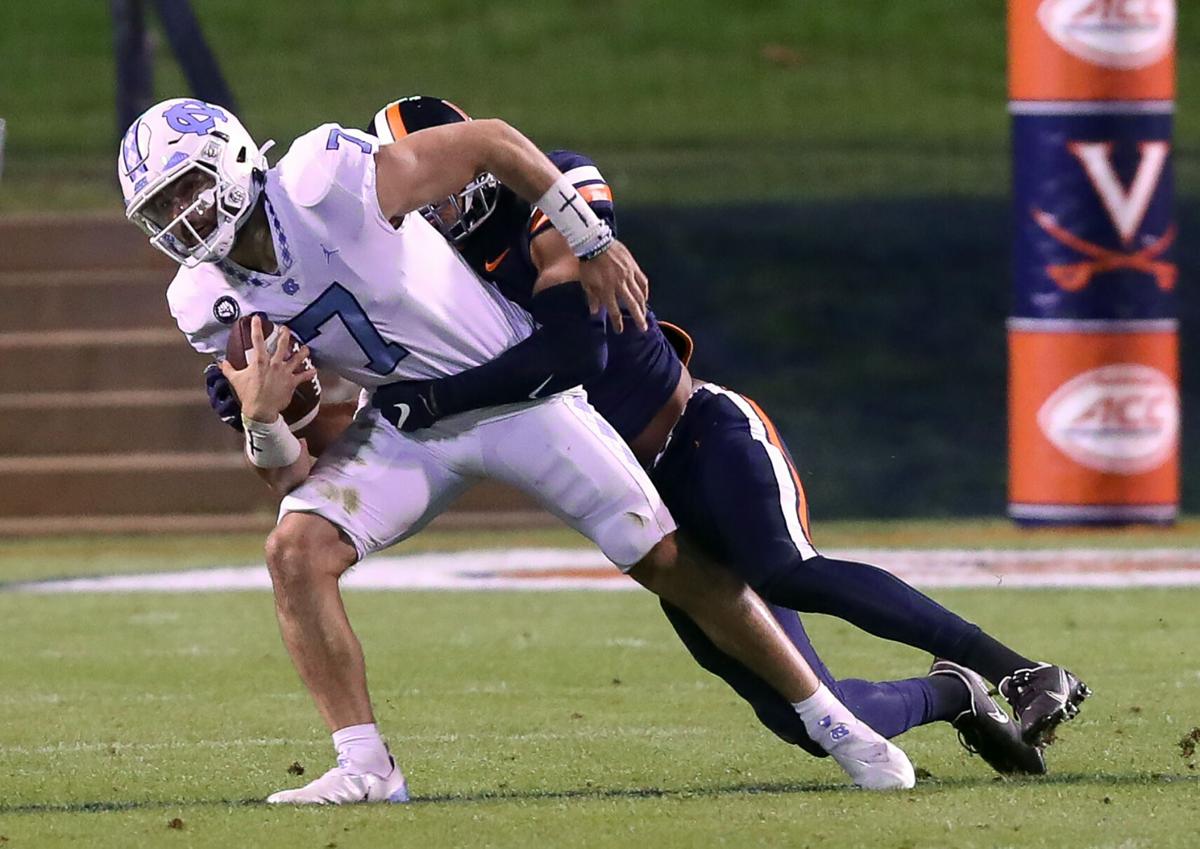 As if Charles Snowden's four sacks against North Carolina weren't impressive enough Saturday, three were on consecutive plays in the first quarter.
When the outside linebacker added a fourth sack in the third quarter, it caused a fumble that resulted in a UVa touchdown five plays later.
It had been 24 years since the last four-sack game by a UVa player, Jamie Sharper, whose four sacks also came at Scott Stadium against a Carolina team that was ranked No. 6 at that time.
Virginia won that game 20-17, defeating a 1996 Carolina team that was coached by Mack Brown, who was on the opposing sideline again Saturday.
The Cavaliers, who were in the midst of a four-game losing streak, held on for a 44-41 victory Saturday night.
Snowden finished with 10 tackles and was credited with forcing a fumble that was recovered by Mandy Alonso and led to a score that gave the Cavaliers their biggest lead at 41-20.
Snowden could tell that North Carolina quarterback Sam Howell wanted to throw downfield on the play.
"He must not have liked what he saw because he tried to tuck it back in," Snowden said, "and then he was caught in that kind of awkward 'am I going throw it [or] am I going to tuck it?' And then Zane [Zandier] and I both hit him and the ball came out."
Although Virginia does not list a school record for sacks in game, Sharper's four-sack game against the Tar Heels is one measuring stick.
Sharper currently coaches in the Football Championship Subdivision at Georgetown University, which is scheduled to resume play in the spring. He coaches linebackers after playing that position for nine years in the National Football League.
Sharper was a second-round pick of the Baltimore Ravens in 1997 and later had stints with Houston and Seattle. He played on Super Bowl teams in Baltimore and Seattle and led the NFL in tackles with 163 for Houston in 2003.
He didn't need to be reminded of the 1996 UVa-UNC game and his four sacks.
"They actually replayed that game on the ACC Network," Sharper said. "It was like six weeks ago. I forgot that I had four sacks till the game came on and guys were talking to me about it. Then, when Snowden got those four sacks Friday, one of the guys texted me."
It sparked numerous memories for Sharper.
"I was sitting at home maybe a week before the [1996 game] and I remember that Evander Holyfield was fighting against Mike Tyson," Sharper said, "and everybody was afraid of him. Holyfield had [the biblical verse] Phillipians 4:13 on his gloves."
The fight was on Nov. 9, 1996, and Virginia faced Carolina one week later in Charlottesville.
"I looked up the Scripture and what have you," Sharper said, "and [Holyfield] beat him. I was thinking, 'Wow, he beat Tyson,' and I spent the whole next week meditating on that Scripture."
Sharper remembers that the 1996 game between 24th-ranked UVa and No. 6 Carolina had been preceded by weeklong rains. He had been recruited by the Tar Heels.
"I went to a couple of camps down there with coach Mack [Brown] when I was a junior in high school. I went to two UNC camps and had pictures and everything."
Carolina's current defensive coordinator, Jay Bateman, preceded Sharper at Hermitage High School in Richmond.
"I'm definitely familiar with coach [Brown] and, when he went to the University of Texas and I was at Houston, I ran into him down there," Sharper said.
"It's been interesting to see coach Brown work at getting that [UNC] program on top again."
Saturday night's game brought back numerous memories, not all of them dealing with sacking quarterbacks.
Sharper couldn't help but notice Keytaon Thompson, the backup Virginia quarterback who ran for a touchdown and sealed the win by running for a first down out of punt formation.
"I didn't realize till three weeks ago that he came here as a transfer," Sharper said. "When I was coaching [in high school] down in New Orleans, we played against him.
"Our linebackers couldn't tackle him and he ran all over us. I didn't realize he had transferred [from Mississippi State] to UVa. There at the end Saturday, he got through three people, which showed the willpower that he has."
Be the first to know
Get local news delivered to your inbox!