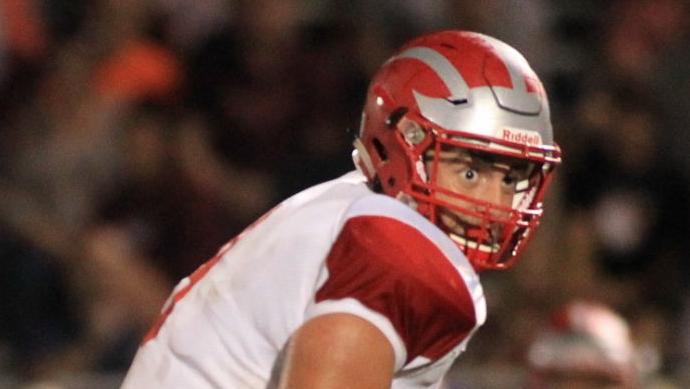 At least for the time being, the commonwealth of Virginia is the place for college recruiters to search for elite offensive linemen.
The state's top-rated prospect, 6-foot-6, 290-pound offensive tackle Tristan Leigh from Robinson Secondary School in Fairfax County, signed with Clemson over the weekend.
Leigh is rated the No. 4 offensive tackle in the country by Rivals.com and is one of seven offensive tackles in the country who merited five stars on a five-star scale from Rivals.
There's more on the way in the 2022 class, including 6-6, 305-pound Zach Rice from Liberty Christian in Lynchburg. Rice is rated the No. 3 offensive tackle in his class and also has a five-star rating.
Lord Botetourt's Gunner Givens is seventh among the top offensive tackles in the class of 2022, and 6-6, 270-pound Brody Meadows of Graham High School in Bluefield is 19th nationally. Givens and Meadows both have four-star ratings.
Rice revealed a top eight in November that consisted of Florida, LSU, Miami, North Carolina, Notre Dame, Oklahoma, Ohio State and Virginia. At the end of a video, Rice can be heard encouraging Givens to join him.
Clemson has taken a commitment from Billy Wiles, a 6-3, 200-pound quarterback from Stone Bridge High School in Ashburn. Wiles is joining the Tigers as a preferred walk-on.
Stone Bridge has put off its 2020 schedule until this spring, but Wiles put up some impressive numbers as a junior, when he passed for 2,481 yards and 22 touchdowns in 2019.
Wiles originally was committed to Tulane but reopened his recruiting after Tulane's offensive coordinator, Will Hall, resigned and took the head-coaching job at Southern Mississippi.
Virginia Tech also has added a preferred walk-on, Miles Ellis, a quarterback for Deep Run High School outside Richmond who is also listed as a prospective cornerback and offensive slotback.
Wake Forest has taken a commitment from Brett Griffis, a 6-foot, 180-pound quarterback from Broad Run High School in Ashburn who is the younger brother of Mitch Griffis, a backup QB for the Deacons this past season.
Clemson defensive lineman Jordan Williams, who picked the Tigers over Virginia Tech and Virginia as a four-star prospect at Maury High School in Norfolk, has entered the transfer portal. He was rated the No. 4 prospect in Virginia by Rivals.com in 2017. Kenneth Walker III, who rushed for 579 yards and scored 13 touchdowns for Wake Forest this past season, also has entered the transfer portal. Walker did not finish the regular season but had indicated he was returning to Wake.
Miami men's basketball coach Jim Larranaga spoke for many of his ACC colleagues when asked about the effects of COVID-19 this week. "I'm very concerned about my own health," said Larranaga, one of five ACC coaches who are 70 or older. "I'm at that age group that is in that danger zone, so I'm trying to do everything I can to protect myself and my players.
"We haven't had issues with COVID since July 20, when we started with my coaches and players in our practice facility. We haven't had a single positive case. Our problem is we've been so injury prone that most days we've only had six or seven guys for practice."
When North Carolina's Roy Williams turned 70 on Aug. 1, he became the ACC's fifth head coach who was 70 or older, following Syracuse's Jim Boeheim, who is now 76; Duke's Mike Krzyzewski, who is 73; Florida State's Leonard Hamilton, who is 72, and Larranaga, who is 71.
"I'm concerned, each and every morning when I get up, to see if we were going to have the opponent that we thought we were going to have," Williams said. "Mike [Krzyzewski] had the same idea, that we needed to play games and do as many things as we can."
Krzyzewski and his wife have been quarantining this week while a family member has been dealing with a COVID issue. Assistant coach and former Duke player Jon Scheyer has been running the Duke operation in Krzyzewski's absence, leading to speculation that he might one day succeed Krzyzewski.
Hugh Freeze, who led Liberty to a 10-1 record in his second year as the Flames' head coach, is one of the finalists for the George Munger Award, named after a former University of Pennsylvania coach hailed for his commitment to athletics and education. Other candidates for the award, which went to LSU's Ed Orgeron last year, include Alabama's Nick Saban, Ohio State's Ryan Day and Cincinnati's Luke Fickell.